Bicycling between Belgrade and Bozeman soon will become easier and safer.
The Belgrade South construction project, which is designed to bring safer and more efficient motor vehicle traffic flow to Jackrabbit Lane, also will benefit bicyclists. They will be able to ride on a separated bike path the entire six miles between the southern edge of Belgrade and Four Corners. Cyclists headed to Bozeman from Belgrade, Four Corners or residential areas between those places also will have a more convenient and safer way to continue their trip along Valley Center Road, where an existing bike path will connect with the soon-to-be longer path along Jackrabbit.
"This project will connect from the Belgrade sidewalk network into the (Jackrabbit) shared-path," said Jason Karp, Belgrade planning director.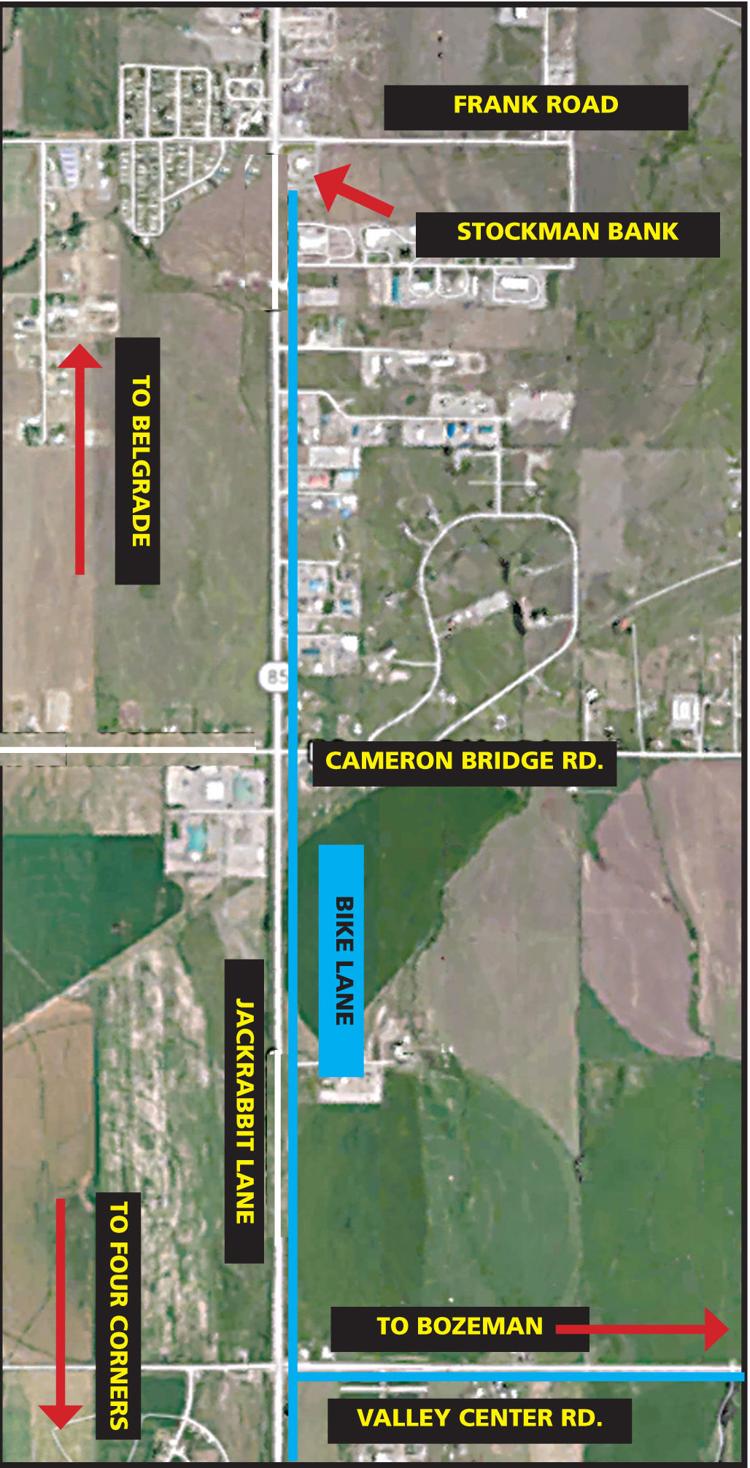 Cyclists benefited from previous improvements to Jackrabbit Lane and Valley Center Road based on their classification as state highways. Widening of the south end of Jackrabbit Lane in 2015 included a path from Four Corners to a few hundred yards north of Hulburt Road. Earlier in the decade, a rebuild of Valley Center resulted in the addition of a bike path that runs from Jackrabbit to the short road that connects the Frontage Road to Valley Center a short distance west of Bozeman.
The latest road work encompasses a 2.6-mile stretch from Hulburt Road to approximately Frank Road. The newest section of the bike path will be a little shorter, about 2.4 miles, ending at the sidewalk in front of Stockman Bank, according to Craig Walker, engineering project manager with the Montana Department of Transportation. 
Motorists began having to navigate detours and watching for reduced speed limits last September when the $9.3 million Belgrade South project started. It will result in a four-lane road, with a center turn lane, from the 1-90 interchange in Belgrade to Four Corners.
The project is scheduled to be complete in October, depending on weather and construction factors. Motorists will see additional work next spring when warmer weather will make it advantageous to apply chip seal to the pavement and have it successfully cure.
One cyclist aware of the bike path's benefits and awaiting its completion, Shane Forsythe, said he rarely 
includes Jackrabbit Lane for his commute from Belgrade to his job in Bozeman. He does, however, occasionally use the busy highway for recreational cycling.
The path may, however, reassure his wife, Erin Hafla, on her rides east from Belgrade.
"She's not as comfortable on the roadway as I am, once they get the bike path in, I'm sure she'll use it," Forsythe said.
Separate from the Jackrabbit Lane bike-path project but related to it, advocates of a bike path along the Frontage Road between Belgrade and Bozeman hope they are getting closer to a dream of some in the local biking community for about 30 years.
Marilee Brown, chair of the Galla10 Alliance for Pathways, said the group wrote an application for a $150,000 planning grant, which Gallatin County sent to the MDT for submitter to the federal government in July. Brown's group hopes to hear if the grant has been approved in December.
The money would come from the federal BUILD program, formerly called the TIGER grant program.
"I applaud the Gallatin County Commission and MDT for endorsing the application," Brown said.
She began working on the grant three years ago. The effort included a petition calling for construction of the Belgrade-to-Bozeman path along old U.S. Highway 10, which became the Frontage Road after I-90 was built. About 3,000 people signed the petition, Brown said.
"That would make a nice loop," said Karp, himself an avid cyclist, referring to a triangle that would be created by paths along Jackrabbit Lane, Valley Center Road and the Frontage Road.. "We do need more than one way" to connect the two largest cities in Gallatin County, he said, and the benefits go beyond recreation and health.
"The Frontage Road connects (Belgrade and Bozeman) to the airport, one of the largest employers in the region," and a bike path would thus give airport employees an option other than driving to work. There's also been talk of getting transportation funding that would allow the Human Resources Development Council to add Streamline bus service along the frontage road, with stops in Belgrade and Bozeman.