Entries ranging from utilitarian to whimsical were on display this week during the first ever Recycled Art Contest sponsored by Belgrade's ReStore and the Gallatin Art Crossing.
"We're really happy with how this turned out," said Jade Lowder, a GAC board member and ReStore employee, who came up with the idea for the contest designed to raise awareness about putting old objects to new use.
Lowder said 13 artists, including an MSU professor and some college students, submitted a total of 19 entries that adhered to the only contest rule that they be constructed entirely from recycled materials.
On Saturday, spectators enjoyed a free barbecue and viewed the entries in the ReStore parking lot, while judges deliberated and Gallatin Art Crossing representatives welded recycled metal into the "trophies" that were awarded to prize winners.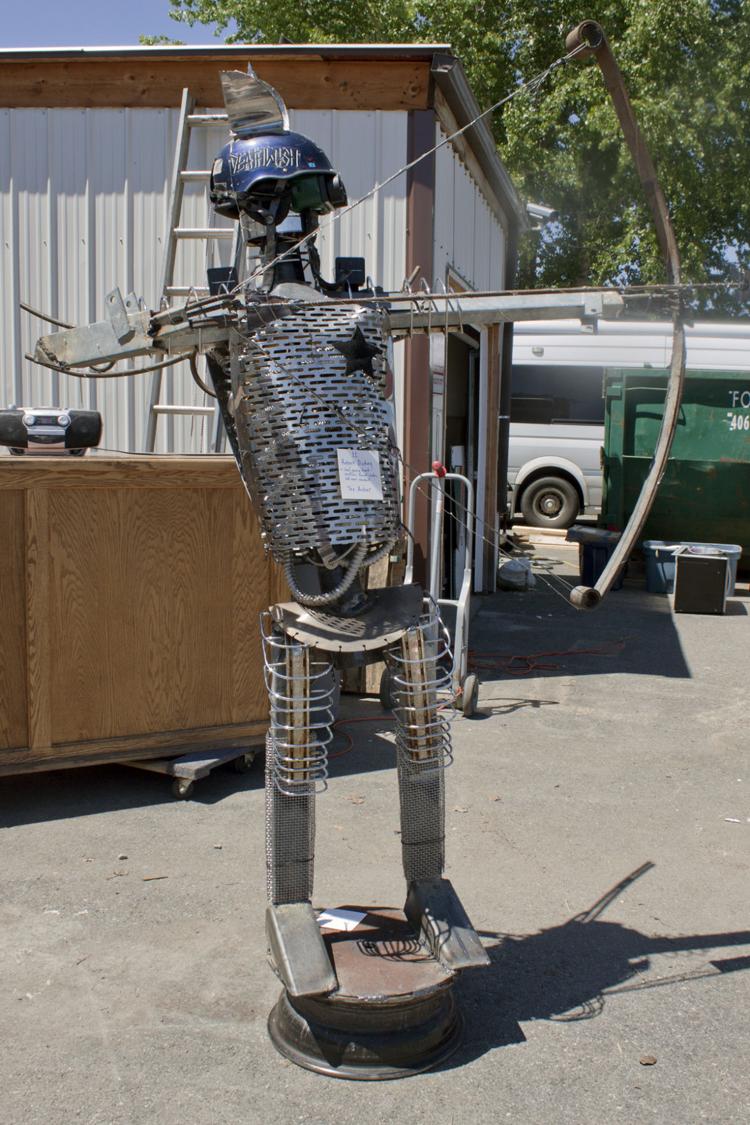 Matthew Weber took home the first place trophy for his greater than life-size "Spurtle" sculpture, which combined recognizable anatomical features of spiders and turtles made from a lawn mower deck, bike tires, speakers, a trampoline, golf balls, plywood and bouquet holders.
Robert Dickey took second place for a large sculpture titled, "The Archer," fashioned from a leaf spring truck muffler, towel racks 
and leftover conduit. "The Archer" was a crowd favorite, also capturing the "Customer Choice" award.
Third place went to Madison Brown, whose wall hanging featured a re-used oil painting and other items to display her message about the importance of environmental protection.
Most fun for spectators was witnessing the entrants' creativity. One artist built a hat rack from an old cabinet door. Another used a lattice window as a large frame for multiple pictures. A third made a table out of old restaurant signs and re-used table base.
Katy Helgson, president of the Gallatin Art Council, said she hopes the event will help raise public awareness about GAC, as well as the ReStore. Much of the public sculpture on display in the valley was placed there by GAC, which many people don't realize, she said.
Several of GAC's installations are near the Bozeman Public Library, where the contest entries were displayed on Tuesday afternoon.
ReStore Manager Alix Provance said the variety of entries and interest generated by the contest has been encouraging, as the event was held to promote reusing materials.
"We hope to make it an annual event," she said.