The Three Forks School Board voted unanimously Tuesday to float a $25 million bond issue to modernize and expand the aged school facility that serves all students from kindergarten through high school.
The option was one of three the board had considered putting before voters this spring. The two less expensive options each had a specific focus: One would have fixed the significant mechanical, electrical and plumbing (MEP) problems in the building without adding any instructional space; the second would have funded a new 11-classroom wing to the high school without addressing the MEP issues.
In the end, according to Superintendent Jeff Elliott, the board agreed that it made sense to ask voters for more money to address both space and infrastructure problems, and thereby take care of the needs of the rapidly-growing district for the next 15 years.
"We can't kick this can down the road any further," Elliott said.
Voters will be asked on May 5 to approve the "all-included" proposal. If it passes, the bond will pay for a 15,000-square-foot addition for grades K-8, including new classrooms, flex space, and areas for music and art instruction, in addition to renovations of existing space. It also will fund a 21,000-square-foot addition to the high school, and renovation of 10,000 square feet of existing high school space. More detailed information is available on the district's website at https://www.tfschools.com/o/three-forks-schools/page/bond-proposal-options-19-20.
Preliminary estimates of the cost to taxpayers have been prepared by D.A. Davidson (see accompanying chart), and also can be viewed on the website.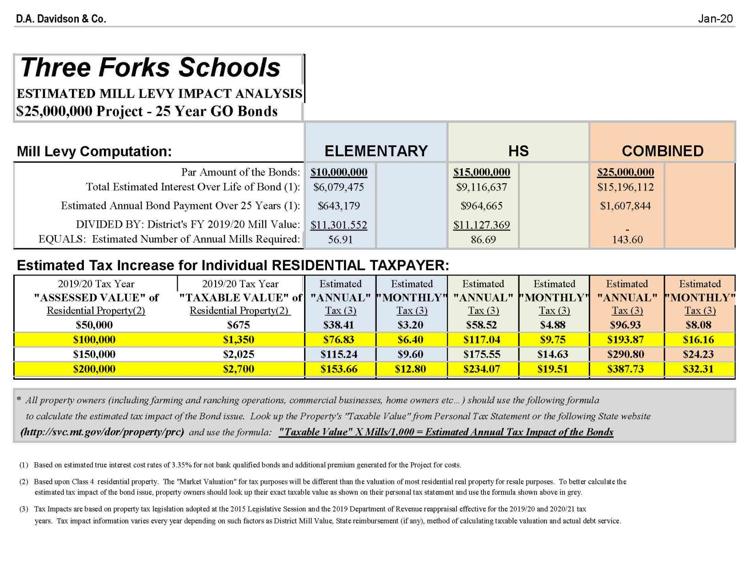 In May 2018, voters turned down a $23 million bond issue that would have funded, in part, 13 additional classrooms, an expanded library and a new elementary gymnasium. Elliott said last month that district administrators and architects attempted to come up with a new proposal that would be both palatable to voters and meet what he calls the three critical "tenets" of the bond – safety, infrastructure and space.
After a year of dogged effort to sort out the district's poor record-keeping and other financial problems that occurred before either of them came to Three Forks (see accompanying story), Elliott and district Business Manager Lisa Morgan are hopeful that voters will support what they say is a desperately needed upgrade and expansion of school facilities.
"I think that (the 2018 failure) was a response to some of their lack of confidence," Elliott said of the public perception of the district's financial woes. Elliott started as superintendent in July 2018.
He stressed every effort has been made to be mindful of taxpayer burdens while also attempting to capture the best value for the school.
"This isn't our money, it's taxpayer money," he said. "We're going to be sure things are done correctly."
Area officials who have been involved in sorting out the district's financial troubles said the situation has improved greatly over the past year.
Gallatin County Superintendent of Schools Matthew Henry said his office received a copy of the district's most recent audit dated Jan. 3, and it shows that the district's accounts were reconciled as of April 2019 and have continued to be kept current and reconciled monthly since then.
Henry said negative balances on Three Forks' books were brought to 
zero as of June 2019.
Gallatin County Treasurer Jennifer Blossom, whose office receives and distributes school district revenue, said she wasn't in office when the financial problems began in Three Forks, but she has heard that "there wasn't a lot of oversight" of district finances then.
"They have really, really, really done a good job of beefing up their internal controls," she told the Belgrade News this week. "It's not just one person doing it without oversight anymore."
Kara Flath, school finance administrator with the Montana Office of Public Instruction, agreed that financial matters are being handled differently under Elliott's watch than they were when the problems began.
"The previous administration over there was not very responsible or amenable to meetings," she said. "Before we wouldn't get a returned call or e-mail."
Her office, which receives and reviews audits from the state's school districts, had learned prior to 2018 that it couldn't trust information coming from Three Forks because "they couldn't verify anything."
Now, by contrast, "they've been very responsive and engaged and follow through. I think they've been responsible, motivated and want to get things cleaned up.
"They have been open about the IRS fine and things they have to work through," she added.
Though the district has paid its outstanding tax liabilities, it still faces $420,000 in outstanding fines and penalties, Morgan said. The district's tax attorney is working with the IRS to seek at least partial forgiveness.
"We're cautiously optimistic that (the entire amount) will be abated, but we're planning how to pay those if we can't get abated," Morgan said.
She said the IRS has told the district it will make its decision about the abatement fairly soon.