MANHATTAN — With schools that typically host larger meets scaling down due to restrictions caused by the COVID-19 pandemic, smaller cross country programs have been forced to find other avenues for competition.
Thus, Manhattan volunteered to host an invitational Saturday for six teams with two separate meets. The morning session featured Three Forks, Townsend, Park County and Manhattan, while Manhattan Christian and Dillon competed in a dual in the afternoon.
"The second meet was hot, but I am happy we got to help a couple of other teams get a meet in with the Covid meet limitations," Manhattan coach John Sillitti said. "It was good for our kids to help run a meet for others and give a little back to the sport that has given so much to us."
Manhattan Christian's boys won the dual 19-39 led by Riley Schott. The junior posted a time of 17:10.3, which was tops among any runner on the day, despite running in 90-degree weather.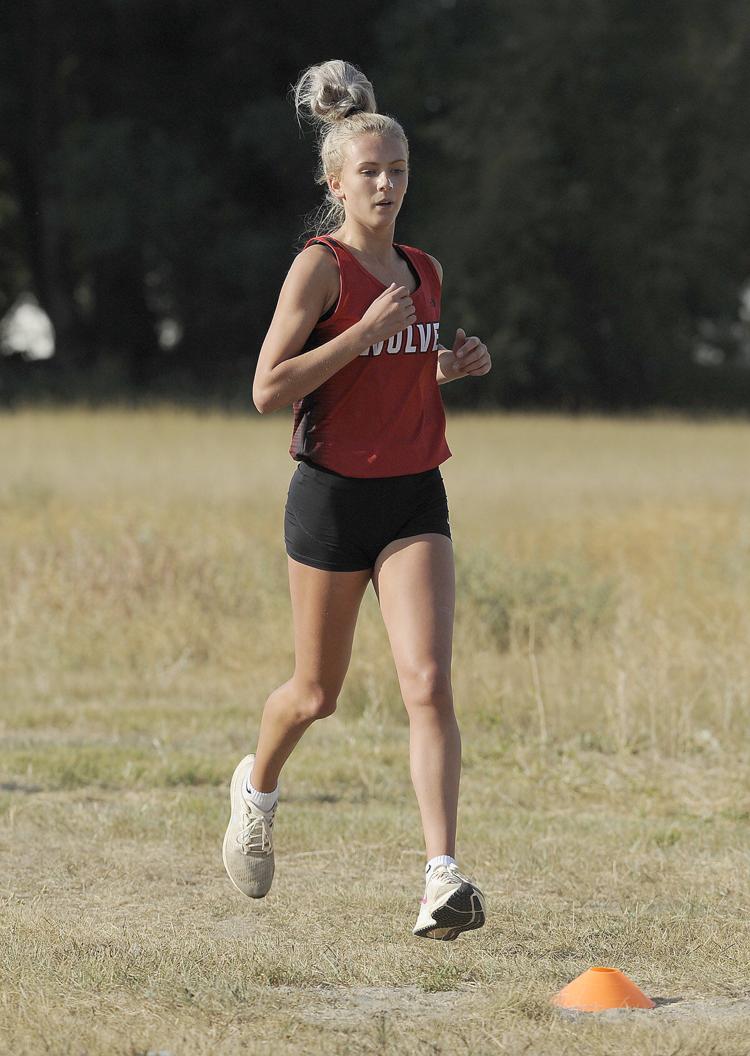 The Eagles had five of the first six runners to cross the finish line with Matt Kenney placing third in 18:15.3. Devan Walhof (18:43.5), Oren Arthun (18:46.5) and Nathan Adams (19:06.8), who finished fourth, fifth and sixth, respectively, followed.
Christian's girls did not field a full squad and were led by Ava Bellach, who was third in 25:55.5. Sisters Kiersten (25:56.7) and Katelyn Van Kirk (28:24.5) were fourth and sixth, respectively.
"We did well for the conditions. They were incredibly tough and I was proud of all of them," Eagles coach Nate TeSlaa said. "I would like to thank Manhattan for hosting and Dillon for running with us. It was a great day and we have a good start."
Earlier in the day, Manhattan's girls boasted four runners in the top seven en route to winning team title with 29 points. Townsend, the defending Class B champion, was second with 42.
The varsity races featured seven harriers from each team. It was a welcome sight for competitors from Manhattan and Park after they were only allowed to run with teammates at the season-opening invitational in Livingston Aug. 28.
"It was great to actually run against other teams. Last week was nice to get out on a course again, but this week it was really good to have the feel of a real meet again," said Sillitti. "For just having four teams it worked out really well for where our boys and girls are at this point in the season, from a competition standpoint."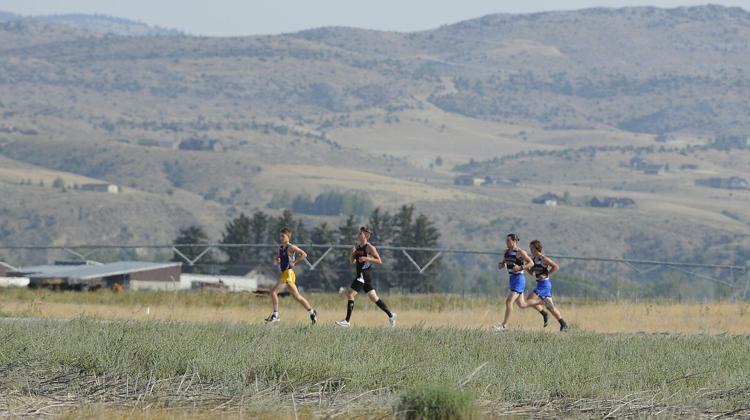 Manhattan's Hallie Hemenway placed second in 21:26.1, while Deanna Yung and Kit Wiersema finished fourth and fifth, respectively, with times of 21:52.3 and 21:52.6.
Three Forks, which placed fourth as a team with 86 points, was led by Jayden Woodland. The junior posted a time of 22:05.1.
"Our top female, Jayden Woodland, is running her first year of cross country and showing promise," Three Forks coach Tara Forsberg said.
Park's boys swept the top three spots en route to winning the meet with 39 points. Manhattan was second with 45, while Townsend and Three Forks rounded out the team scoring with 62 and 69, respectively.
Three Forks' Garrett Golding was the top local runner, finishing fifth in 19:02.1. The sophomore was among three Wolves in the top 15.
Teammates Bryon Fanning and Beau Johnston placed 10th and 11th, respectively, with times of 19:18.3 and 19:21.3.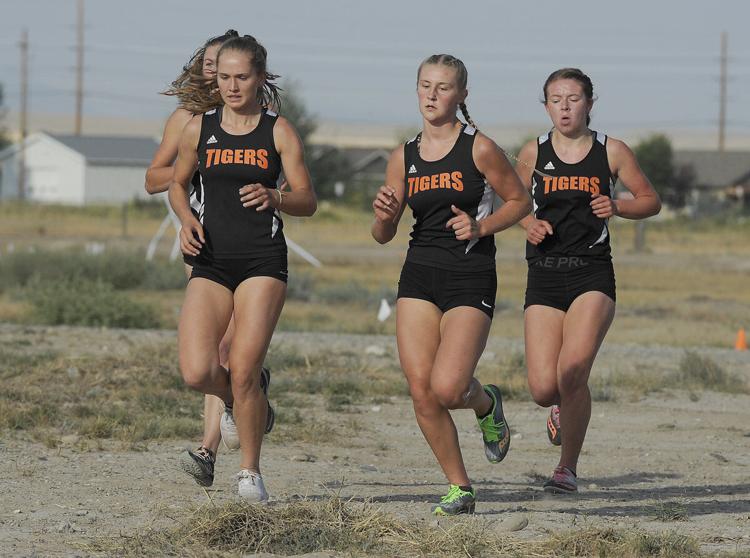 "Our boys are a young team, but are performing like seasoned runners," said Forsberg. "Our top boys have improved over last year by hard work and a lot of off season training."
Manhattan had five runners place in the top 15 led by Luke Meeker, who was sixth in 19:10.6. He was followed by Wyatt Barney (7th, 19:11.8), Layne Vanderby (8th, 19:13.2), and Payden Cantalupo (9th, 19:14.9).
"I'm pretty happy with how our boys and girls grouped up this week. There is a lot we still need to work on, but I can see them coming together as a team," said Sillitti. "Some of the in-race improvement as our kids get back in shape should benefit us in terms of training groups as we change things up in a couple of weeks."
All three teams will compete in Three Forks' invitational Sept. 12.
Manhattan Invitational
(at Manhattan High School)
Manhattan Black Meet
Boys
Team scores: Park 39, Manhattan 45; Townsend 62; Three Forks 69.
Top 20 individuals: Andrew Durgan, Park, 18:19.3; McCrae Wester, Park, 18:45.1; Charlie Serafin, Park, 18:48.9; Ty Henry Steele, Tow, 19:00.4; Garrett Golding, TF, 19:02.1; Luke Meeker, Man, 19:10.6; Wyatt Barney, Man, 19:11.8; Layne Vanderby, Man, 19:13.2; Payden Cantalupo, Man, 19:14.9; Bryon Fanning, TF, 19:18.3; Beau Johnston, TF, 19:21.3; Ace Edgerton, Tow, 19:32.2; Zach Wickens, Tow, 19:36.5; William Lynde, Tow, 19:42.1; William Rolando, Man, 19:42.5; Kimball Smith, Park, 20:00.6; Jon Sarisky, Park, 20:03.6; Hunter Perrin, Man, 20:17.9; Sam Lane, Tow, 20:17.9; Carson Blanchard, Man, 20:21.1; Gabe Hungerford, TF, 20:22.7; Anthony Deriana, TF, 20:25.3; James Pitassy, Tow, 20:30.4; Devon Potts, MC, 20:30.7; Jaron Berg, TF, 20:36.3; Caleb Jergenson, Park, 21:37.4; Cael O'Dell, Tow, 22:08.6; Robert Durgan, Park, 24:38.8.
Girls
Team scores: Manhattan 29; Townsend 42; Park 76; Three Forks 83.
Top 20 individuals: Emma Stolte, Tow, 20:37.3; Hallie Hemenway, Man, 21:26.1; Ellianna Wester, Park, 21:44.5; Deanna Yung, Man, 21:52.3; Kit Wiersema, Man, 21:52.6; Jayden Woodland, TF, 22:05.1; Madeline Severson, Man, 22:09.1; Justene Santi, Tow, 22:13.2; Sarah Christensen, Tow, 22:13.6; Bailey Taves, Tow, 22:20.6; Saige Duffin, Man, 22:23.3; Rylee Cameron, Man, 22:24.7; Elise Wadie, Park, 22:27.1; Zoey Wickens, Tow, 23:37.5; Fionn Camp, Park, 23:45.2; Kodee Kolberg, TF, 23:46.6; Olleca Severson, Man, 24:09.2; Ari Judd, TF, 24:50.1; Emma Huffman, Tow, 25:07.8; Zandra Potts, TF, 25:09.1; Libby Barber, Park, 25:38.6; Brooke Edgerton, Town, 26:01.6; Lily Jones, TF, 26:26.7; Fiona Alverson, Park, 26:29.6; Rylee Dell, TF, 26:43.7; Kinzee Howie, TF, 26:51.2; Haley Rigler, Park, 28:28.5; Avery Johansen, Park, 29:19.3.
Manhattan Orange Meet
Boys
Team scores: Manhattan Christian 19, Dillon 39.
Individuals: Riley Schott, MC, 17:10.3; Ben Steadman, Dil, 17:32.2; Matt Kenney, MC, 18:15.3; Devan Walhof, MC, 18:43.5; Oren Arthun, MC, 18:46.5; Nathan Adams, MC, 19:06.8; Daniel Martin, Dil, 20:28.5; Joel Harvey, Dil, 20:59.1; Cody Hager, MC, 22:58.7; Andy Egan, Dil, 23:09.8; Ryann Schoot,MC, 24:22.8; Jarrett Mosher, Dil, 26:31.5; Jessie Bojkovsky, Dil, 32:26.1; Sean Regan, Dil, 36:33.7.
Girls
Team scores: Dillon 15. No score: Manhattan Christian.
Individuals: Madalen Shipman, Dil, 22:17.9; Mikelle Mosher, Dil, 24:00.1; Ava Bellach, MC, 34:55.5; Kiersten Van Kirk, MC, 25:56.7; Hailey Powell, Dil, 27:07.6; Katelyn Van Kirk, MC, 28:24.5; Malaya Kamerman, MC, 28:31.2; Natalie Busch, Dil, 28:58.1; Hanne Hansen, Dil, 30:15.5; Eden Kinberg, Dil, 32:31.6; Laura Martin, Dil, 34:11.5.