THREE FORKS — Coby Richards drove in five runs at the plate and scattered seven hits on the mound Saturday as Belgrade clinched a berth to the state tournament for the first time since 2018.
Three of those RBIs came on a bases-loaded triple in the second inning to extend a 3-0 lead to six, and the Bandits cruised from there in a 15-2 semifinal rout of Gallatin Valley at the Southern A District Tournament.
"If feels great because we took a hard loss last year against Dillon," said Richards. "It just feels great to be back on top this year."
Belgrade entered last year's tournament as the No. 1 seed, but was upset in the second round and then knocked out in a loser-out game against Dillon. The Bandits had reached state in each of the previous two years, and returning this year was a driving force.
"That's the goal every year is to get to state, and obviously the goals that line up before that is winning the regular season title and then winning the district title, and state takes care of itself," Belgrade manager Johnny Graham said. "It feels great."
The Bandits (37-15) ride a 10-game win streak in the championship game, which will be held at 12:30 p.m. Sunday at Imerys Field.
Gallatin Valley still has an opportunity to qualify for state with a victory over Helena in the consolation game at 10 a.m. The state tournament will be held Aug. 6-9 in Lewistown, and the the top two teams advance.
Belgrade took a 1-0 lead in the first inning on an RBI-single by Richards that plated Cole Thomas. While Patrick Dietz managed to get out of more trouble, Gallatin Valley's ace struggled on the hill.
Dietz allowed five hits, walked five batters, hit a batter, and was credited with nine earned runs in less than two complete innings of work. Four of those walks and three hits came in the second as the Bandits tallied eight runs.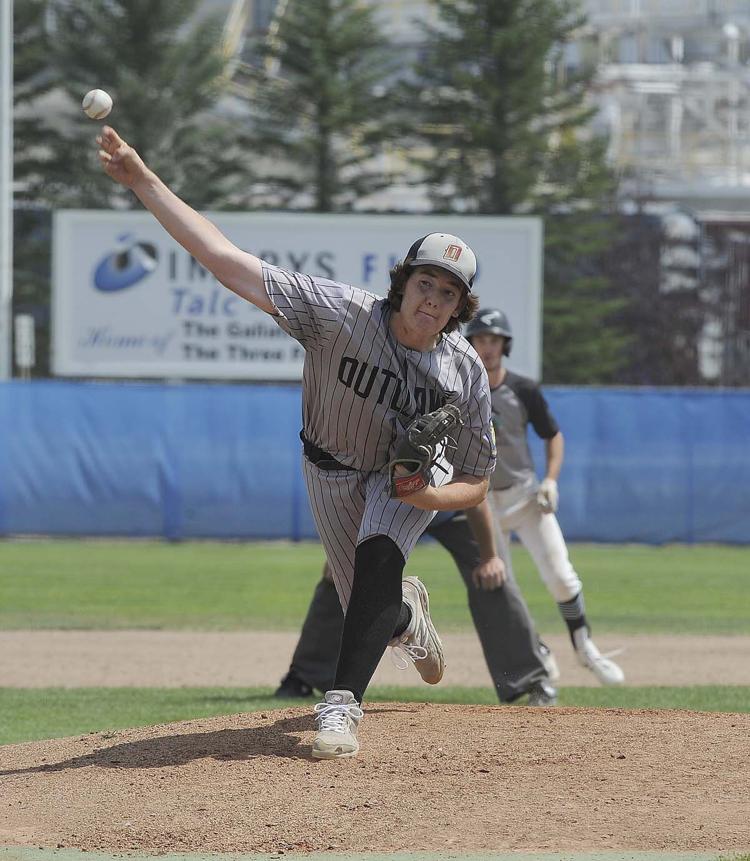 Graham challenged his players to have an attacking mindset offensively, which resulted in three doubles, a triple and four stolen bases.
"I saw some guys afraid to make mistakes yesterday and I really believe you beat fear by facing it head on," he said. "So we asked the guys to do that. Said, 'If the shoe fits, wear it.' Be an attack dog and trust yourself, and (your) preparation has been sound and consistent, so you got a lot to trust."
Gallatin Valley (29-24) scored a run in the third to get on the scoreboard. But Belgrade put the contest out of reach in the fourth by batting around en route to scoring six runs.
Mason Jacobsen led off the frame with a double, while Keaton Carter added a two-run double and Lane Neill an RBI-single. Richards also drove in a run on a ground out.
The Bandits finished with eight hits led by Richards, who was 2 for 4. Carter drove in three runs, while Thomas was 1 for 2 with a double.
"We just had good at-bats, quality at-bats," Richards said. "And our defense was really solid too."
The Outlaws were led by Bo Hays, who was 3 for 3 with a pair of RBIs.
Saturday's results
Helena 6, Bozeman 3, loser-out
Butte 3, Dillon 1, loser-out
Belgrade 15, Gallatin Valley 2, semifinal
Helena 10, Butte 0, fourth
Boxscore
Belgrade 15, Gallatin Valley 2
Gallatin Valley             001 01  -   2  7  0
Belgrade                      180 6x  -  15  8  1
Patrick Dietz, Josh Majors (2) and Cyrus Richardson. Coby Richards and Seth Green.
GALLATIN VALLEY (29-24) - Brady Jones 1-2, Josh Wisecarver 1-2, Bo Hays 3-3, C. Richardson 1-2, Brody Ayers 0-2, Isaac Richardson 0-2, Brandon Beedie 1-2, Mayson Shively 0-2, Trevor Doud 0-2.
BELGRADE (37-15) - Lane Neill 1-4, Cole Thomas 1-2 (2B), Green 1-3, Richards 2-4 (3B), Mason Jacobsen 1-2 (2B), Cooper VanLuchene 1-2, Aidan Kulbeck 0-0, Keaton Carter 1-1 (2B), Isaiah Brandhorst 0-2.