THREE FORKS — With the bases loaded and no outs in the top of the fourth, Mason Jacobsen remained positive on the mound.
The sophomore pitcher was in a tough spot after two runners reached on singles and a third on an error. But Jacobsen never doubted he could get out of the jam.
"I just trusted my defense. I trusted my pitching," he said. "And (they) got me through it."
Jacobsen struck out three of the next four batters, and although Gallatin Valley did plate a run on an RBI-single by Trevor Doud, it was a huge victory for Belgrade Sunday in the Southern A District Tournament Championship game.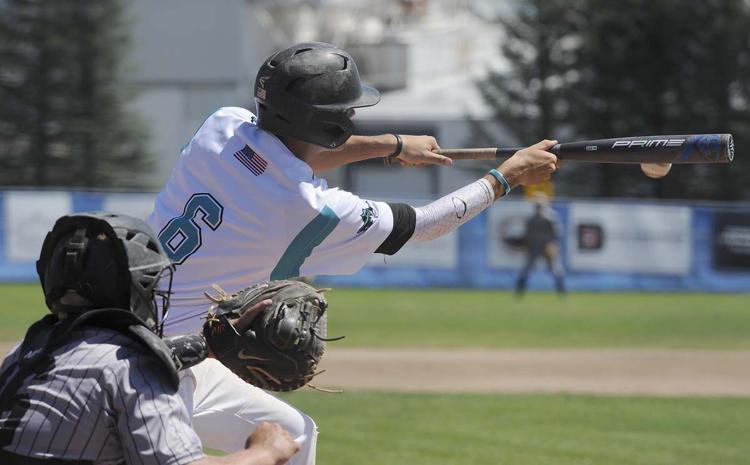 "That was huge. That right there was a huge win. That's a huge win within the game because you just minimize what they could have got out of that," Bandits manager Johnny Graham said. "Credit to Mason, credit to the defense."
While Gallatin Valley took a 1-0 lead, Belgrade rallied with runs in the fifth and sixth innings to post a 2-1 victory en route to claiming the program's third tournament title in four years.
The previous day the Bandits clinched a berth to the state, which begins Thursday in Lewistown, with a 15-2 semifinal win against the Outlaws.
"There's always the two big team goals to start the year and two of them are checked off the list," Graham said. "And now we'll move our attention to Lewistown."
Gallatin Valley (30-25) is headed to state, too. The Outlaws bounced back from Saturday's semifinal loss to shutout Helena, 8-0, in the consolation game. Mayson Shively tossed a complete game 4-hitter on the mound to lead the charge.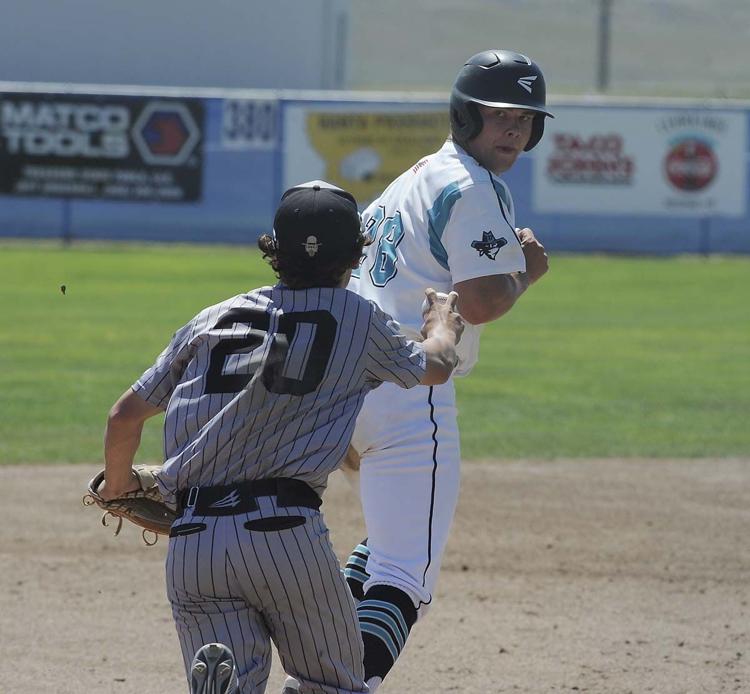 "Obviously we didn't want to take the long way to state, but we got it done," veteran Gallatin Valley manager Duwayne Scott said. "Mayson threw a great game and were able to score a few runs off of their guy."
But the Outlaws were unable to capitalize on their few offensive opportunities in the championship game, including a frustrating end to the fourth as Brandon Beedie, Gunnar Johnson and Brady Jones each struck out with the bases loaded.
"Mason made a couple really good pitches and we weren't able to come up with a hit," said Scott. "He made some really, really good pitches in that situation and we weren't able to take advantage of it."
Belgrade (38-15) missed plenty of opportunities as well as Jacobsen was caught in a rundown, and then Cooper VanLuchene and Aidan Kulbeck were each thrown out trying to steal third in the second inning. Lane Neill was tug out in another run down in the fifth, while Kulbeck was picked off at first in the sixth.
"They were just real sloppy minded inside of the system," Graham said of the base running. "Our system is aggressive by nature, but we say we got to be aggressive inside the system because that's where the intellect comes. And they got outside of it a little bit."
But, the offense produced when it mattered most.
Isaiah Brandhorst was hit by a pitch to begin the fifth, and then Caleb Kamerman walked Lane Neill on four pitches. Cole Thomas laid down a perfectly executed bunt along the third base line to load the bases for Seth Green, who drove in Brandhorst on a sacrifice fly.
Kamerman managed to get out of that jam without further damage, but in the sixth Jacobsen led off with a single to left-center. He advanced to second on a wild pitch, and then moved to third on a bunt by VanLuchene.
Jacobsen scored the game-winning run on another attempted sacrifice bunt by Kulbeck, who legged out a single, on the next at-bat.
While Jacobsen allowed a two-out single in the seventh, he induced a fly ball to center to end the game. Jacobsen scattered six hits and struck out eight in a complete game victory.
Kamerman also threw well, allowing just five hits. But he also walked four and hit a batter. Fortunately, his defense made several key plays to get the Outlaws out of trouble.
"I was actually happy with how our defense played all weekend," said Scott. "I thought we played tremendously defensively all weekend, and I think that's why we're going to state."
Belgrade, which rides an 11-game win streak into state, won its sixth district title in the past 10 years. Last year the Bandits were the No. 1 seed, but were upset in the tournament and missed state for the first time since 2015.
"We're excited about state," said Jacobsen. "It's been a while since the last time we've done this, so it's exciting to get to state."
Gallatin Valley 8, Helena 0
Helena                    000 000 0  -  0   4   3
Gallatin Valley       101 222  x  -  8  15  0
Hunter Bratcher, Luke Dowdy (5) and Greyson Ahmann. Mayson Shively and Cyrus Richardson.
HELENA (25-24) - Quinn Belcher 1-4, Eric Cockhill 0-2, Bratcher 1-3, Judson Seliskar 0-3, Tycen Mooney 1-2 (2B), Mike Hurlbert 0-2, Cade Coate 0-2, Will Brent 0-1, Luke Dowdy 0-2, Will Lyng 1-1, Ahmann 0-2, Hunter Walls 0-1.
GALLATIN VALLEY (30-24) - Brady Jones 2-5 (2B), Josh Wisecarver 0-4, Bo Hays 4-4 (2B), C. Richardson 2-3, Brody Ayers 2-4, Isaac Richardson 1-4, Patrick Dietz 0-3, Brandon Beedie 2-4, Trevor Doud 2-3.
Belgrade 2, Gallatin Valley 1
Gallatin Valley         000 100 0  -  1  6  4
Belgrade                  000 011 x  -  2  5  2
Caleb Kamerman and Brandon Beedie. Mason Jacobsen and Seth Green.
GALLATIN VALLEY (30-25) - Brady Jones 0-4, Josh Wisecarver 1-4, Patrick Dietz 0-1, Bo Hays 1-3, Cyrus Richardson 1-3, Brody Ayers 2-3, Isaac Richardson 0-2, Beedie 0-2, Gunnar Johnson 0-3, Trevor Doud 0-3.
BELGRADE (38-15) - Lane Neill 0-2, Cole Thomas 0-3, Green 1-2, Coby Richards 1-3, Jacobsen 1-3, Cooper VanLuchene 1-2, Aidan Kulbeck 0-1, Keaton Carter 1-2, Isaiah Brandhorst 0-2.