BOZEMAN — Baseball is back.
With the announcement by Gov. Steve Bullock last week that Montana was moving to phase 2 of the reopening, and approval by the Gallatin County Health Department, legion baseball took center stage over the weekend at Heros Park.
The Belgrade Bandits and Bozeman Bucks were the first to step on the diamond Friday night, and then both competed in the Missoula Memorial Day Tournament, which was moved to Bozeman after Missoula County health officials did not give consent for the event.
"What a fortunate thing that we got to get into this tournament because Couer d'Alene couldn't come over," Bandits manager Johnny Graham said. "So opening up against four double A teams, you couldn't ask for anything better than that, especially for a young team. We're going to find out exactly where we're at."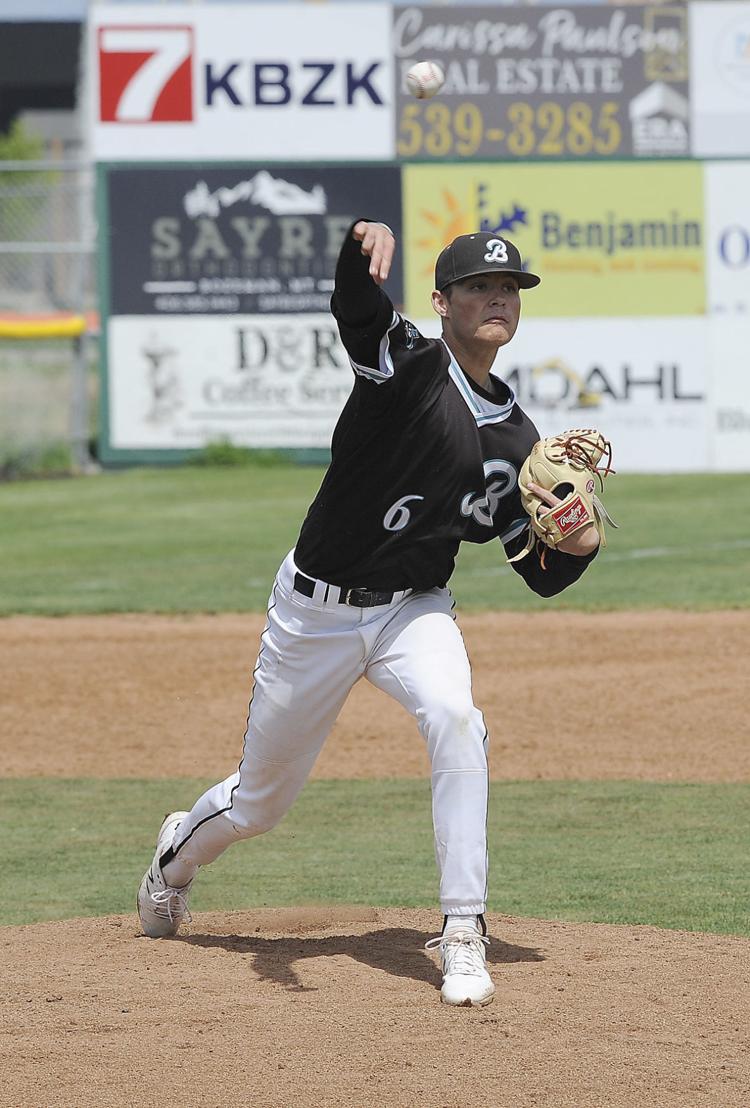 Class A Belgrade lost to the defending AA champions 13-4, and then split a pair of games on Sunday after Saturday's contests were canceled due to rain. The Bandits lost to the Helena Senators 5-4 in extra innings and then beat the Great Falls Chargers 8-6.
"I don't think we had great energy today, honestly, which is shocking," Graham said after Sunday's contests. "You think that would be an easy deal after being quarantined for all those weeks and such. The energy could have been a heck of a lot better, frankly, but they are excited to play, I know that."
Belgrade capped the tournament with a 13-2 loss to the Missoula Mavericks.
The Bandits got off to a rough start Friday, trailing 7-0 after four innings. They did trim the deficit to 7-4 in the top of the fifth, but a mistake-prone sixth inning put the contest out of reach.
"That game got away from us in one inning with back-to-back-to-back errors," said Graham. "It was 9-4 and then all of a sudden it's 13-4 because it was self-inflicted wounds. Today against Helena, the same thing. That does determine winners and loser quite often."
Cole Thomas led the charge offensively for Belgrade, going 3 for 3 with a triple. Sage McMinn belted a home run for the Bucks.
Mistakes proved costly again on Sunday for the Bandits — they committed eight errors in the two games — but still managed to earn a split and nearly rallied to beat Helena after trailing 4-1 heading into the fifth.
"Game one today we allowed too many of those (errors) and it turns into an extra innings loss," noted Graham. "And game two we gave up our fare share, but so did Great Falls."
Belgrade led 8-3 with two outs in the bottom of the seventh against Great Falls, but the throw following what should have been a routine ground out was off target allowing the Chargers to extend the game. They went on to score three runs before the Bandits finally managed to end the game.
Great Falls pitchers hit five batters — including three in the bottom of the fourth — and walked five others. The Bandits twice loaded the bases in the fourth and scored on a two-run single by Thomas and a two-run double by Kash Fike, who finished 2 for 3 with a pair of doubles.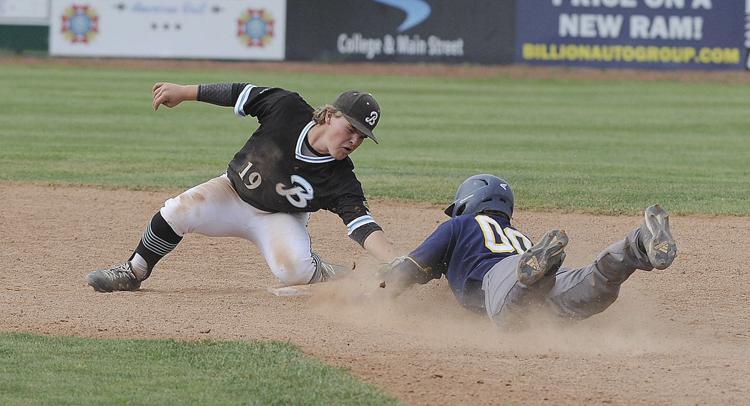 Belgrade's runners stole five bases in the contest, and that aggressiveness often flustered the Chargers' pitching staff.
"I think it does steal some attention and focus away from pitchers sometimes," Graham said.
Fike and Lane Neill each finished 2 for 4 against Helena, and Fike had a double.
Against Missoula, the Bandits surrendered three runs in the first and five in the second en route to the loss.
Graham said the opening weekend was a valuable learning experience for his team.
"It's a daily pattern of growth. We're young and inexperienced and some are young in age," he said. "Every day at practice, every day at pre-game, every day at game is a chance to learn."
Belgrade (1-3) will make its home debut Thursday hosting the Helena Reps in a conference doubleheader. First pitch is slated for 5 p.m. at Edward S. Medina Field.
Bozeman 13, Belgrade 4
Belgrade               000 040 0  -   4    5  4
Bozeman               231 124 x  -  13  12  2
Mason Jacobson, Lane Neill (4), isaiah Brandhorst (6) and Seth Green. Hunter Williams, Brady Higgs (5), Drew Roberts (7) and Alton Gyselman.
BELGRADE (0-1) - Cole Thomas 3-3 (3B), Neill 0-4, Kash Fike 0-2, Jacobson 0-3, Green 1-3 (2B), Cooper VanLuchene 0-3, Alex Casas 0-3, Keaton Carter 1-3, Isaiah Brandhorst 0-2.
BOZEMAN AA (1-0) - Kelher Murfitt 2-4, Preston Fliehman 2-3, Sage McMinn 2-5 (HR), Gyselman 2-3, Rhett Hays 0-4, Logan Pailthorpe 1-4, Ethan Coleman 1-4, Samuel Schmidt 0-2, Ethan Faure 2-3 (2B).
Helena 5, Belgrade 4
Belgrade                 100 020 10  -  4  7  3
Helena                  103 000 01  -  5  7  3
Cooper VanLuchene, Wyatt Russell (5) and Kash Fike. Eamon Burke, Victor Scott (4), Ethan Keintz (6) and
BELGRADE (0-2) - Cole Thomas 1-3, Isaiah Brandhorst 0-3, Fike 2-4 (2B), Lane Nelll 2-4, Mason Jacobsen 1-4, Keaton Carter 1-3, Wyatt Lambeth 0-4, Stran Knudsen 0-3, Gavin Waters 0-1, Van Luchene 0-1.
HELENA (2-0) - Ethan Keintz 1-4 (2B), Matt Krieger 2-3, Chase Nielson 1-3 (3B), Cy Miller 0-3, Kadyn Craigle 0-3, Caden Sell 1-3, Trysten Mooney 1-1 (2B), Tyler Tenney 0-2, Peyton Witham 0-2, Forest Suero 1-1, Matt Burton 0-3.
Belgrade 8, Great Falls 6
Great Falls                003 000 3  -  6  6  1
Belgrade                   011 420 x  -  8  7  5
Unkown and Unknown. Coby Richards, Cole Thomas (4) and Seth Green.
GREAT FALLS - Keaton C. 0-1, Derick S. 0-2, Kael R. 0-3, Andrew P. 1-4, Tyler M. 3-4, Hunter H. 1-2, Josh B. 1-4, Fox W. 0-3, Nate F. 0-3.
BELGRADE (1-2) - Thomas 2-3, Lane Neill 2-4, Keaton Carter 0 0-0 0, Kash Fike 2-3 (2 2B), Richards 0-4, Green 0-2, Mason Jacobsen 0-2, Cooper VanLuchene 0-2, Wyatt Russell 1-2, Isaiah Brandhorst 0-1.
Missoula 13, Belgrade 2
Missoula                    352 22  -  13  11  1
Belgrade                    000 02  -  2  7  4
Alex Certez and n/a. Wyatt Lambeth, Kash Fike (3), Daniel Rickenberg (5) and n/a.
MISSOULA (1-2) - Bridger Johnson 0-4, Charlie Kirgan 0-0, McCarrend 1-2, Dane Fraser 4-4, Drew Stensrud 0-3, Cayden Jordan 1-3, Zach Hangas 2-4, Andrew Claussen 0-3, Peyton Stevens 1-2, Skye Palmer 2-3.
BELGRADE (1-3) - Cole Thomas 1-3, Lane Neill 1-3, Fike 0-2, Coby Richards 2-3 (2B), Seth Green 1-3, Keaton Carter 0-3, Cooper VanLuchene 0-1, Lambeth 0-1, Rickenberg 0-2, Isaiah Brandhorst 2-2.