BOZEMAN — Three tournaments into the season and Belgrade's golf teams continue to struggle with consistency.
Both squads finished last at the Belgrade Invitational Tuesday with the boys hosting 10 teams at Riverside County Club and the girls hosting nine at Cottonwood Hills Golf Course.
Gallatin High's boys, led by brothers Justus and Jordan Verge, won the team title with a 296. Belgrade finished with a 359 following a swift 18 holes on a chilly final day of August.
"Some people probably played a little faster just because it was colder, but it was good," second-year Belgrade coach Mike Deming said. "We were able to play 18 holes and the weather cooperated. It wasn't terribly warm, but it was a little bit of a break from the heat that we've been in."
Jordan Verge won the tournament with a 71, while Justus Verge was second with a 73. Belgrade was led by Jacob Maroney, who carded an 83.
"Really sounded like he played with some competitive fire. He was our best place finisher and that was good to see," Deming, who spent the day with the girls at Cottonwood, said. "He's capable of shooting a good score, he just has to eliminate the bad holes. I think he made progress today doing that."
Jaxon Hinshaw had the second best score for the Panthers with an 88.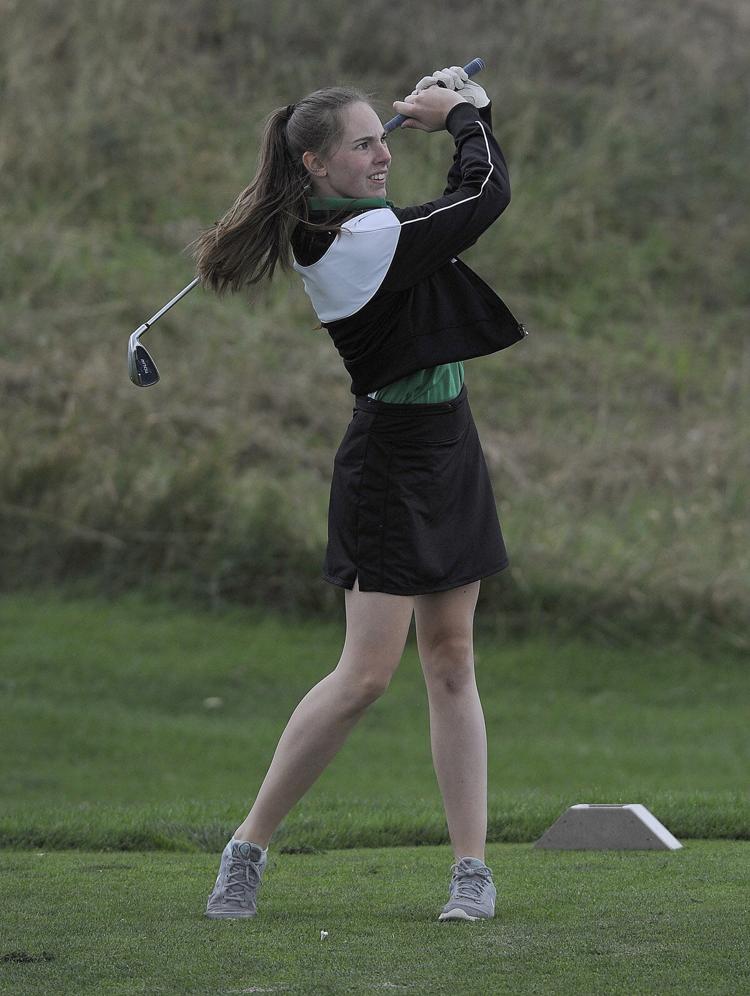 "I think over the last five holes or so he played really solid," said Deming. "So that was a bonus."
Belgrade was rounded out by Justin Garcia, Brodie Falk and Anthony Madison, who carded a 92, 96 and 99, respectively.
"We just have to get rid of those blow up holes and be more consistent," said Deming. "It's on them to get better in terms their consistency."
On the girls side, Bozeman won the team title behind the efforts of Sami Yates and Cooper Knarr with a 332. Yates wont he tournament with a 76, while Knarr was second with a 78.
Belgrade's golfers fared better on the back nine holes, but struggled early en route to finishing with a 484.
"They played a little bit better down the stretch, but it was just kind of the same situation where we just had too many holes that we blow up holes," said Deming. "That's just a lack of consistency, and so we're just trying to get them to be more consistent on their swings and their approach."
Lelia Mamangum led the Panthers with a 107, while Jordan Whitaker and Riley McMahon carded a 119 and 123, respectively. Brynn Butler and Allyssa Lineback each had a 135.
"The girls continue to have such a positive attitude, and they have a great camaraderie with each other," said Deming. "So that's the fun part of it. Now we just have to make them be more consistent on their golf swings."
Belgrade has nine days off before returning to action Sept. 10 at an invitational in Helena.
Belgrade Invitational
Boys
(at Riverside Country Club)
Team scores: Gallatin 296; Billings Senior 320; Helena High 324; Helena Capital 325; Great Falls CMR 331; Great Falls 333; Bozeman 335; Billings Skyview 341; Billings West 347; Butte 350; Belgrade 359.
Individual results: Jordan Verge, Boz, 71; Justus Verge, Boz, 73; Austin Zeiler, Hel, 74; Logan Meyer, Hel, 74; Trenton Olson, GF, 75; Ramey Llyod, Gal, 75; Logan Connolly, BSen, 76; Jack Prigge, Butte, 77; Eli Groshelle, CMR, 77; Steve Voight, 77, Gal; Reece Maykla, BS, 79; Sam Wilailvck, BSen, 79; Fox Weymouth, CMR, 79; Jacob Brandon, Boz, 80; Bryant Rivenbark, Boz 80; Brady Anderson, Butte, 80; Caswell Bloomquist, HC, 80; Cutch Teters, HC, 80; Cade Wagner, BSen, 81; Cole Hines, HC, 81; Tyler Brunner, BS, 82; Jacob Maroney, Bel, 83; Joseph Driscon, BSen, 83; Tye Boone, BSky, 84; Dylan Dobbins, HC, 84; Gavin Cline, Gal, 84; Treyden Haber, BW, 85; Nate Pailthorpe, Boz, 85; Noah Hollenback, CMR, 95; Michael Perkins, GF, 85; Luke Huber, GF, 85; Byren Stoner, Hel, 85; Mitchell Fogelsong, BW, 86; Connor Halligan, BW, 87; Jaxon Hinshaw, Bel, 88; Tate Swanson, GF, 88; Jacob Wassmer, BW, 89; Joseph Lyons, Butte, 89; Dylan Rickman, BSky, 90; Dylan Couture, Boz, 90; Kaleb Engel, CMR, 90; Ridge Wohler, BSky, 91; Croix Flohr, BW, 91; James Broderick, Boz, 91; Myles Jacobs, Hel, 91; Justin Garcia, Bel, 92; Wyeth Hayes, GF, 92; Brett Stoos, Hel, 92; Brodie Falk, Bel, 96; Josh Ebel, BSky, 96; Anthony Madison, Bel, 99; Jacob Sawyer, Butte, 104; Brevyn Goosen, CMR, 110; Hunter Pandis, Hel, 111.
Girls
(at Cottonwood Hills Golf Course)
Team scores: Bozeman 332; Butte 357; Billings West 375; Gallatin 377; Billings Senior 378; Helena Capital 418; Great Falls CMR 429; Belgrade 484.
Individual results: Sami Yates, Boz, 76; Cooper Knarr, Boz, 78; Ella Prigge, Butte, 80; Kenzie Walsh, BSen, 80; Kodie Hoagland, Butte, 82; Cierra Sundheim, BSky, 82; Lauren Williams, Hel, 83; Franchi Ceartin, Boz, 84; Meilyn Armstrong, BSky, 86; Kadence Fischer, BW, 86; Bella Johnson, BW, 87; Halle Vandersloot, Gal, 87; Addiley Lloyd, Gal, 89; Celi Chapman, Hel, 91; Sammi Benson, BSen, 92; Kendra Thayer, CMR, 93; Elly Atikns, Boz, 94; Kennedy Lean, Butte, 95; Kelly Jones, GF, 95; Kaitlyn Hensel, BSky, 96; Lexi Menen, HC, 99; Hayden Trost, BW, 100; Mackenzie Finnegan, Butte, 100; Morgan Sunchild, GF, 100; Zoie Ceartin, Gal, 100; Ella Torsleff, Gal, 101; Barbara McGregor, BW, 102; Averi Bertram, Boz, 102; Megan Swanson, HC, 104; Megan Savage, Butte, 105; Leila Mamangum, Bel, 107; Paige O'Mara, HC, 107; Makayla Buey, HC, 109; Lauren Mayala, BSen, 109; Tristan Zaremski, CMR, 109; Cassidy Levert, Gal, 109; Kylie Henderson, CMR, 110; Annika Brocklebank, BW, 111; Avery Fawcett, BSen, 114; Zita Braveley, HC, 114; Gracie Mestas, BSky, 117; Alex Madsen, CMR, 117; Jordan Whitaker, Bel, 119; Kenzie Walsh, BSen, 120; Riley McMahon, Bel, 123; Ryann Walker, CMR, 125; Brynn Butler, Bel, 135; Allyssa Lineback, Bel, 135.