Belgrade planned on eliminating Billings West's explosive plays and limiting its own turnovers.
Panthers head coach Eric Kinnaman admitted his team didn't do either.
The Bears gained plenty of yards on the ground and were efficient through the air as they defeated Belgrade 56-0 on Friday in Billings.
West's Connor Ryan returned the opening kickoff for an 86-yard touchdown. Kinnaman believed that play was key in the outcome as West gained early momentum.
Demarcus Carr scored on a 2-yard run midway through the first quarter, then Josh Erbacher hit Ryan for a 45-yard touchdown pass to make it 21-0. Carr's second touchdown run from a yard out gave West a 28-0 lead before the end of the first quarter.
Erbacher added another touchdown to start the second, this one from 37 yards out. Three more rushing touchdowns from different players by the end of the game added to West's lead.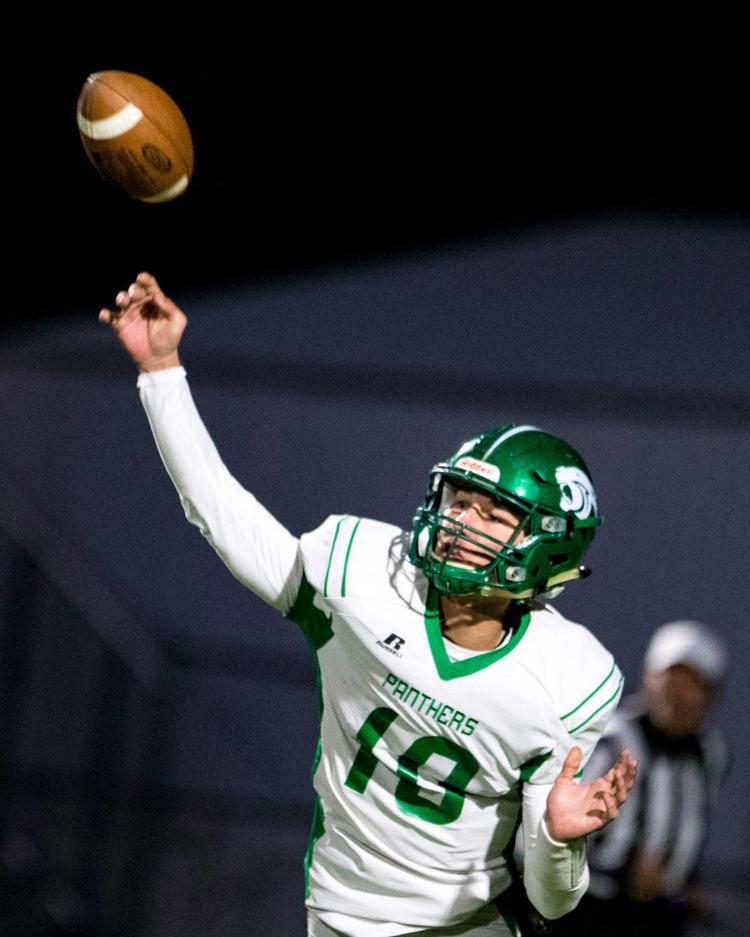 "I love our kids' resiliency and effort," Kinnaman said. "They didn't give up."
Kinnaman said the Panthers have dealt with plenty of injuries, and their young players are continuing to learn. For example, sophomore Kash Fike made his first start at quarterback. Kinnaman said the young passer is still adjusting to the speed and physicality of the game.
In fact, Kinnaman added, the Panthers have plenty of lessons to learn.
"I really like how we're competing," Kinnaman said, "and hopefully it means a lot of success for us down the road."
The Panthers (0-7) will play their last regular season game in their first season at Class AA next week at home against Billings Skyview for their senior night.
"I truly believe we have a shot at winning, just like I do every week," Kinnaman said. "We need to get these seniors a win. … I think getting our first AA win would be a big boost for our program."
Whitehall tops Three Forks
Miles Hoerauf threw four touchdown passes Friday night as Whitehall defeated Three Forks 29-6 in a Southern B conference game.
Flint Smith and Brendan Wagner had touchdown receptions of 10 and 46 yards, respectively, in the first quarter for the Trojans. Whitehall (3-5, 1-1 Southern B) took a 20-0 lead into halftime on another touchdown reception by Wagner.
The Wolves (0-7, 0-6 Southern B) scored their lone touchdown on a 7-yard run by Trenton Nimmick in the third quarter.
Three Forks wraps up the regular season Oct. 25 with a non-conference game at Florence.
— Dan Chesnet, Belgrade News
Billings West 56, Belgrade 0
Belgrade                      0    0    0  0  -    0
West                           28  14  14  0  -  56
First quarter
BW - Connor Ryan 86 kickoff return (Teagan Korin kick)
BW - Demarcus Carr 1 run (Teagan Korin kick)
BW - Josh Erbacher 51 pass from Connor Ryan (Teagan Korin kick)
BW - Demarcus Carr 1 run (Teagan Korin kick)
Second quarter
BW - Josh Erbacher 37 pass from Neil Daily (Teagan Korin kick)
BW - Michael DeLeon 21 run (Teagan Korin kick)
Third quarter
BW -  Hayes Rohloff 6 run (Teagan Korin kick)
BW -  Logan James 11 run (Teagan Korin kick)
Whitehall 29, Three Forks 6
Whitehall     13  7  9  0  -  29
Three Forks     0  0  6  0  -  6
Whi - Flint Smith 10 pass from Miles Hoerauf (Tegan Robbins kick), 9:05
Whi - Brendan Wagner 46 pass from Hoerauf (kick failed), 1:33
Whi - Wagner pass from Hoerauf (Robbins kick), 1:09
Whi - Safety, player tackled in end zone, 7:46
TF - Trenton Nimmick 7 run (run failed), 2:20
Whi - Robbins pass from Hoerauf (Robbins kick), 1:21