BOZEMAN — After taking a couple of steps across the finish line, Alexa Dryer collapsed into the arms of Belgrade Athletic Trainer Matt Hoskins and needed assistance to lay down in some nearby shade.
About 30 minutes later, and following some treatment by Hoskins, the Belgrade senior was back on her feet and smiling. It was a tough finish to Dryer's first-ever cross country race, but she was happy about pushing through to very the end.
"I felt really good," she said. "I challenged myself, I passed girls and I just thought I did awesome."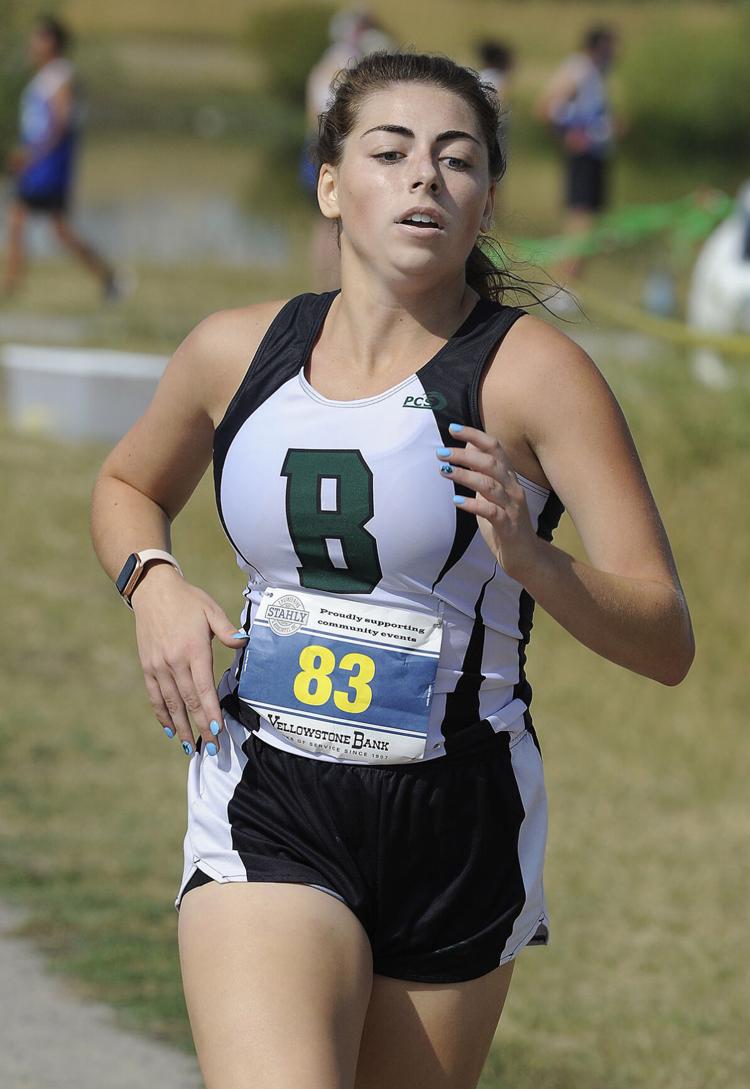 Dreyer was the second Panther across the finish line en route to recording a time of 23:23 at the season-opening Belgrade Invitational Friday at the Gallatin County Regional Park.
After competing in volleyball the past three years, Dreyer decided to try something new this fall. She earned a spot on the varsity and placed 15th in the morning portion of the meet against runners from Bozeman, Billings Skyview and Great Falls CMR.
"I just kind of wanted to be with my friends. It's my senior year and I like to do new challenges and just explore everything in the high school," said Dreyer. "I think it's really fun to be involved in everything and get a different perspective."
The invitational was actually split into two meets to comply with social distancing guidelines with Billings Senior, Billings West, Gallatin, and Great Falls competing in the afternoon. Times were then combined from both sessions to form the final results.
Dividing the event into two parts relieved congestion both on and around the course, and the finish line was noticeably void of spectators. While that made things easier for workers, athletes missed the vocal support.
"It's hard because you can't really give all you got when nobody's really cheering for you," said Dreyer. "It's just hard to get in that mental state, and say 'I want to win' when you don't have anybody backing you up. It's just really hard."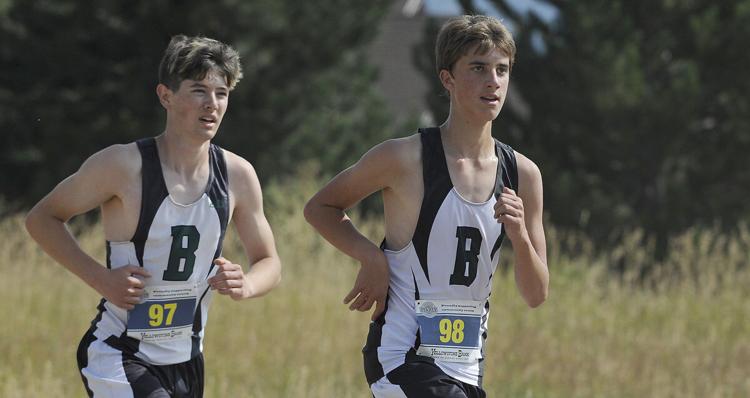 Belgrade placed sixth in the team standings with 159 points led by Hannah Giese. The freshman posted a time of 23:12 (21st overall) on a course that featured a challenging hill and a creek crossing during two laps around the park.
Charlize Glasgow was the third Panther across the finish line in 25:50 to place 36th, while Lily Stewart (38th, 26:03), Justine Pommerville (40th, 26:13), Kyra Giese (42nd, 26:31), and Kathleen Iverson (44th, 27:41) rounded out the squad.
Bozeman placed five in the top 10 en route to winning with 20 points, while Billings West was second with 48.
On the boys side, Belgrade's Sam Nash navigated the tough course in a time of 17:15 to place second overall. He edged Billings West's Caleb Hornung by three seconds, while Billings Skyview's Gavin Budge was fourth in 17:23.
"It's definitely one of the harder courses in the state, I would say, just because we hit this big hill twice and then going over the creek is just always a little bit of a mental challenge," Nash said. "I just try to use that to my advantage. Figured I could handle it, so maybe that would give me an edge."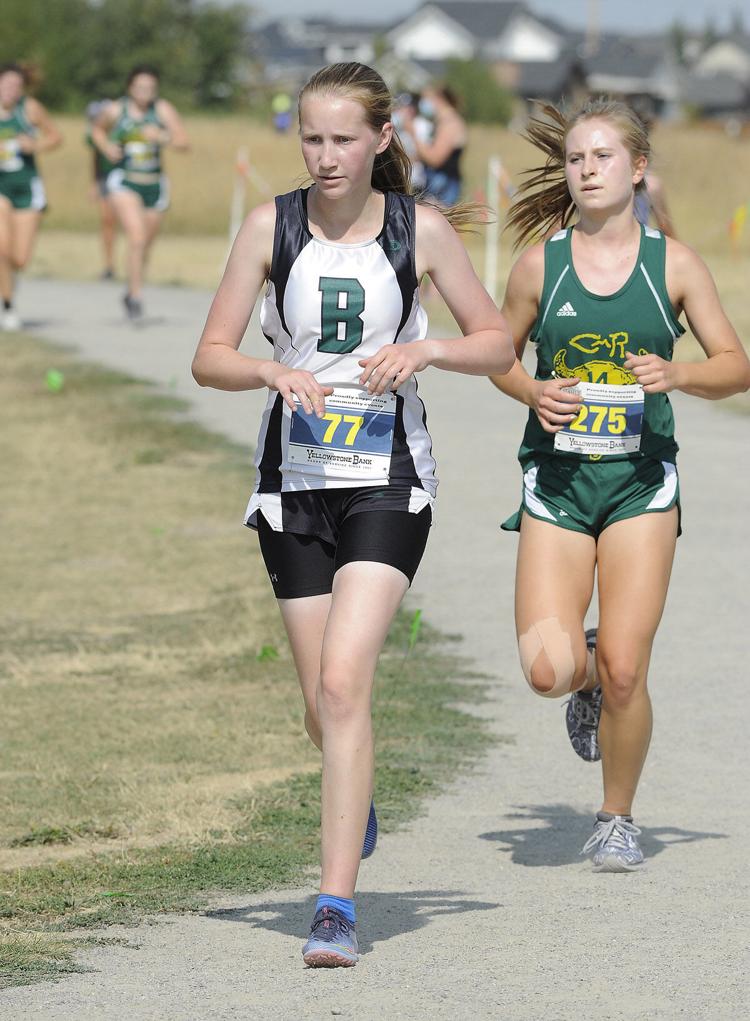 Bozeman boasted the overall winner in Stirling Marshall-Pryde, who crossed the finish line in 16:41. The Hawks also won the meet with 42 points after placing four runners in the top 10.
Belgrade, which had two in the top 15, finished fifth with 117 points. The Panthers' No. 2 runner was Cooper McCormack, who placed 13th in 17:56.
"It's really cool to get out and race again," said Nash. "Since we missed our track season, no racing during that, it's been a solid six months without being able to get out here. So it's just really fun to be able to get out here and spin the legs again."
Belgrade was rounded out by Brodie Tirrell (25th, 18:36), Brandon Clingan (38th, 19:29), Kaden Lookhart (39th, 19:30), Leo Heckman (54th, 22:50), and Aidan Brown (55th, 26:09).
"I feel like there's a lot of potential on the team," said Nash. "We got a lot of young guys who are performing really well, and I feel like we can definitely be pushing for top 10, maybe even top five depending on where we are late season, at state. And we're only going to go up from there I think."
Belgrade returns to action Sept. 12 at the Bozeman Invitational.
Belgrade Invitational
(at Gallatin County Regional Park)
Boys
Team scores: Bozeman 42; Billings West 64; Billings Skyview 84; Great Falls 97; Belgrade 117; Great Falls CMR 149; Gallatin 166; Billings Senior 176.
Top 20 individuals: Sterling Marshall-Pryde, Boz, 16:41; Sam Nash, Bel, 17:15; Caleb Hornung, BW, 17:18; Gavin Budge, BS, 17:13; Gavin Groshelle, GF, 17:25; Xander Danenhauer, Boz, 17:26; Connor Neil, Boz, 17:27; Joey Loveless, BW, 17:41; Noah Cunningham-Baker, Boz, 17:47; Carson Steckelberg, Gal, 17:48; Alex Benner, BS, 17:51; Jaxopn Straus, BW, 17:53; Cooper McCormack, Bel, 17:56; Micah Abrams, BW, 17:59; Andrew Denegar, CMR, 18:11; Mac Palmer, GF, 18:11; Ryan Harrington, 18:18; Connor Chase, BS, 18:20; Cody Hundhausen, Boz, 18:23; Joe Johns, Boz, 18:26.
Girls
Team scores: Bozeman 20; Billings West 48; Gallatin 78; Billings Skyview 86; Great Falls CMR 114; Belgrade 159; Billings Senior 185.
Top 20 individuals: Natalie Nicholas, Boz, 19:29; Hayley Burns, Boz, 20:00; Molly Sherman, Boz, 20:00; Emberlyn Hoffman-Gashk, BS, 20:18; Lucia McCormick, Boz, 20:25; Hannah Lukasik, BW, 20:34; Alli Keith, BW, 20:55; Taylee Chirrick, BW, 21:05; Grace Gilbreth, Boz, 21:27; Jaycie Franco, BS, 21:36; Breckyn Kornachuk, Gal, 21:45; Isis Haslem, GF, 21:48; Lilyann Macfarland, Gal, 21:58; Halle Crowther, BW, 22:26; Mikayla McClintock, BW, 22:29; Alexis Holton, Gal, 22:41; Ashley Lefevre, BS, 22:51; Penelope, Macfarlane, Gal, 23:00; Kamree Baumann, CMR, 23:08; Hannah Bingham, CMR, 23:10.