As players leapt off the bench Friday in the Belgrade Special Events Center and ran toward midcourt to join teammates, the appearance of a state championship celebration had begun.
For the first in 30 years Belgrade had beaten a Class AA program. A thrilling 40-38 victory against Gallatin was the first AA win for the program since 1990 and it snapped a 74-game losing streak against AA competition.
Thus, players were understandably excited.
"It felt like that (winning state) because it's been two years," sophomore point guard Olivia Wegner said. "We've haven't won for all my high school career yet, I haven't won once."
Belgrade (1-6) moved up to AA a year ago, but had regularly competed against AA competition during 32 years in Class A. Gallatin is a first-year program, and like the Panthers, had yet to notch a victory heading into the contest.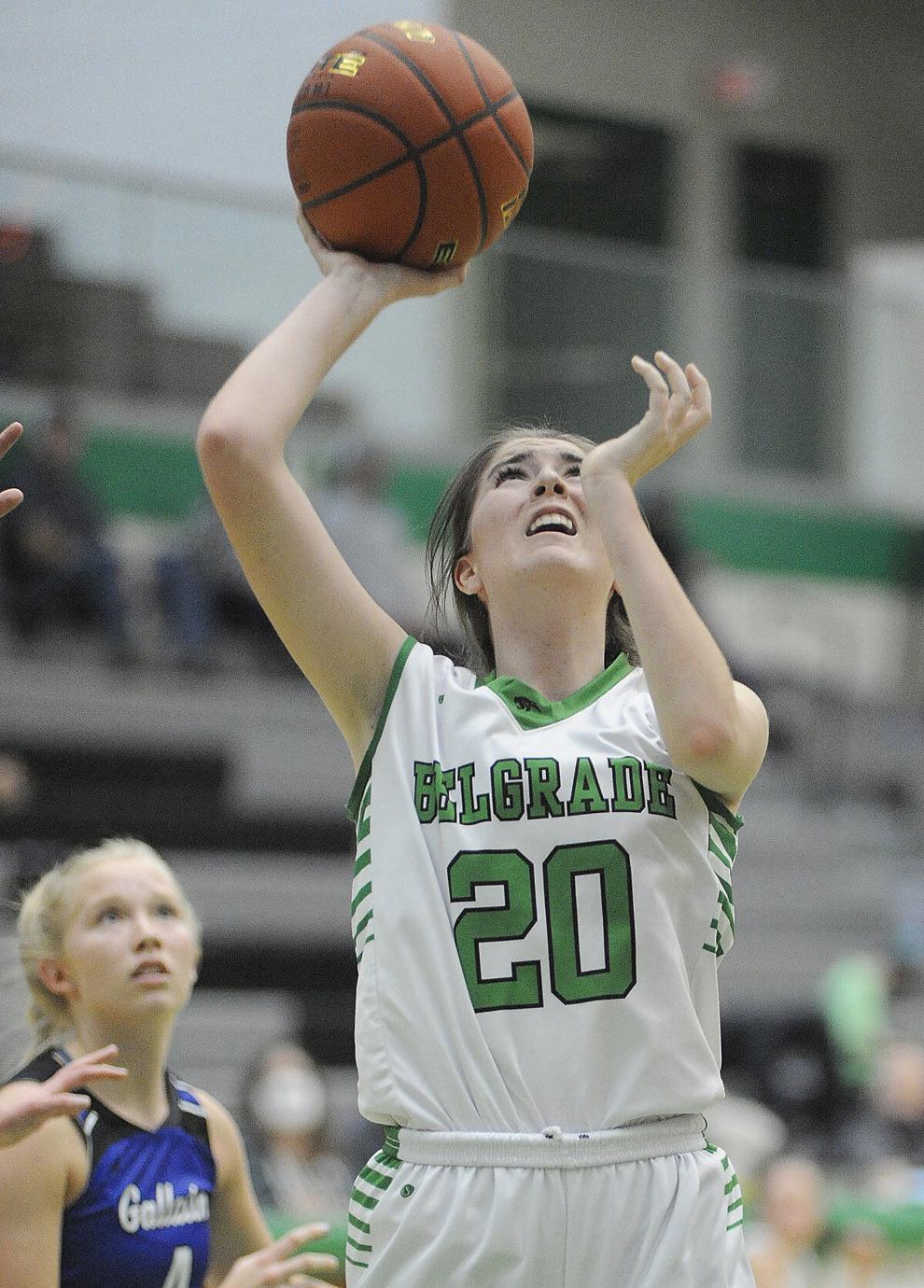 "I told them this was the game that we had to win," second-year Belgrade head coach Erin Nolte said. "This is another team that is basically the same kind of program as us. Brand new and they're kind of going through the same things that we're going through, so this was the time for us to shine."
The fourth quarter featured six lead changes and a wild sequence of plays over the final 36 seconds in which each team committed crucial turnovers. But the game came down to a missed free throw with 1.5 seconds remaining.
Belgrade's Grace Garvert was called for a foul on Gallatin's Avery Walker, which set the junior up for a bonus opportunity at the line with the Raptors trailing by two. Walker missed the free throw and Wegner grabbed the rebound to run out the clock.
"That last foul, we just knew we had to get that rebound and finish the game," Wegner said. "And it was really hard."
While neither team led by more than three points in the first half, Belgrade began the second on a 7-0 run to turn a one-point deficit to a 29-23 lead following a 3 by Garvert. But the Raptors clawed back with six consecutive points to tie the game at 29 heading into the fourth quarter, and then scored the first points of the frame.
Nolte was proud of how her team handled the pressure after Gallatin rallied to take the lead.
"You get nervous and you could just kind of feel it all the way around," she said. "But these girls fought, they wanted this bad. They have been wanting to win for so long, and they fought so hard. We finally got that elusive W, finally."
Garvert and Molly O'Connor traded 3's late in the fourth — O'Connor's gave Gallatin a 38-36 lead — and then Belgrade's Mackenzie Turner scored on a drive to the bucket to tie the game at 38.
The Panthers scored the game-winning points when Naomi Reanier, a 6-foot junior post, scored in the paint with 1:19 remaining.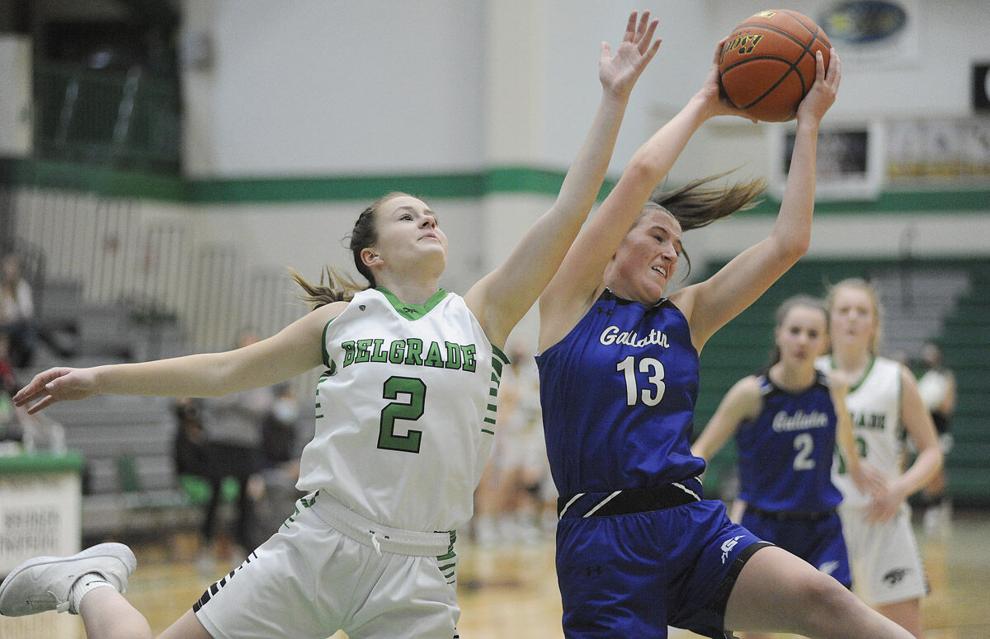 "I'm way taller than them," Reanier, who finished with eight points, said. "It was easy to post up on them."
There were plenty of big plays by both teams down the stretch, and Gallatin head coach Wes Holmquist praised his young team's effort.
"Overall, I loved our energy, I love our effort," he said. "We're just getting better and better. … For these girls, I would've loved nothing more than for them to get their first win and get that monkey off their back. But you start pressing because you really want it and you can see both teams really wanted that down the stretch."
Walker finished with 11 points and was 7 of 8 from the line, while teammate Makinlee Naffziger led all scorers with 13.
"I think this was one of our better games that we were a team together," Naffziger, a 5-foot-6 guard, said. "We had a lot of effort and were aggressive."
In addition to halting three decades of futility, Belgrade also snapped an 18-game losing streak dating back to last year. Now, the Panthers hope to create a different kind of streak.
"We were in there (the locker room) and we said, 'This is our start to our winning streak instead of losing streak,'" said Wegner. "So we're really excited about it and we feel like it's going to push us harder in games, feeling how good the win feels and how bad our losing feels."
— Colton Pool, of the Bozeman Daily Chronicle, contributed to this story.
Belgrade 40, Gallatin 38
Gallatin                         5  18  6   9  -  38
Belgrade                       7  15  7  11  -  40
GALLATIN (0-5) - Melaina Springer 1 0-0 2, Makinlee Naffziger 3 6-11 13, Avery Walker 2 7-8 11, Molly O'Connor 2 0-1 5, Keaton Lynn 2 0-3 4, Ryann Eddins 1 0-0 2, Hailey Dinges 0 0-0 0, Averi Smith 0 1-2 1, Aspen Evenson 0 0-0 0. Totals: 11 14-25 38.
BELGRADE (1-6) - Mackenzie Turner 3 1-2 7, Olivia Wegner 2 -7 7, Emmery Blossom 1 0-0 2, Sarah Riley Morris 0 1-2 1, Megan Smolnikar 0 0-0 0, McKenna Morris 1 0-0 3, Grace Garvert 4 0-0 12, Naomi Reanier 4 0-1 8. Totals: 15 5-12 40.
3-point goals: Gal 2 (Naffziger 1, O'Connor 1), Bel 5 (Garvert 4, M. Morris 1).