MANHATTAN — Just four pitches into Wednesday's contest, Tayler Thomas turned on a pitch and drove it over the left field fence for a home run at Taylor Park.
It was the first high school at-bat for the Belgrade sophomore, who didn't get a chance to compete a year ago after the season was canceled in response to the global pandemic.
"I was excited," said Thomas. "I was ready to hit."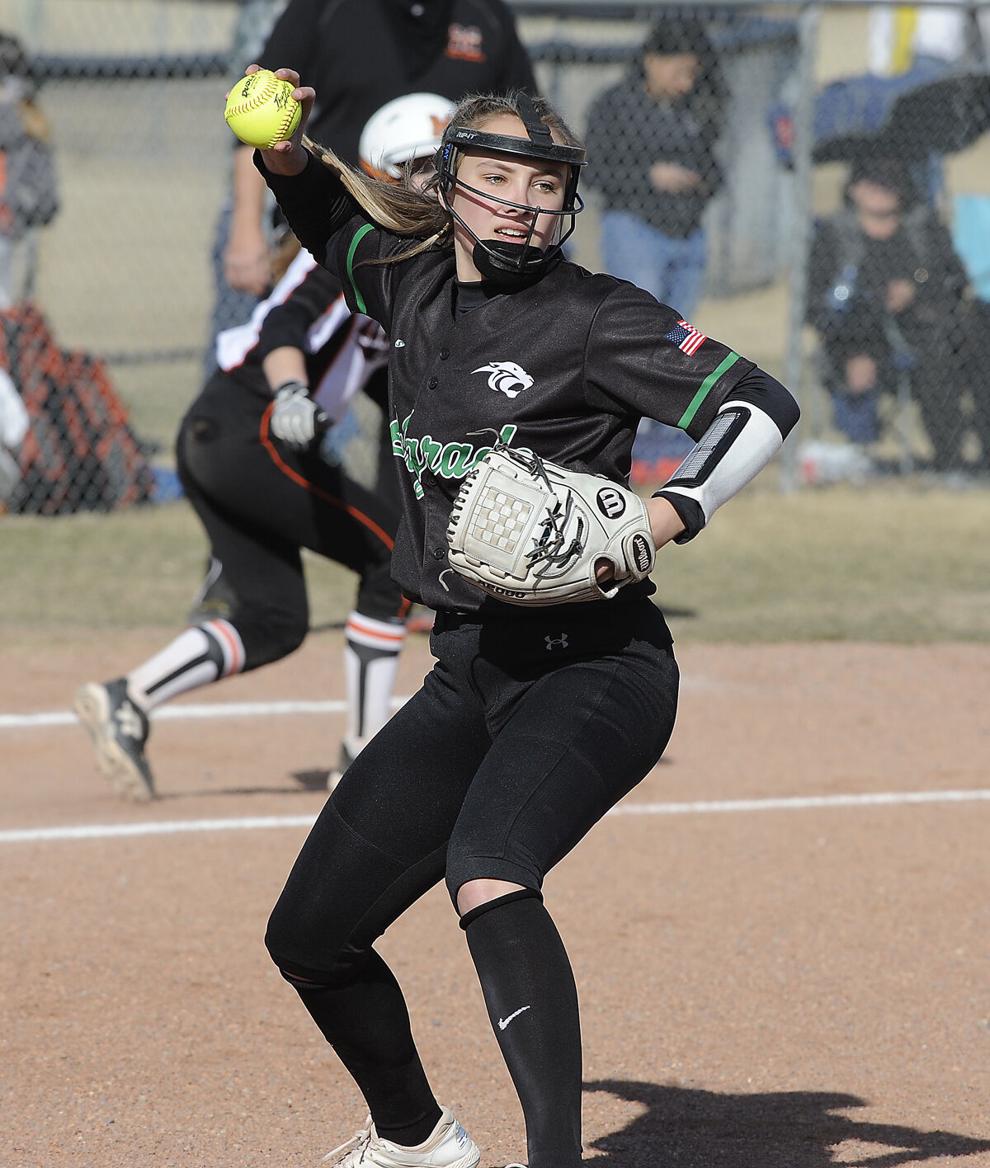 Belgrade's JV added two more runs in the top of the first and then rallied after falling behind by a run in the second to beat Manhattan 9-6.
"That was something right there," Manhattan head coach Randy Cygan said of the lead off homer. "That was good momentum, good start for them."
It was the second loss of the season for the Tigers, who have played non-conference games against opponents in higher classifications. They were run-ruled by Class A Laurel, but settled down against Belgrade after allowing nine runs over the first three innings.
"We got a lot of young girls that are inexperienced," Cygan said. "Get in a game and seeing stars I think."
After the Panthers had taken a 4-1 lead in the second, Manhattan responded with four runs in the bottom half of the frame to take a 5-4 lead. The rally was highlighted by a 2-run double from Claire Nolan, who finished 3 for 4 with a pair of doubles.
Thomas struggled in the circle in the frame, hitting three batters, walking two and throwing a wild pitch that allowed a run to score. But she settled down from there, allowing just four hits and striking out four in five innings of work.
"For the most part (it felt) pretty good besides that one inning," said Thomas. "But I think I battled back a little bit better. I managed to pull it off."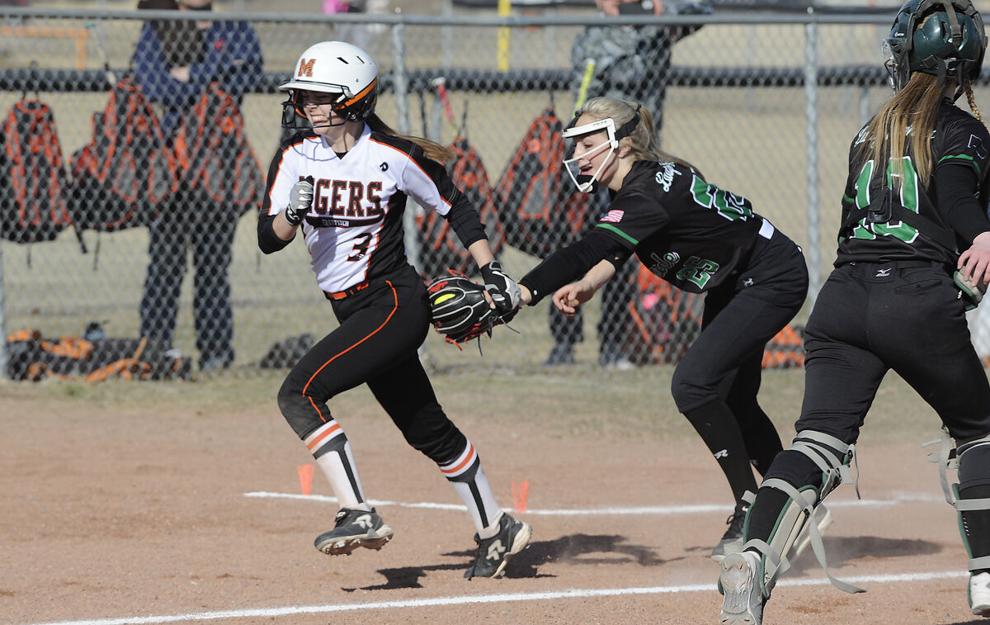 Belgrade regained the lead after scoring five runs in the fifth. Tigers pitcher Meagan Elgas gave up two singles, hit a pair of batters, threw a wild pitch that scored a run to score and her defense committed a pair of costly errors.
"I thought we were going to come through when we got ahead," said Cygan. "But we did alright. I pitched three girls and we got all of them some experience. I put girls that had never even hit before in a game, so we got everybody in just about."
Elgas allowed eight hits and struck out two, while Nolan took over in the fourth and allowed just one hit in three innings of work. Emma Kabalin closed it out in the seventh, and despite walking two, did not allow a run.
While the Tigers were pretty much held in check offensively after the second inning, Paige Ballantyne continued her hot start. The freshman belted a solo home run to lead off the fifth and now has three on the season.
"She'd never hit one over a fence before," said Cygan. "She's making good contact and when you make fast contact with a fast pitcher it will go, and that's what she's done. If they give her one where she can handle it, she's going to handle it."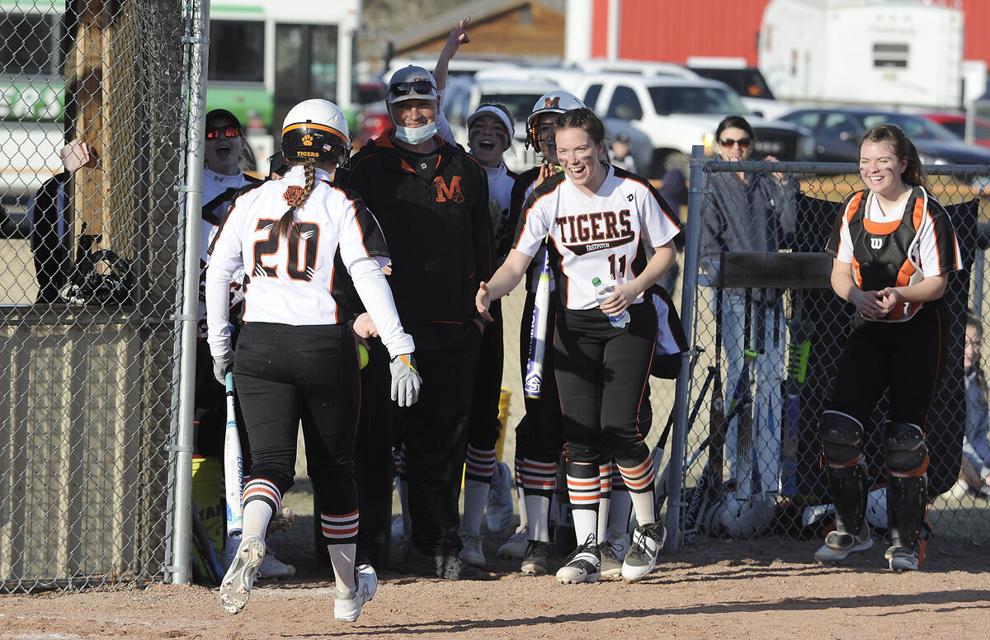 Manhattan had the tying run at the plate in the seventh after the Panthers committed three errors in the frame. But runners were left stranded at second and third after Danielle Nolan flew out the right to end the game.
The Tigers stranded eight runners in the contest and had a runner picked off at third after getting caught in a rundown in the second with the bases loaded and one out.
"Our biggest problem today is we made some mental mistakes base running," said Cygan. "Once we should have scored two in a row and then we got picked off at third. We just lost a run."
Manhattan (0-2) returns to action April 8 with a doubleheader at Anaconda. The first game will count as a conference game, while the second will be non-conference.
"We're getting there," said Cygan. "We're seeing what we need to see and see a lot of girls play."
Belgrade's varsity and JV will be in action Tuesday in Lewistown.
Belgrade JV 9, Manhattan 6
Belgrade                   315 000 0  -  9  9  3
Manhattan               140 010 0  -  6  5  1
Tayler Thomas, Ella Seaman (6) and Khloey Robinson, Sierra Tuss (6). Meagan Elgas, Claire Nolan (4), Emma Kabalin (7) and Malia Friese.
BELGRADE JV - Thomas 2-3 (HR), Abbie Morin 2-5, Seaman 2-5, Booklyn Ragland 0-4, Robinson 3-3, Lily Bolin 0-2, Ashlyn Lee 0-1, Madison Johnson 0-2, Presley Naylor 0-0, H. Weisz 0-2, Julia Blossom 0-1, Tuss 0-3.
MANHATTAN (0-2) - Natalie Scott 0-1, Nolan 3-4 (2 2B), Adele Didriksen 1-3 (2B), Friese 0-4, Paige Ballantyne 1-2 (HR), Lexi Miller 0-4, Elgas 0-1, Sierra Blanchard 0-3, Abby Kabalin 0-2, Delaney Doherty 0-1, Danielle Nolan 0-1, Mason Steele 0-1.