Erin Elgas is well known throughout the state for her prowess in the circle. Turns out the standout Belgrade pitcher is just as adept in the batter's box.
Elgas reached the finals of the home run derby Saturday afternoon during the 6th Annual Veterans Memorial Classic at the Belgrade Softball Complex.
"I don't really hit home runs much," she admitted, "so that was kind of a surprise."
Prior to Friday's games, Elgas had Belgrade teammate Haylee Curry soft toss pitches to her during batting practice. It was a successful venture that led to Elgas belting three homers en route to reaching the finals.
"I ended up getting six home runs off her and I was like, 'Dude, oh my gosh, you should pitch for me,'" said Elgas, who helped Army win the tournament championship. "And then we were sitting there before the first round and we were like, 'This is the worst idea that we've ever had.' But then it ended up okay."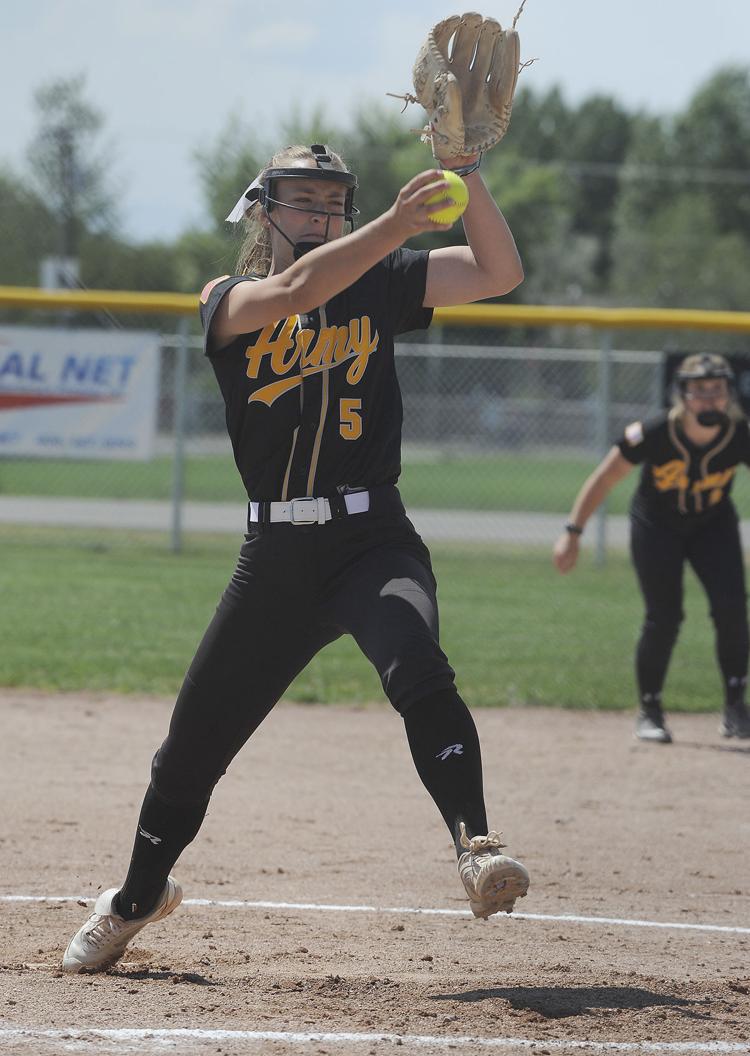 Belgrade's Kenna Thomas, who competed for the Marines over the weekend, also reached the finals after hitting three homers.
"I was like, 'You just got hit (one out) at least once so you don't embarrass yourself and I did and just kind of rolled," Thomas said. "So it was good."
Macao Jackson, of Ronan, hit four home runs in the finals to win the derby, while Elgas and Thomas each had one.
Elgas batted .333 on the weekend for the Army with a pair of RBI's, but her biggest impact was in the circle. She allowed just seven hits in 17 innings of work, while tallying 33 strike outs and not allowing an earned run. Elgas also got plenty of help offensively from her teammates as the Army averaged 12.2 hits per game.
"It's just like playing for Belgrade," Elgas said. "There's bats all the way up and down this lineup and I was lucky to get on a team full of studs."
Belgrade's Olivia Cook also competed for the Army and batted .600 on the weekend with five RBI's and a home run. The Army finished with a 4-1 record.
"We just all came out with a bang," said Cook. "Defense and offense was just on from the start."
Curry, Thomas and Tomasetti hit home runs as well. Curry, who competed for the Air Force, hit a solo shot in a victory Saturday against the Coast Guard. Thomas and Tomasetti each belted a three-run homer in the Marines' tournament-opening victory against the Navy.
Curry batted .500 on the weekend, while Thomas was .375 with four RBI's.
"I felt like I hit pretty good, consistently," said Thomas. "My teammates really strung together hits in all the right places. I think it was a good weekend."
The trio each had an opportunity to go head-to-head against Elgas in the batter's box. None managed a hit.
"It's intimidating going up against her, but I think if you just make contact with the ball it's all good," said Tomasetti, who was 0 for 1 against Elgas in the championship game.
"We did really good," she added. "It was so fun to meet all these girls. Sucks to lose the game, but we did good."