While Tuesday night's opener at Medina Field was a bit sloppy, Belgrade managed to hang on for a one-run victory. Then the Bandits posted a five-inning rout in the nightcap en route to sweeping Bozeman A in Southern A action.
Belgrade blew an early 6-0 lead in the opener, but notched a 7-6. Then Coby Richards tossed a 1-hitter in Game 2 to lead the team to an 11-1 win.
"Defensively, game one, we had some mental miscues that can't happen," Bandits manager Johnny Graham said. "But game two was pretty complete."
Belgrade capitalized on a tough outing on the mound by the Bucks' Dillon Coleman. He walked five batters, threw have a dozen wild pitches and allowed three earned runs in just two innings of work.
Coleman also committed a throwing error and his defense added two more.
Meanwhile, Cooper VanLuchene scattered six hits and struck out 11 en route to picking up the victory for Belgrade. Seth Green was 2 for 3 at the plate, while Aidan Kulbeck and Wyatt Lambeth added doubles.
Kulbeck and Lambeth have been elevated from Belgrade's B team due to injuries, and both were key contributors. Lambeth was 1 for 2 in the win, while Kulbeck finished 2 for 4 in the doubleheader with two doubles.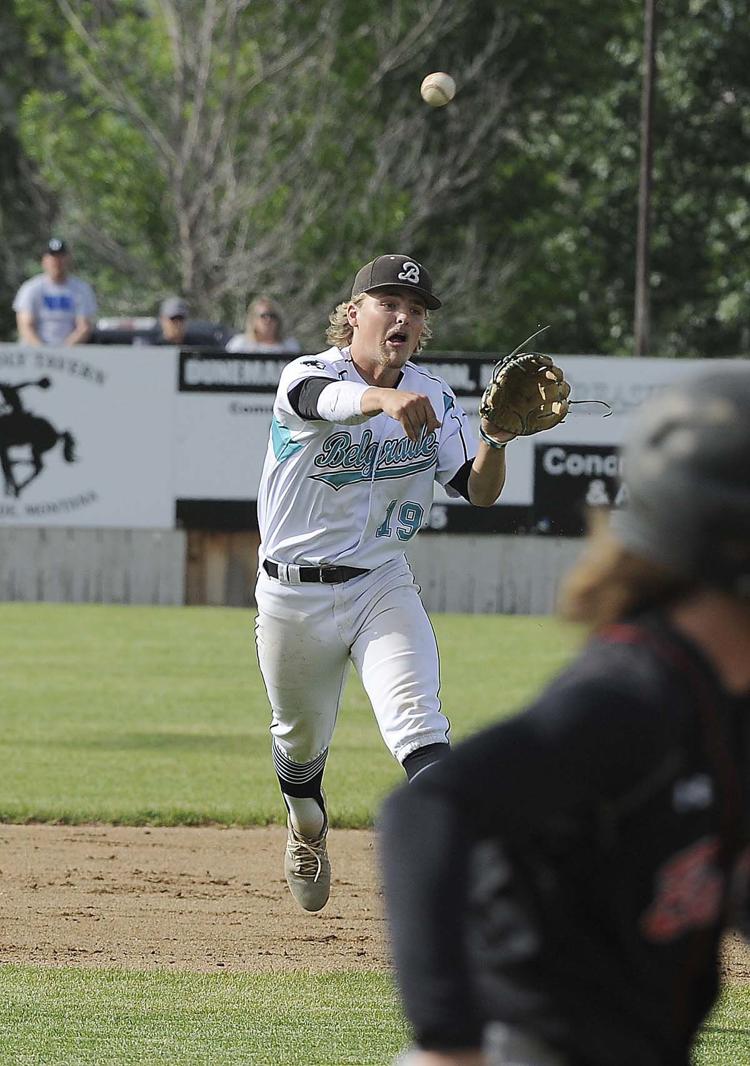 "He's (Kulbeck) forcing the issue in terms of getting playing time," said Graham. "He plays hard, I love it. Turning into a pretty good little player is what he is."
In the nightcap, Belgrade scored four runs in the first and six in the third en route to victory. Richards shined on the mound, throwing 61 percent of his pitches for strikes and tallying 10 Ks. He also finished 2 for 3 at the plate with a double.
Kash Fike and Mason Jacobsen were each 2 for 2 as the Bandits tallied 10 hits in the contest.
"I liked our approach at the plate," said Graham.
The victories come towards the end of a grueling stretch of games for Belgrade, which included four contests at a tournament in Bozeman over the weekend against AA competition.
"I thought in that tournament we saw some really competitive teams and some really good arms. That's good for us, that's good for our development in this game," said Graham. "It's been a long stretch, so a couple days off will be good for these guys' bodies."
The Bandits (20-9, 13-1 Southern A) cap the long slate of games hosting Livingston in a doubleheader at 5 p.m. Wednesday.
"The conference part of the stretch to this point we're 4-0 in that," noted Graham. "That's the big key is right now we're 4 for 4 with the conference (games) in this stretch."
Belgrade 7, Bozeman 6
Bozeman                  004 002 0  -  6  8  3
Belgrade                   150 010 x  -  7  7  2
Dillon Coleman, Jackson Burke (3) and Lane Harrison. Cooper VanLuchene, Lane Neill (7) and Kash Fike.
BOZEMAN - Harrison 1-4, Michael Armstrong 0-0, Nate Pailthorpe 0-4, Andrew Western 1-3 (2B), Daryn Shepard 1-3, Corbin Holzer 0-3, Kaden Thomson 0-3, Daniel Beers 1-3, Zane Haarer 2-3, Bryce Hampton 2-3.
BELGRADE (19-9) - Neill 0-3, Keaton Carter 1-2, Fike 1-3, Coby Richards 1-3, Seth Green 2-3, Mason Jacobsen 0-3, Wyatt Russell 0-2, Wyatt Lambeth 1-2 (2B), Aidan Kulbeck 1-2 (2B).
Belgrade 11, Bozeman 1
Bozeman                   010 00  -   1    1   2
Belgrade                    406 1x  -  11  10  3
Kaden Thomson and Dillon Coleman. Coby Richards and Seth Green.
BOZEMAN - Daniel Beers 0-2, Andrew Western 0-2, Corbin Holzer 0-2, Daryn Shepard 0-2, Lane Harrison 0-2, Jackson Burke 0-1, Gannon McGarrah 1-2, Coleman 0-1, Michael Armstrong 0-2.
BELGRADE (20-9) - Lane Neill 1-3, Aidan Kulbeck 1-2 (2B), Kash Fike 2-2, Richards 2-3 (2B), Green 0-3, Mason Jacobsen 2-2, Cooper VanLuchene 1-3, Keaton Carter 1-2, Alex Casas 0-2.