Alysa Henry admitted it wasn't until her sophomore year when she began to like track. Winning a state championship had a little something to do with that.
Henry ran a leg on the mile relay team, which won the state title, and then placed in four of her five events a year ago to help Belgrade win the team championship at the State A meet.
Those successes drew the attention of college coaches, and Wednesday morning the 17-year-old senior signed a letter-of-intent to compete at the University of Mary in Bismarck, N.D.
After registering for classes this weekend, Henry can turn her attention to her final prep season.
"I'm really excited. I think the big point where the weight will be taken off my shoulders is this Saturday. I'm registering for all my classes there," she said. "And finding my roommate and stuff, so that's really exciting, but nerve-racking."
Henry had also considered the track program at Western State College in Gunnison, Colo., but had a change of heart.
"I really started thinking about money plus education. It wasn't just track," Henry explained. "Once I kind of put those together, Western was out really quick. They don't have an amazing exercise science program like I want."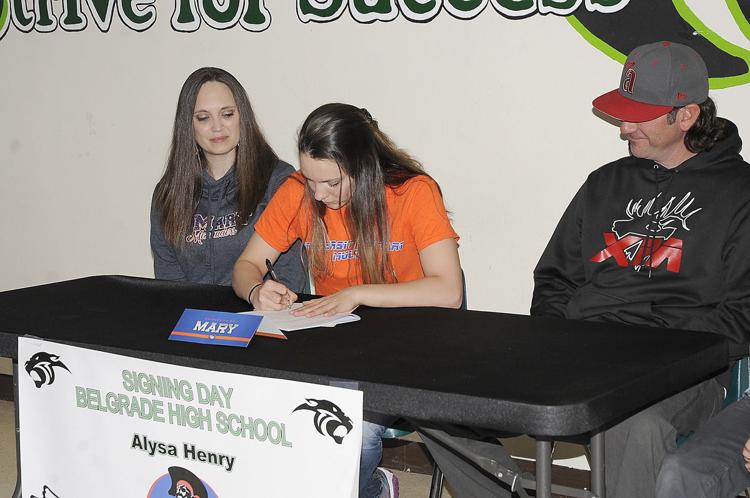 "I love the campus (at UM)," Henry added. "I loved Western, but their exercise science program was incredible. And, they also have a physical therapy program at that school, which is super important for me."
Henry plans to study exercise science and then enter the physical therapy program at the University of Mary.
A highly decorated track athlete, Henry really hit her stride a year ago. She broke the school record in the pole vault twice during the regular season and later won the event at state.
"She did not really realize, like she said, her potential until sophomore year when they won state in the four-by-four," longtime assistant and first-year Belgrade head coach Deb Greany said. "Most college recruiters in track happen during your junior year, so I said we need to have a stellar junior year."
Henry responded by clearing 10-feet, 1-inch and then 11-feet in the pole vault to set new school records. She cleared 10-feet, 9-inches to win state.
Following a disappointing finish in the 100 hurdles — she failed to place — Henry bounced back to place fourth in the long jump (16-03), fifth in the triple jump (34-2.75) and help the sprint relay place second at state.
Her effort was overshadowed by teammate Pipi Eitel, who won four championships, set two classification records, and accounted for 46 of the team's 80 points. But now it's Henry's turn to lead the team.
"You had Pipi as a leader, she pulls everybody in, and Alysa now is stepping into that role leading all the stretches (at practice) and that sort of thing. That makes it a little more special. It's kind of like the passing of the baton, passing of the torch," she said. "Obviously she means a great deal to us. She's awesome, I mean what do you say."
Eitel, a three-sport athlete while at Belgrade, is currently competing in cross country as well as track at Northern Arizona University. Henry has also been a multi-sport athlete for the Panthers, competing in basketball and cross country.
But it's been track and field where she's achieved the most success, and Henry is looking to further etch her name into the program record book this season.
"I'm really hoping to beat my own record in pole vault since that is now the school record," she said. "Long jump record is very close in my sight, so I'm really hoping to get that this year. And I'm really just trying to get the team strong this year. I really want to win state again with the team."
The long jump record of 17-feet, 7.75-inches was set in 2013 by Dylan Fowler. She is currently a standout libero for the University of Montana-Western volleyball team.
With her ability to shine in multiple events, Henry has been recruited to compete in the heptathlon for the Marauders. The heptathlon features seven events — 100 hurdles, 200 and 800 meter runs, long jump, high jump, shot put and javelin.
The throwing events will be fairly new to Henry, but she did have an opportunity to work on them during the winter track season.
"I got some work in this winter and last year I threw a little bit of javelin," she said. "Just barely in the beginning of the year just to get it in and at least know what it is."