Three months before winning the first of three state wrestling championships, John Mears burst onto the scene at Belgrade High with a kick he'll never forget.
The then freshman was elevated to the varsity for the postseason due to an injury to the team's starting kicker, and displayed nerves of steel when called upon. Mears booted a 29-yard field goal with eight seconds remaining to lift the Panthers to a 38-35 state Class A quarterfinal victory against Hamilton.
While he's won three individual championships in wrestling since then, it's that kick that still resonates.
"That was definitely up there with like winning state championships. It was one of those times in your life that you'll never forget," Mears said. "That might have been actually when I started to think about it a little bit more just because that was just a crazy time. Just a little freshman."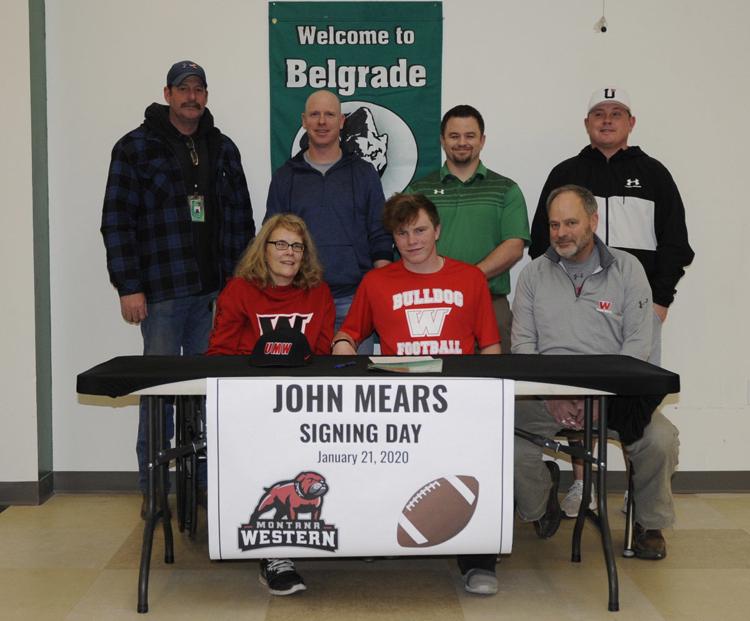 Mears hopes to create more football memories after signing a letter of intent Tuesday afternoon to kick for the University of Montana-Western. He was 4 for 4 on extra point attempts and 3 for 3 on field goals this past season for the Panthers.
Mears had "left the door open" for potentially trying to sign with Montana State University or the University of Montana.
"Then I saw they signed some kickers, some young people," he said. "(But) I just felt like Western was good. I went there on a visit and I really, really liked it."
Mears knew after his junior year that a big decision would need to be made. He enjoys both sports equally, and is a highly sought after wrestler thanks to winning Class A titles at 120, 132 and 152 pounds.
But, Mears noted, kicking is more forgiving on the body.
"Over the summer I was like, 'I got to make a decision, so then I can either sign this year with wrestling or football,'" he said. "Over the summer I did some soul-searching, and was like, 'My body, I don't think can handle four more years, five more years or six more years of wrestling.'"
Mears attended kicking camps at MSU, U-of-M and at Boise State University over the summer, but noted a camp conducted by Lifetime Kick Academy made the biggest impact.
"That was just a one-on-one type of deal," Mears explained. "That really helped me. I didn't know too much how to kick and then after that I know how to train and all of that stuff."
Mears missed just one of his seven field goal attempts during his career for the Panthers and was 39 of 42 on extra point attempts. His career long is 41 yards and he booted a 39-yarder this past season.
Mears also started on both sides of the ball as a running back and linebacker, as well as punter, before his senior season was cut short. He suffered a pair of concussions, and then another at the beginning of the wrestling season.
"I was practicing getting ready for a dual and I got hit in the chin and got another concussion. So I'm still recovering from that," Mears said. "I don't know if I'm going to be back even for this season."
In six games as a senior, Mears had averaged 48.1 yards per kick on kickoffs, tallied 31 tackles (20 solo) at linebacker and rushed for 113 yards at running back.
Mears plans to study physical education at UM-Western, and noted the smalltown feel was a draw.
"I like small campuses. This is just like the right space I feel like. I don't want like big, big spaces," he said. "So that was one factor and then I went down there and I saw the team and they incorporated me a lot and was very nice. And I know like five or six people just like that that I can be friends. That was big in the decision making."