Heading into the uncharted waters of a new classification, no one really knew what to expect this fall.
Belgrade's soccer teams had experienced plenty of success at the Class A level, but moving to AA was certainly expected to provide many challenges.
While the boys didn't win a match, the girls were very competitive during 2-8-3 campaign. A primary reason for that success can be attributed directly to keeper Mackenzie Turner.
"I think she came in ready to prove something," first-year Panthers coach Carl Bridwell said. "I think she was really excited about getting to face off against double A talent and show that she can make some incredible saves, and we saw that game in and game out."
In 13 matches the sophomore tallied 164 saves out of 189 shots on frame — a save percentage of 86.7 percent — and the mark is believed to have set a single season state record in AA.
The state record for boys is 155, which was set by Helena High's Carl Weiss in 1995, but the Montana High School Association does not list a record on the girls' side.
Regardless, it's an impressive feat for Turner in her first season as the Belgrade's fulltime keeper.
"I think without a shadow of a doubt, Mackenzie not only save us tremendously a lot of times, but was also such a major influence. She won't talk about it personally, but she is very vocal and very demanding because she's the kind of goalkeeper that want's to be doing everything," said Bridwell. "She took losses hard. She didn't want to lose, so the way she did that game in and game out, she deserves that record."
Turner recently earned Eastern AA all-conference accolades for her effort and was among two Panthers honored. Junior striker Dalani Brayton was an honorable mention selection after scoring a team best three goals and adding two assists.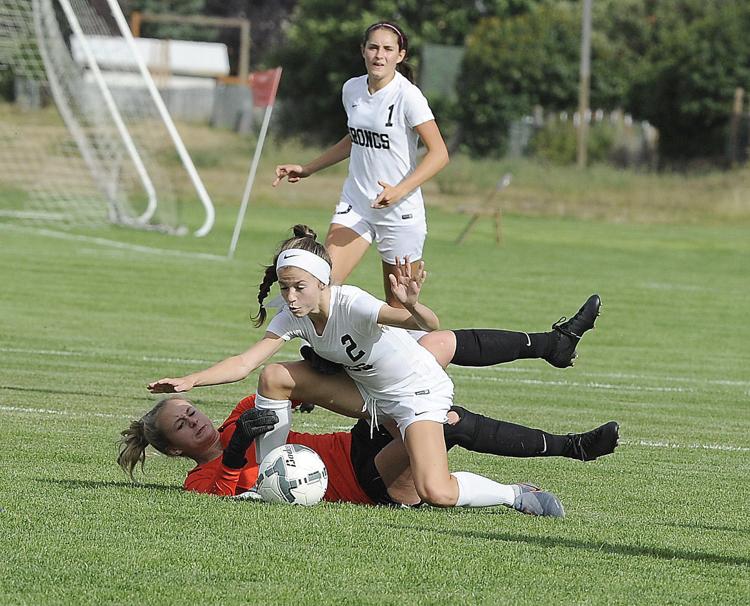 While Turner shined in goal, she was quick to credit teammates for Belgrade's overall success. She also entered every match with a single mindset.
"I didn't want to give goals up. But if I did I had to reset and make sure that I got the next one," Turner said. "I think as a team our mindset going into each game was to give it all and put everything out there on the field. I definitely feel like we did that. We played with a lot of heart."
Turner helped set up a couple of Belgrade's first goals in AA on goal kicks. She also posted three shutouts in net and only allowed one team — defending state champion Billings Skyview — to score more than three goals in a match.
The Panthers scored just 11 goals during the season, and were shut out six times. But Turner allowed the team to remain in contests thanks to double digit saves in 10 matches.
"In single A we needed a goalkeeper to be on their toes for 50 minutes and then be ready to make a big save," said Bridwell. "We needed her time and time again (in double A), and that has been just awesome to have her aware and constantly on her toes."
Turner also faced three penalty kicks and made a save early in the season in a 2-0 road victory against Great Falls.
"I personally love PK's. I like the pressure that the other person is facing and how it's not all on me, but I have the chance to get it," said Turner. "It's a really cool thing for me."
Turner is following in the footsteps of older brother Luke. He won a pair of state championships in Class A for Belgrade and graduated last year with the MHSA career record for shutouts with 16. The previous record had been 13.
"I've always looked up to him. He's my older brother and setting that state record was awesome," Turner said. "I think it gave me confidence because when he stepped on the field he was a confident player. I was like, 'Wow, I can do that too.' And yeah, he's gave me pointers on PK's and tips on what to work on. We've trained together, so that's amazing to be able to feed off that and use what he's taught me."
So what does it mean to have set her own record?
"I think it's awesome because I got to see all my hard work pay off because I train a lot in the offseason and even during basketball," said Turner. "Sometimes I play Thursday, Friday and then go train in Billings on Saturday or Sunday. It's awesome to see all of that pay off, especially moving up to double A."
Editor's note: Belgrade's Sean Smith and Nathan Haycock earned All-State and all-conference honors, respectively, for the boys. See the complete list of all-conference honors are listed below.
Girls
Eastern AA
Conference MVP
Halle Labert, Billings Skyview, center mid, Sr.
All-State
Kendell Ellis, Billings West, GK, Jr.; Hailee Gertsch, Billings Skyview, center back, Sr.; Bella Murphy, Billings West, center back, Soph.; Maggie Lane, Bozeman, outside back, Soph.; Jordan Roe, Billings Skyview, striker, Sr.; Halle Labert, Billing Skyview, center mid, Sr.; Jillian Hust, Billings West, striker, Sr.; Sophie Sievertsen, Billings West, center mid, Soph.; Addi Ekstrom, Bozeman, center mid, Jr.; Holly Luckey, Bozeman, striker, Sr.; Hayley Cochran, Great Falls CMR, striker, Sr.
All-Conference
Lainey Bosch, Billings Skyview, GK, Sr.
Mackenzie Turner, Belgrade, GK, Soph.; Sami Murphy, Bozeman, outside back, Soph.; Emily Funseth, Great Falls CMR, center mid, Sr.; Macie McElhenney, Great Falls, striker, Jr.; Jenna Wagner, Billings Senior, center back, Frosh.; Addy Duncan, Billings Skyview, outside back, Soph.; Riley Asbell, Bozeman, striker, Sr.; Payton Putnam, Bozeman, striker, Jr.; Mila Allison, Billings Skyview, center mid, Jr.; Avery Kimmel, Billings West, center mid, Jr.; Emma Lensing, Billings West, striker, Soph.; Lily Rust, Great Falls CMR, center back, Sr.
Honorable Mention
Courtnie Gagnon, Billings West, center back, Soph.; Ellie McCluey, Great Falls, outside back, Soph.; Isabel Schauber, Billings Skyview, center mid, Soph.
Dalani Brayton, Belgrade, striker, Jr.
Boys
Conference MVP
Player of the year: Zach Springer, Bozeman.
All-State
Sean Smith, Belgrade; Jackson Coles, Bozeman; Carter Evans, Bozeman; Nolan Robbins, Bozeman; Kellen Borggard, Great Falls CMR; Gavin Groshelle, Great Falls; Trevin Smith, Great Falls; Simon Rolfson, Billings Senior; Sam George, Billings Senior; Hunter Jacobsen, Billings West.
All-conference
Nathan Haycock, Belgrade; Will Kaiser, Bozeman; Sam Robinson, Bozeman; Luke Price, Bozeman; Nicolas Andrew, Bozeman; Moses Roque, Great Falls CMR; Hadyn Koch, Billings Senior; Seth D'Ambrosia, Billings Senior; Dax Wilson, Billings Senior; Rylan Loper, Billings Skyview; Riley Krueger-Harding, Billings West; Logan Brown, Billings West.
Honorable Mention
Jake Carver, Billings Senior; Matt McGraw, Great Falls CMR; Zach Stoddart, Bozeman.