As the lights were dimmed in the Belgrade Special Events Center prior to Friday's night game, the hometown crowd quickly conducted a covert plan.
More than 400 fans revealed or changed into green T-shirts while Belgrade's players stepped into the hallway before introductions.
The front of the shirt read, "GUESS WHO'S BACK…"
The back stated, "…GABBY'S BACK!"
It was a well planned out surprise for Gabby Weber. The Belgrade senior hadn't played in a game in more than a year following a serious leg ailment, and she was humbled by the community's support.
"It just goes to show you how much Belgrade is just so close and this community is just so loving and caring for their own people," said Weber. "That's been the biggest thing for me through this whole entire journey."
Weber's junior season was cut short after just eight games when a simple calf cramp was eventually diagnosed as popliteal artery entrapment. It's rare vascular disease in which the muscle and tendons near the knee are positioned in a way that they compress the popliteal artery.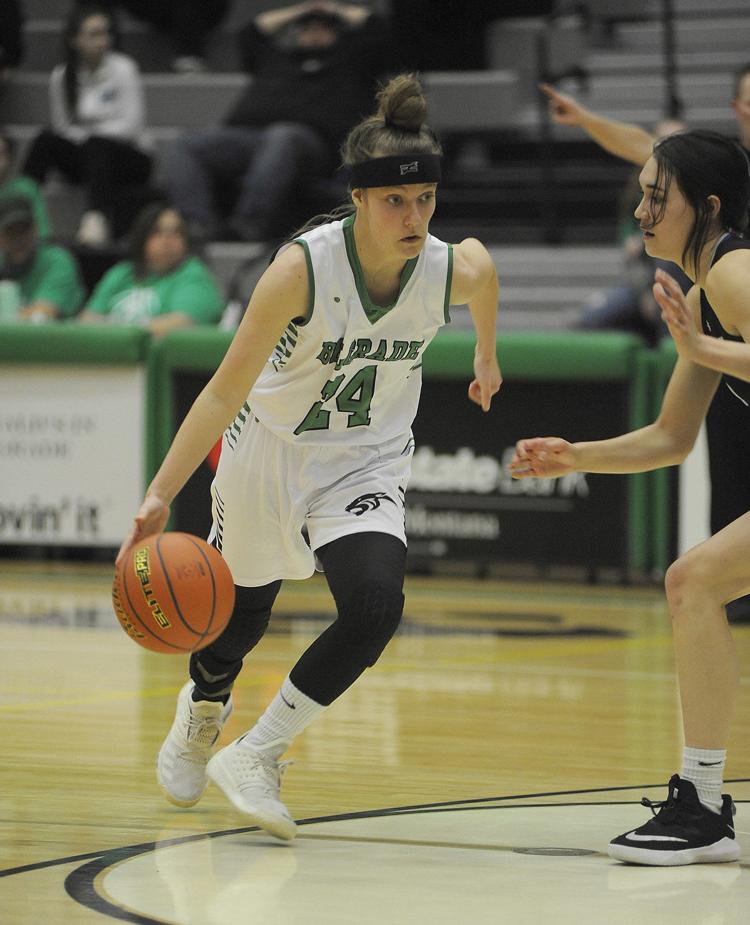 It cut off the circulation to Weber's lower right leg and she was in danger of losing her foot. Two surgeries followed — the second was in November — to correct the problem, and Weber was expected to miss this season.
That changed on Monday.
Weber was cleared to practice with the team and with a home game against Billings Skyview on Friday, Belgrade head coach Erin Nolte felt she was doing well enough to play in the game.
"I did not think that it was going to happen this soon, not gonna lie. This week has been very overwhelming," Weber said. "I got cleared for practice on Monday and then all of a sudden Nolte's like, "Let's see if we can get you on Friday.'"
There were some restrictions, however, as Weber still has a long way to go before being back at full strength. So Nolte planned on limiting her playing time to about two minutes per quarter.
"The biggest thing right now is she can't sprint, so she can't transition. So we had to make sure she didn't go too hard too fast," Nolte said. "I knew if I let her stay out there then she was going to push herself, and that was where I was scared of her getting hurt. Her body's not totally ready. Her quad still getting stronger, so for her to get hurt first game back would be the worst possible outcome."
Belgrade's student section cheered each time Weber made a shot in warmups, but they had wait a while to do it in the game. Weber was 0 for 4 from the field in the first half in a little over four minutes of action.
Early in the second half the crowd finally got its chance to erupt. Weber spotted up on the right wing and buried a 3 to trim Skyview's lead to 24-21.
"I was very nervous, and you know, I haven't been in a game in over a year," Weber said. "So I definitely just had to shake off the rust."
Later in the quarter, Weber drew an offensive charge much to the distress of Nolte.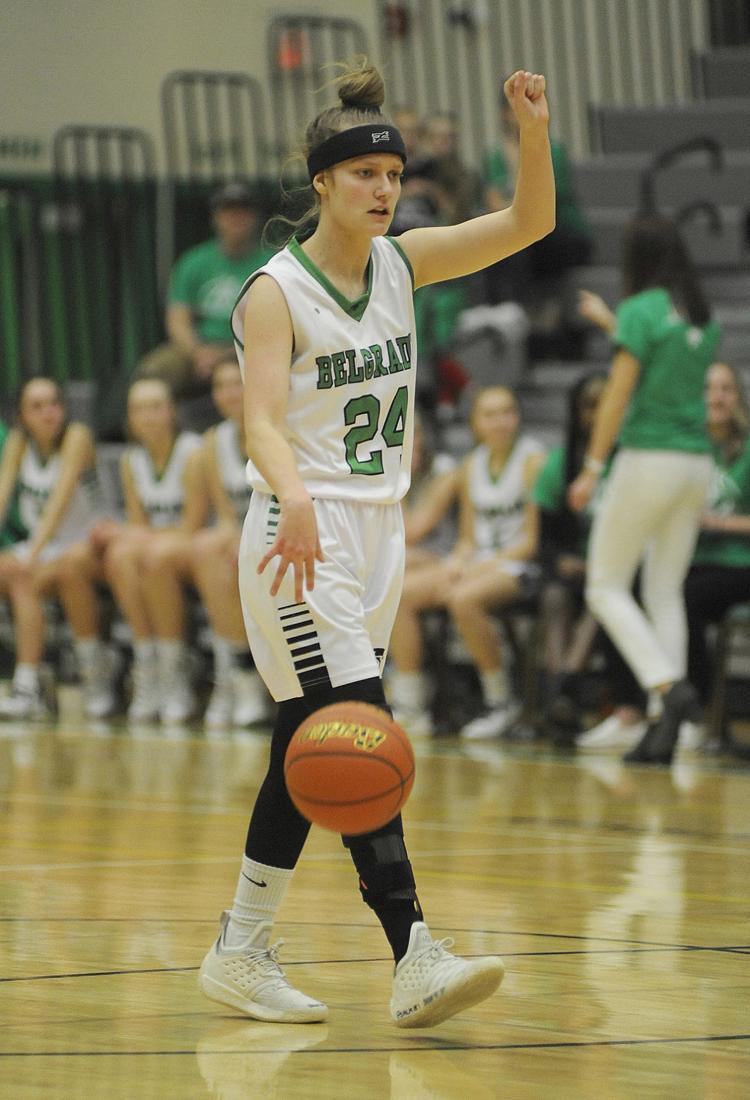 "When she took that charge I almost fell over with her," Nolte said. "But she's a smart player. She knew exactly where to be."
Following Weber's 3, Skyview gradually pulled away. The Falcons stretched the lead to 11 entering the fourth quarter en route to a 59-32 Eastern AA victory.
Brooke Berry scored 13 of her 20 points in the second half for Skyview, while Cami Harris finished with a game-high 22.
"She's (Berry) a really good player. She's a sophomore and she's a competitor and we knew that coming in," said Nolte. "Our game plan was to shut her down and we did a good job in the first half. Second half she had more energy than we did."
Still, the mood was upbeat for the Panthers.
Weber signed autographs and posed for photos with fellow students outside of the team's locker room, and praised her physical therapist and teammates for helping her return to the court.
"I was very nervous. Probably more than I want to admit. I have such amazing teammates and amazing coaches and they made this ride so much more than I ever thought it was going to be," Weber said. "Tonight was just so much more meaningful than I ever thought the comeback was going to be."
Weber did not play Saturday in a 49-29 conference loss to Billings Senior. But Nolte said it's the last time she'll sit out a game this season.
Gracey Carter led the Panthers with 10 points in the loss, while Sophia Flikkema had six.
Senior took a 30-13 lead into halftime, but Nolte noted the Panthers won the third quarter as they were outscored just 19-16 in the second half.
Belgrade is back in action Thursday with a non-conference game at Class A Beaverhead County.
Billings Skyview 59, Belgrade 32
Belgrade                     6  12  10  4   -  32
Skyview                      13  9  17  20  -  59
BELGRADE (1-11) - Olivia Wegner 2 0-0 4, Emmery Blossom 1 0-0 2, Sarah Riley Morris 0 0-0 0, Megan Smolnikar 0 0-0 0, McKenna Morris 3 0-0 6, Grace Garvert 1 0-0 3, Naomi Reanier 2 0-0 4, Hazel Eaton 0 0-0 0, Gabby Weber 1 0-0 3, Sophia Flikkema 0 0-0 0, Gracey Carter 4 2-4 10. Totals: 14 2-4 32.
BILLINGS SKYVIEW (5-8) - Brooke Berry 7 6-10 20, Allie Montague 3 0-0 8, Cami Harris 6 7-7 22, Hayden Baumberger 1 0-0 2, Bella Bryan 1 0-0 2, Kaitlyn Hensel 0 0-2  0, Maliea Owens 0 2-4 2, Jessi Hensel 1 0-0 3. Totals: 19 15-23 59.
3-point goals: Bel 2 (Garvert 1, Weber 1), BS 6 (Harris 3, Montague 2, Hensel 1).
Billings Senior 49, Belgrade 29
Belgrade                      3   10   9   7  -  29
Senior                         10  20  11  8  -  49
BELGRADE (1-12) - Olivia Wegner 1 1-3 3, Emmery Blossom 0 0-0 0, Sarah Riley Morris 1 0-0 2, McKenna Morris 1 0-1 3, Grace Garvert 1 0-0 3, Naomi Reanier 0 1-1 4, Hazel Eaton 0 1-2 1, Sophia Flikkema 3 0-0 6, Gracey Carter 5 0-4 10. Totals: 12 3-14 29.
BILLINGS SENIOR (5-8) - Jensen Keller 4 2-4 12, Hannalise Anderson 0 0-0 0, Nigeria Long-West 0 0-0 0, Brenne Linse 1 5-6 7, Emma Hanson 0 0-0 0, Bailey King 1 0-0 2, Lauren Cummings 0 0-0 0, Allie Cummings 0 1-2 1, Cass Venner 1 0-0 2, Kara Conway 0 0-0 0, Liv LaLean 4 1-2 9, Lily Johnson 5 3-4 13. Totals: 15 13-20 49.
3-point goals: Bel 2 (Morris 1, Garvert 1), BS 0.