Four days later it still hadn't completely sunk in for Ali Weisz.
The Belgrade native accomplished a childhood dream Sunday by qualifying for the 2020 Tokyo Summer Olympics in air rifle. Weisz secured one of the two available spots on the USA National Team following the Air Rifle Olympic Trials, Part II competition at the United States Olympic & Paralympic Training Center in Colorado Springs.
"I have been working on it for a very long time," Weisz said Wednesday morning. "I probably have only be truly working on it for the past three years only because the past three years is kind of when I realized it's very, very possible. Before it was just a kid with a dream that I was always working towards, but then suddenly three years ago when I made the national team and made the world championship team, it was real. This can happen, this will happen."
Weisz competes in 10-meter air rifle and had a solid performance during the first part of the trials in December. The scores from both competitions are combined and she finished with a final point total of 2507.7.
Mary Tucker, of Kentucky, finished with 2513.0 points after posting the highest score in both portions of the qualifying to earn the other spot.
"It feels good, it's exciting," said Weisz. "It's a small weight lifted off my shoulders for this season now that I finally made it, but of course not the full weight off because we still have to go to Tokyo and perform and try to medal there."
Weisz began her shooting career locally with the Gallatin Valley Sharpshooters before competing for the rifle team at the University of Mississippi where she became a two-time All-American.
It was around that time when she realized an opportunity to compete in the Olympics was within reach. This past August the 24 year old not only won gold at the Pan American Games in Lima, Peru, but set a Pan American record score of 249.4.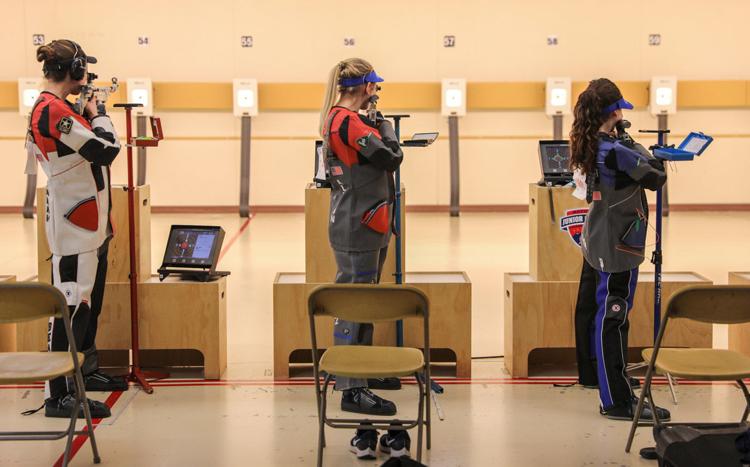 Still, Weisz noted it was a little intimidating Friday night before competing in Colorado Springs.
"I didn't go into it in a place where I was knowing that I was shooting scores that were going to blow it out of the water that I knew I could win with," she said. "It was more shooting scores that were okay, they could work if I allowed them to, and didn't basically panic and get frustrated with them."
To maintain her focus and composure during matches, Weisz noted she'd been working regularly with a sports psychologist, as well as her coaches, and went into the competition with a strong mindset.
"It was really just trying to approach it as whatever was going to happen at the end of the night on Sunday night that I could walk around and walk out with my head held high knowing I gave everything I had," Weisz said.
Weisz added that she approached the Saturday without the fear of failure and focused only on what she could control. That led to a score of 624.9.
"The score was not at all what I would be hoping for at the second round of Olympic trails," Weisz said. "It was not something that I would consider a good score for myself, but I was able to walk off the line and got talk to my coach and was like, 'I did everything I could.'"
Knowing that it was a close race based on the scores in December, Weisz improved on Sunday with a score of 625.3. Then, heading into the finals Sunday evening, she made an unusual decision.
"I chose to avoid looking at the standings going into the finals. So I had no idea where I needed to finish, who was behind me, where they needed to finish compared to me to beat me, which in retrospect I couldn't tell you if that was a good idea or bad idea," said Weisz. "However it played out played out."
In the final round, which is used for additional points, Weisz placed sixth out of eight shooters. But the 1.5 points she scored was just enough to secure second place and a spot on the national roster.
Weisz was eliminated in the finals by Georgia's Sarah Beard in two shoot offs. Both shot a 10.4 in the first shoot off and then Beard won the second when she recorded a shot that was three-tenths deeper than Weisz.
From that point Weisz became a spectator and hoped for the best.
"I knew it was probably her or one other of my competitors that could have been pretty close to me in the point rank, but I wasn't sure by how much," said Weisz. "At that point all I could do is sit back and kind of embrace all of it, take it all in, watch my competitors finish out their final, and they were shooting well, and hope for the best."
Weisz had finished with a total score of 1256.0 in December and combined with her total in Part II of the trials, she edged Beard (2506.5) for second place.
But, it wasn't until Dan Durben, the national rifle coach approached her, that Weisz learned she had secured a spot on the Olympic team.
"I think for a second I broke down a little bit. But I knew I still had to go congratulate my competitors and teammates, so I pulled it together before getting too emotional," said Weisz. "But I just remember shaking his hand and literally all I could say was 'no'. Like how, there's no way just because I was pretty disappointed in my finals still."
The Olympic games begin July 24 and run through Aug. 9. Air rifle shooting will be contested July 25 (women) and July 26 (men).
Editor's note: Weisz will have a short break before returning to competition March ... Weisz currently resides in Tennessee and serves as the graduate assistant coach for the rifle team at the University of Memphis ... Weisz trains and coaches during the day, while pursuing her masters degree at night.