Sixth-year Belgrade coach Sean Dellwo noted that Saturday's finale summed up the entire weekend in one match.
The Panthers couldn't quite finish what they started in the program's first-ever State AA tournament, and wrestlers and coaching staff were left to ponder what might have been.
"Yesterday we lost four matches in the last bit of a match. It was one of those deals where momentum started to go against us and we just could not get out of the rut," Dellwo said. "I think we had three matches for sure where we lost in the last 10 seconds of the match. You change those three matches alone and it changes the tune for the whole weekend."
The team's bright spot was freshman Carter Schmidt, who reached the 113-pound final. He pinned his first two opponents Friday, and then beat Billings West's Wyatt Van Pelt by tech fall, 17-2, in Saturday morning's semifinals.
But Schmidt ran into a longtime nemesis in the final and was pinned in just 63 seconds by Glacier's Teegan Vasquez.
"Teegan's super tough. He's one of the best in the state and Carter and him have wrestled through their lifetime I think probably 15 times. Just a crazy amount of times," said Dellwo. "It's a tough loss, but the thing is that kid is tough and you want the best competition for your best kids and Carter steps up to that competition."
The duo split their two previous matches this season, but Vasquez got the upper hand early in the rubber match en route to the pin.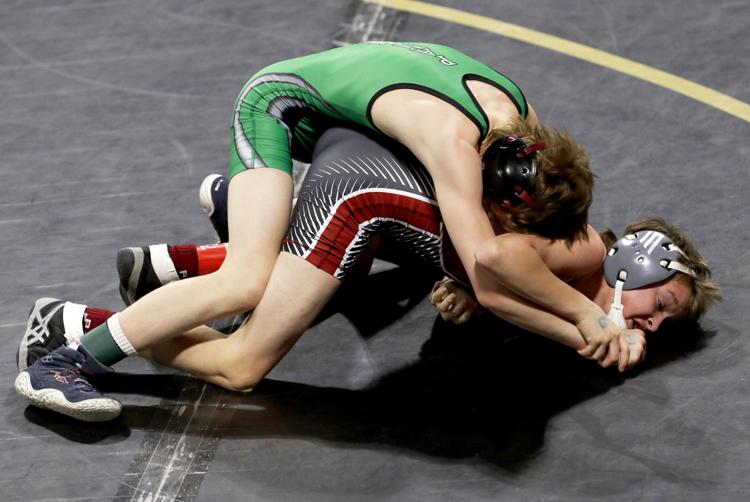 "(Carter) got caught in a little bit of a head and arm there and when you get sucked up that tight it's hard to get out," said Dellwo.
Schmidt finished the season with a 39-3 record with two of those losses to Vasquez. He'll be the centerpiece of next year's team as Belgrade did not have a junior this season and loses seven seniors to graduation.
"Carter is going to be a leader for us for a very long time. He works harder than anyone in the room and he wants it more than anybody else. He really does," said Dellwo. "I think he's going to give us the experience we need for next year because we're going to be a pretty young team moving forward."
None of Belgrade's other seven wrestlers placed in the tournament. Colton Gutenberger and Xaden Cunningham each won first round matches at 103 and 205, respectively, but lost in the quarterfinals.
Roy Deguzman (120), Brendan Gill (152), Zayne Konkol (285) and Cunningham each won a match in the wrestlebacks, but none was able to reach the medal rounds.
Belgrade placed 13th out of 15 in the team standings with 34 points. It was a tough finish to a promising campaign as the Panthers competed much of the season without three-time state champion John Mears (concussion) and a handful of other varsity members due to injury.
"Probably the reason why this weekend hurts more than anything is the expectations. We had higher expectations than we've had in recent years and I think that's a good thing," said Dellwo. "The fact that, yes, we did have a tough weekend. But the fact that we even have those expectations — we're heading in the right direction. I'm looking forward to next year, I'm looking forward to building our program up and we're going to be tough moving forward."