For nearly 12 minutes Saturday afternoon everything was going Manhattan's way. The defense picked off a pair of first quarter passes and it was scoreless against unbeaten Fairfield.
But things quickly took a turn for the worse late in the frame. Tigers coach Chris Grabowska opted for a fake punt near midfield and the gamble backfired.
Payton Becker picked off the pass and scored on a 60-yard return to give the Eagles a 7-0 lead. The score broke the ice for the Eagles, who went on to beat Manhattan 34-6 in a state Class B quarterfinal battle.
"Just didn't convert it," said Grabowska. "Intercepted it and ran it back for a touchdown. They had a couple big plays on special teams."
Fairfield (10-0) added a short touchdown pass midway through the second quarter from Ryder Meyer to Derek Simmons to extend the lead to 13-0. While Manhattan (6-4) countered with a long drive capped by a 1-yard touchdown run, the Eagles eventually took a 19-6 lead into halftime following an 80-yard scamper by Meyer.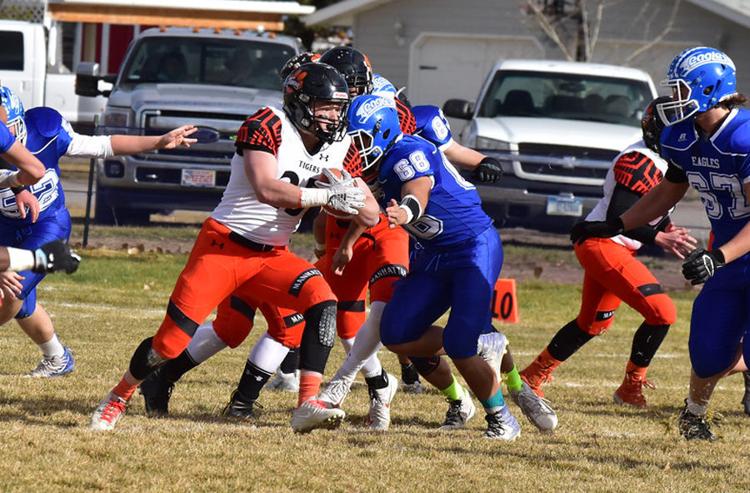 "Our defense played great," said Grabowska. "We just gave up one or two big plays that they scored on."
The Eagles scored on a safety following a botched snap early in third quarter to stretch the lead to 21-6, and then converted a turnover inside the Manhattan 20 into points to begin the fourth. Meyer completed an 18-yard pass to Dawson Allen to make it 27-6.
Fairfield capped the scoring on a fake punt, which Allen ran around the end for a 50-yard score with just under four minutes remaining.
"I thought we played really hard. Played their hearts out," said Grabowska. "We just gave up too many big plays against a good team."
Statistically, the Tigers had a great day. They out-gained Fairfield 126 to 49 in the first quarter en route to tallying 404 yards of offense. But a turnover led to key score while several other drives simply stalled out.
"We had a couple drives that we couldn't finish," Grabowska noted. "We turned the ball over once on offense and gave it to them inside the 20, and we got pinned a couple times. They flipped the field on us. We were stuck inside the 10 and we couldn't get out of that."
A couple of those punts set up the Eagles near midfield and they capitalized with touchdowns.
"Just a lot of little things. It wasn't lack of effort. Just some mistakes," said Grabowska. "Super proud of the guys. They battled and tried really hard to get back into the game."
While the season came to an end, Grabowska had nothing but praise for his team after they overcame an 0-3 start and boasted a six-game win streak.
"Three of the four teams we lost to are still in the playoffs. And two of them were really close games that we could have won and lost," he said. "I'm just really pleased with how they turned their season around and put ourselves in this position. We got a lot of talent coming back next year. Both sides of our line will be back. We got to regroup and get these guys excited and prepared for next year."
Fairfield 34, Manhattan 6
Manhattan                   0   6   0   0   -    6
Fairfield                        7  12  2  13  -  34
First quarter
FF - Payton Becker 60 interception return (PAT good), 1:01
Second quarter
FF - Derek Simmons 7 pass from Ryder Meyer (PAT failed), 8:02
Man - Unavailable 1 run (PAT failed), 3:01
FF - Meyer 80 run (PAT failed), 2:47
Third quarter
FF - Safety, snap out of endzone, 8:37
Fourth quarter
FF - Dawson Allen 18 pass from Meyer (PAT failed), 10:01
FF - Allen 50 run (kick good), 3:48