Hyalite Canyon offers a plethora of outdoor opportunities highlighted by Hyalite Reservoir, which was constructed in the late 1940's. From camping to fishing to hiking to getting out onto the reservoir via a kayak or paddle board, there's something for everyone.
There are plenty of hiking trails in the area that feature beautiful waterfalls, lead to lakes or climb up mountain peaks. But about a mile before reaching the reservoir there is a paved parking lot on the right side of the road for History Rock Trail.
It's a short 2.5-mile trek roundtrip on a moderately difficult trail that leads to a large sandstone boulder on the right side of the trail. The rock is covered with carvings, signatures and drawings dating back to early settlers.
As with anything comprised of sandstone, this treasure won't be around forever. Thus, I've visited it several times over the years, including Tuesday morning.
While I began the hike in a light rain, it didn't take long for the sun to peak through the clouds and shine the way through a wide meadow near the trailhead. From there you slowly begin to climb and spend much of the hike within a vast forest of lodgepole pines.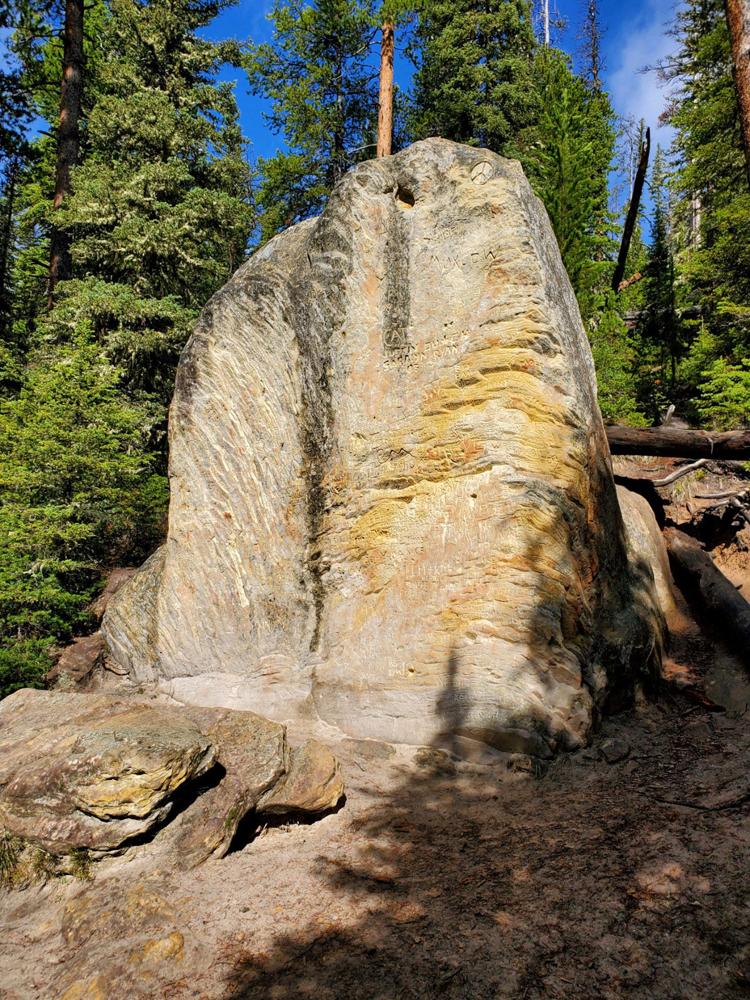 As the ascent continued I could hear water cascading through History Rock Creek, which parallels the trail on the left. With over night rain fall, and plenty of runoff from snow melt, the creek had saturated the meadows it cut through.
Despite the wet weather, the trail was sloppier than I had expected. Portions of it had turned into small streams due to the runoff, and I often hopped from one side of the trail to the other trying to avoid mud and snow.
With the majority of the trail covered by trees, it will likely takes a few more weeks to completely dry out. Still, I managed to finish the hike relatively clean.
Once at history rock you can add your own little piece of history or simply admire what others have contributed over the years. I've always chosen not to carve an inscription.
If feeling a bit more adventurous, and you'd like to extend the hike, the trail climbs another two miles and more than 1,000 feet to the divide above South Cottonwood Creek (I've done it before and it was worth the effort). It will eventually connect with South Cottonwood Creek Trail after descending two miles from the divide.
Note: In addition to hiking, History Rock Trail allows horseback riding and mountain biking. For those not sure of proper trail etiquette, both hikers and bikers yield to horseback riders, while bikers yield to hikers.