MISSOULA — All season long Manhattan Christian had been a prolific perimeter shooting team. But when it mattered most on the biggest stage, shots wouldn't fall at the state tournament.
For the second consecutive day the Eagles shot less than 30 percent from the field in Dahlberg Arena, and the defending state champions were eliminated from the State C tournament Friday evening.
"The whole weekend it was a tough shooting weekend for us and some of that had to do with what the teams did, the defense that they played," Christian head coach Jeff Bellach said. "We just weren't able to get easy buckets like we had gotten all year in transition."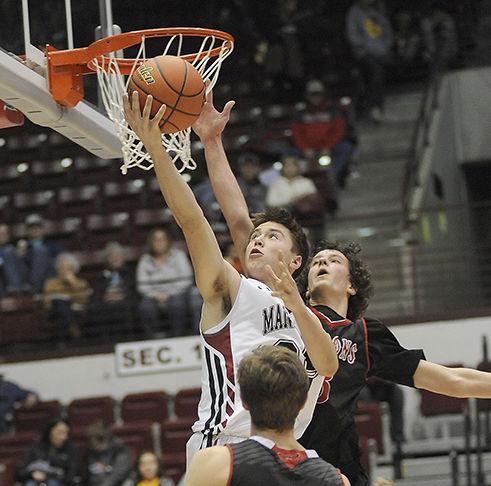 Twin Bridges boasted four players in double figures, led by a game-high 21 points from Charlie Kruer, en route to posting a 67-53 loser-out victory.
The Eagles had handed the Twin Bridges its first loss of the season at the divisional tournament two weeks ago, but never found a way to contain the hot-shooting the Falcons in the rematch.
"They're a good team and they're well coached," said Bellach. "I knew it was going to be a tough game, especially coming off a disappointing last night in the semifinals." 
Christian (23-3) endured a 38-point loss to Scobey Thursday, but came out firing Friday. Sam Leep, Josiah Amunrud, Matthew Kenney and Caidin Hill each drilled first quarter 3's to counter buckets by the Falcons.
But Twin Bridges shot 8 of 12 from the field in the first quarter en route to a 21-15 lead, and then took control late in the second after the Eagles' Charlie Keith had tied the game 27 on a 3-pointer. The Falcons eventually took a 34-29 lead into halftime.
"They came out and shot it really well," said Bellach. "We kind of battled back, but then we had some timely turnovers in the first half just right when we kind of made a run and about to get over the hump … I think we get over that hump and things might be a little different."
Twin Bridges stretched the lead to double figures in the third quarter and finished the contest shooting 52.6 percent (20 of 38) from the field.
With the exception of a second half run against Melstone in Wednesday's quarterfinals, the Eagles never got their transition game going during the tournament.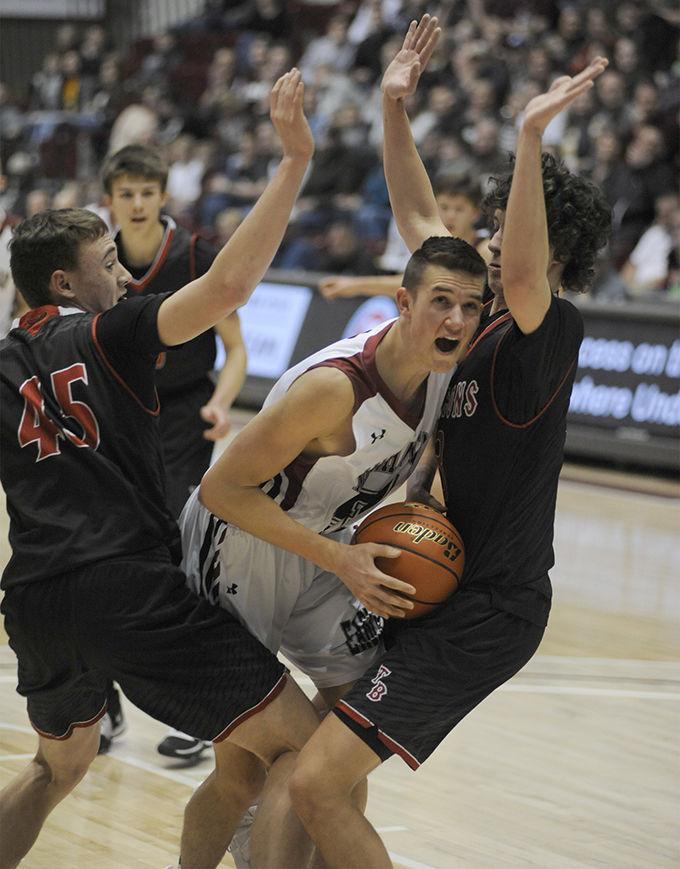 "I knew going into the season that was one thing we were missing from last year was the ability to get some easy buckets in the half court," said Bellach. "Running some set plays with a guy at each position that can score. We were just missing a couple of those pieces this year and we got exposed a little bit this weekend."
Still, the future remains bright for the program. Christian loses three seniors to graduation  — Amunrud, Keith and Leep — and will return three starters.
"We have a lot of kids coming back that gained some valuable experience. We have a few freshmen that played a lot of minutes and some other kids that are chomping at the bit to get some opportunities," said Bellach. "So I hope they turn the offseason into some opportunity for next year."
Caidin Hill led the Eagles with 13 points and 10 rebounds, while Keith had nine points.
Amunrud and Leep each finished with seven points. The senior duo wrapped up their prep careers competing in four straight state tournaments, including three consecutive state championship games, and playing on Day 3 each year.
"Jo and Sam, not a lot of kids get to do what they did in the last four years," said Bellach.
Friday's scores
Fort Benton 47, Belt 37, loser-out
Twin Bridges 67, Manhattan Christian 53, loser-out
Co-State Champions: Fairview & Scobey
Twin Bridges 67, Manhattan Christian 53
Twin Bridges            21  13  12  21  -  67
Christian                  15   14   9  15  -  53
TWIN BRIDGES (25-2) - Bryce Nye 5 1-2 12, Charlie Kruer 5 10-11 21, Tate Smith 0 0-0 0, Jake Hughes 5 2-7 15, Matthew Kaiser 5 9-11 19, Sam Konen 0 0-0 0, Connor Nye 0 0-0 0, Axton Anderson 0 0-0 0, Zane Carter 0 0-0 0, Trystan Harmon 0 0-0 0, Shawn Head 0 0-0 0. Totals: 20 22-31 67.
MANHATTAN CHRISTIAN (23-3) - Sam Leep 3 00 7, Josiah Amunrud 3 0-0 7, Matthew Kenney 2 0-0 6, Caidin Hill 2 9-12 13, Devan Walhof 0 3-4 3, Logan Leep 0 0-0 0, Tebarek Hill 2 1-3 4, Charlie Keith 4 0-0 9, Seth Amunrud 1 0-0 3, Gavin Weiss 0 0-0 0, Willem Kimm 0 0-0 0. Totals: 17 13-19 53.
3-point goals: TB 5 (Hughes 3, B. Nye 1, Kruer 1), MC 6 (Kenney 2, S. Leep 1, J. Amunrud 1, Keith 1, S. Amunrud 1).