MISSOULA — Manhattan Christian's girls reached the state tournament with grit, determination and a pair of victories in challenge games. But they were shut down Thursday afternoon in Dahlberg Arena.
The Eagles were outsized, outmuscled and unable to generate any kind of offense in a quarterfinal loss at the state Class C tournament. Roy-Winifred, which lost in last year's state championship game to Box Elder, led wire-to-wire in a 53-21 victory.
"We're coming and we've grown a lot. Our skills have come a long ways," Eagles coach Jeff Bellach said. "But you can see to get to that next level it's hard. We've got to put in more work."
Roy-Winifred (23-2) boasts 6-foot sophomore Madeline Heggem and 5-11 senior Dyauni Boyce in the paint, and they combined for 26 points and 16 rebounds. The duo, along with 6-foot-2 eighth grader Isabell Heggem, rarely allowed the Eagles to get off a shot that wasn't blocked the paint.
"That's a lot of size that they put out there. There's college teams that don't have that kind of size, women's teams," said Bellach. "There were times where we were a little intimidated and we have never seen anything like that."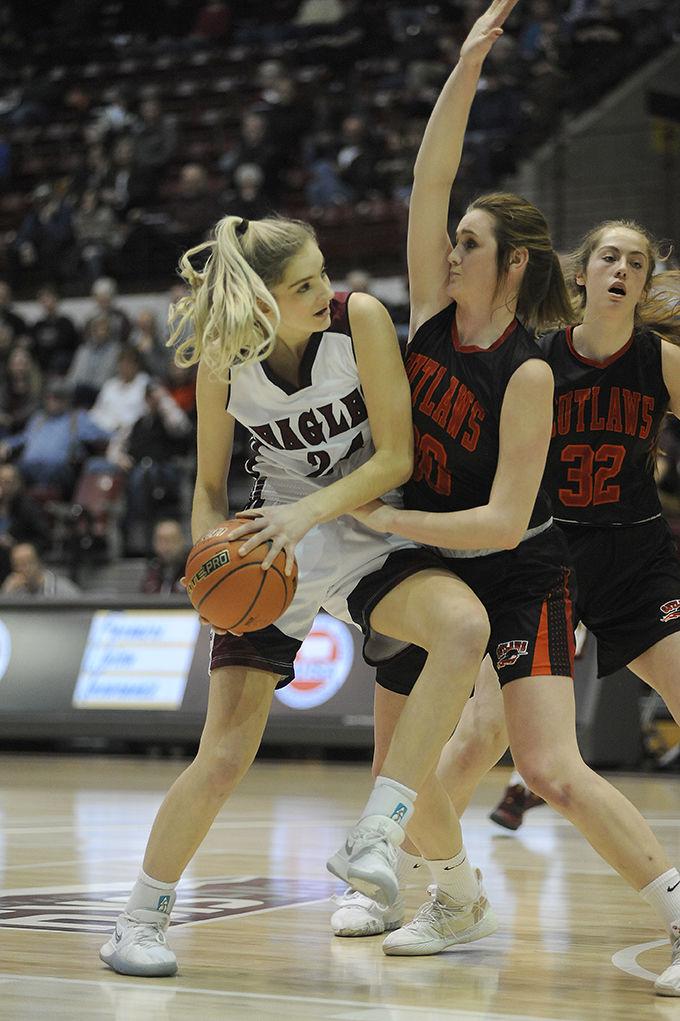 The Outlaws led 9-0 before Christian scored its first points on a baseline shot by Eliana Kuperus, and took a 27-7 lead into halftime.
The Eagles (22-5) had scoreless streaks of more than five minutes in the first quarter and six in the second en route to shooting just 17.1 percent (7 of 41) from the field in the contest. Bellach noted Roy-Winifred got out and challenged every shot and was physical in the paint.
"We were a little limited in our moves," he added. "Stuff you can get away with skill-wise against a lot of the teams in the state we play. But we can't get away with it against a team like that. It's another level … that team would be right there with a lot of the double A teams."
Boyce tallied a double-double, 16 points and 13 rebounds, in leading the Outlaws into the semifinals.
Christian got seven points and four boards from Kuperus, while Taylor DeVries and Kiersten Van Kirk each finished with four.
While the Eagles dropped into a loser-out game at 9:30 a.m. Friday against Westby-Grenora, Bellach noted the team now knows what it takes to win a game at state.
"That's the level we want to get to," he said. "We got a lot of young girls that if they put in the time are definitely capable of getting there. It's just that it's a process."
Thursday's scores
Ekalaka70, Westby-Grenora 59 (OT)
Roy-Winifed 53, Manhattan Christian 21
Belt 38, Scobey 29
Melstone 34, Seeley-Swan 26
Boxscore
Roy-Winifred 53, Manhattan Christian 21
Roy-Winifred          11 16  16  10 -  53
Christian                   2  5 7  7  -  21
ROY-WINIFRED (23-2) – Cassie Smith 2 0-0 5, Olivia Geer 1 0-0 3, Trinity Edwards 0 2-2 9, Madeline Heggem 4 2-3 10, Dyauni Boyce 8 0-0 16, Megan Bergum 0 0-0 0, Laynee Elness 3 2-4 9, Cadence Tillman 0 0-0 0, Helaina Fowler 0 0-0 0, Jayda Southworth 0 0-0 0, Isabelle Heggem 3 2-5 8. Totals: 21 8-14 53.
MANHATTAN CHRISTIAN (22-5) – Tayor DeVries 1 1-1 4, Grace Aamot 0 0-0 0, Eliana Kuperus 3 1-2 7, Kiersten Van Kirk 1 2-4 4, Madelyn Liudahl 0 1-1 1, Alexis DeVries 0 0-0 0, Hope Kenney 0 0-2 0, Ava Bellach 1 0-0 2, Rylie Thompson 0 0-0 0, Natalie Walhof 1 1-2 3, Jaydyn VanDyken 0 0-0 0, Hailey VanDyken 0 0-0 0. Totals: 7 6-12 21.
3-point goals: R-W 3 (Smith 1, Geer 1, Elness 1), MC 1 (T. DeVries).