Mike Deming wanted to usher Belgrade's basketball program into a new era. Now that the task has been completed, the veteran coach has decided to take a break.
Deming recently stepped down as head coach of the boys' team after more than a decade at the helm. This past season was the program's first in Class AA, and the Panthers finished with a 2-18 record.
"I didn't want to step down with going into double A. I thought that wasn't the right thing to do at the time," Deming said. "I wanted to be able to take the team into double A and make that transition as easy as possible for the team and the school."
With nearly 25 years of coaching experience under his belt during stints in Montana and Arizona, Deming added that he wanted to dedicate more time to his family.
"I think it's time to give my wife some quality time, especially since our kids have grown," said Deming. "I got a couple of boys left at home for a couple of years. I definitely want to spend some time with them."
Deming spent four years coaching both the boys and girls programs at Plentywood, three years coaching JV basketball in Arizona, and four more as a head coach at Manhattan where he guided the Tigers to a pair of divisional tournaments. Then he had a successful run with Belgrade, finishing with a 123-119 record.
Deming guided the Panthers to eight winning seasons in 11 years, six state tournaments and three divisional titles. Belgrade earned fourth place finishes at state in 2014 and 2017 and reached five divisional championship games.
"He just did a great job," Belgrade Activities Director Rick Phillips said. "And it's going to be some big shoes to fill, quite frankly, to have somebody step in and replace him."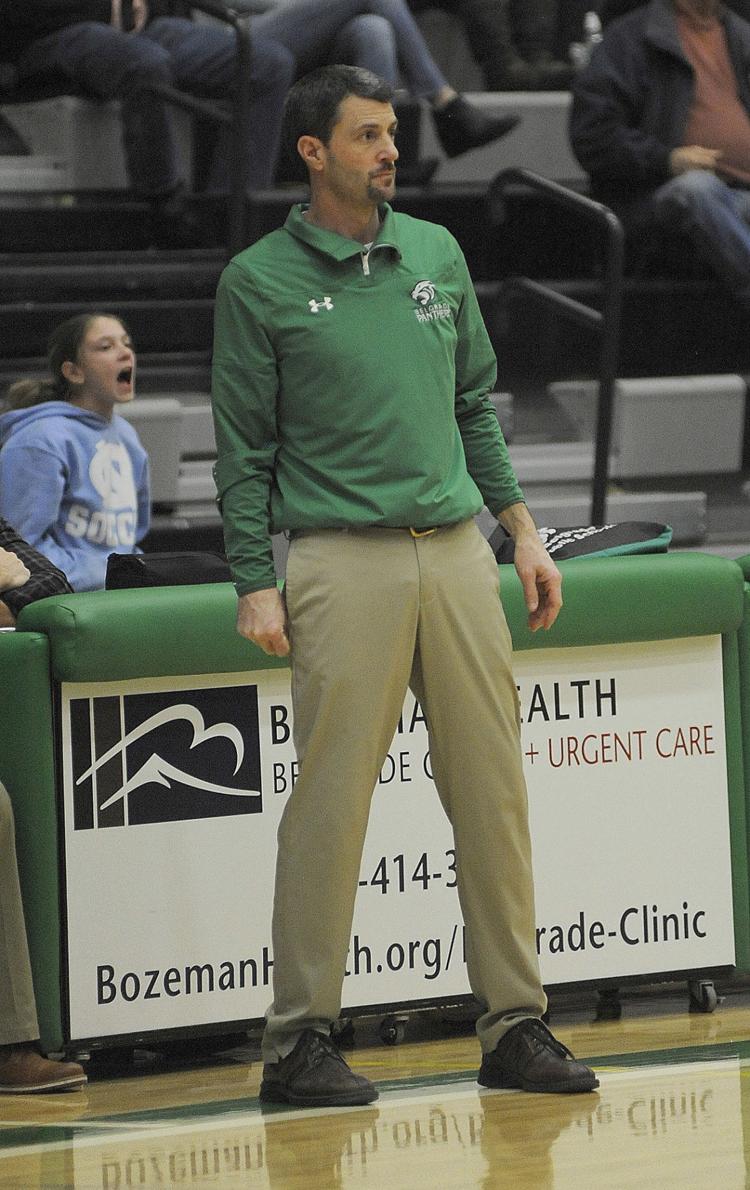 Belgrade posted 13 or more victories in seven seasons and won three consecutive Central A divisional titles from 2013-2015. Deming managed to turn around a program that had finished 3-18 in 2012.
"We were pretty dominant. My teams didn't lose many games through that stretch," he noted.
Two of Belgrade's divisional championship victories came against Havre, which at the time featured Dane Warp. The standout guard went on to have a very successful collegiate career at Carroll College.
Those battles are the games Deming will remember the most.
"I'd like to think all of my teams played tough. We gave our very best effort and competed, and I do miss the old rivalries of Havre and Belgrade back when Dane Warp was playing and I had good teams," he said. "Coach Kurt Leeds up in Havre always had a great team, and those were some intense rivalries that we had for about four years. Those were some good times."
The first of those divisional titles came against Browning in front of a standing room only crowd at the CMR Fieldhouse in Great Falls. Belgrade was nearly run off the court in the first quarter before rallying to win.
"I remember looking and Jeremy Ragar and he was just so determined. Not happy with the way he played, not happy with how the team played, and being down 17-10 you could see something change at the end of that quarter," said Deming. "Great leadership by some of these seniors every year, and what an awesome environment that was. We came back and won that championship game against a very quality team."
Belgrade also reached Eastern A divisional championship game in 2017 and 2018 — led by All-State guard Dawson Fowler — after the divisions were realigned, but lost both contests.
While the Panthers placed fourth at state twice, they were uanble able to take the next step. Some of that was due to the competition and some of it was due to some bad breaks.
"We had some great years, great teams," said Deming. "At the state tournament you need to have some luck. The ball needs to bounce your way and for whatever reason parts of those early games at state tournaments we just didn't get the bounces we needed."
Still, Deming has fond memories of those tournaments, and Phillips noted the way he was able to bond with players and draw the best out of them year after year.
"What he got out of a couple of those teams a couple years back, and how he was able to mold them and have them be competitive even though they may not have had the greatest talent pool, was incredible," Phillips said. "People don't always see what goes on behind the scenes of what all he does to help his athletes and what he gives of his own personal time to help those kids."
Deming refuses to take all of the credit, however. He praised all of his assistant coaches over the years as well as former Bozeman coach Mike Cole.
"A lot of credit needs to go to my mentor Mike Cole. He was there the last 11 years. He and I would meet often, usually on Sundays, to discuss situations and he was a great, great guidance for me the last 11 years," said Deming. "I've got to give a lot credit to the guys that helped me out. We've had some great runs."
While Deming is stepping away from basketball, he will continue to serve as Belgrade's head golf coach. He took over the position last year after serving as an assistant under longtime coach Joe Rossman for several years.
"I'm looking forward to golf," Deming said. "It's an opportunity for me to continue to coach and try to develop players to be the best that they possibly be on the golf course and off the golf course. Try and be a good role model."
With additional free time, Deming plans to go on hunting trips with his eldest son and provide guidance to his youngest, who enjoys playing basketball. Once they graduate, Deming said a return to coaching is likely.
"I think I'll be back. I think I'm going to plan to coach (again). That's what I do," he said. "For 23 years it's been a big part of my life. I've played the game, I've coached the game, spent a lot of time trying to understand and learn the game ... yeah, I think when the time is right I'll get back into coaching."
Applications for the open position will be accepted through May 22, Phillips said, and then a hiring committee will be assembled. Phillips hopes to have the position filled heading into the summer.