LIVINGSTON — There's still an entire season of cross-country remaining, but Ben Morrison is already in late season form.
The Manhattan Christian senior won the Seamus Camp Invitational Friday afternoon by nearly a minute, and broke the school record in the process with a time of 16:42.
"I worked really hard this summer and I'm really happy with that for sure," said Morrison. "I was going for sub-17, so thank God I was able to get it."
Teammates Riley Schott and Matt Kenney placed third and fifth, respectively, and the Eagles boasted six in the top 12 en route to easily winning the team title with 27 points.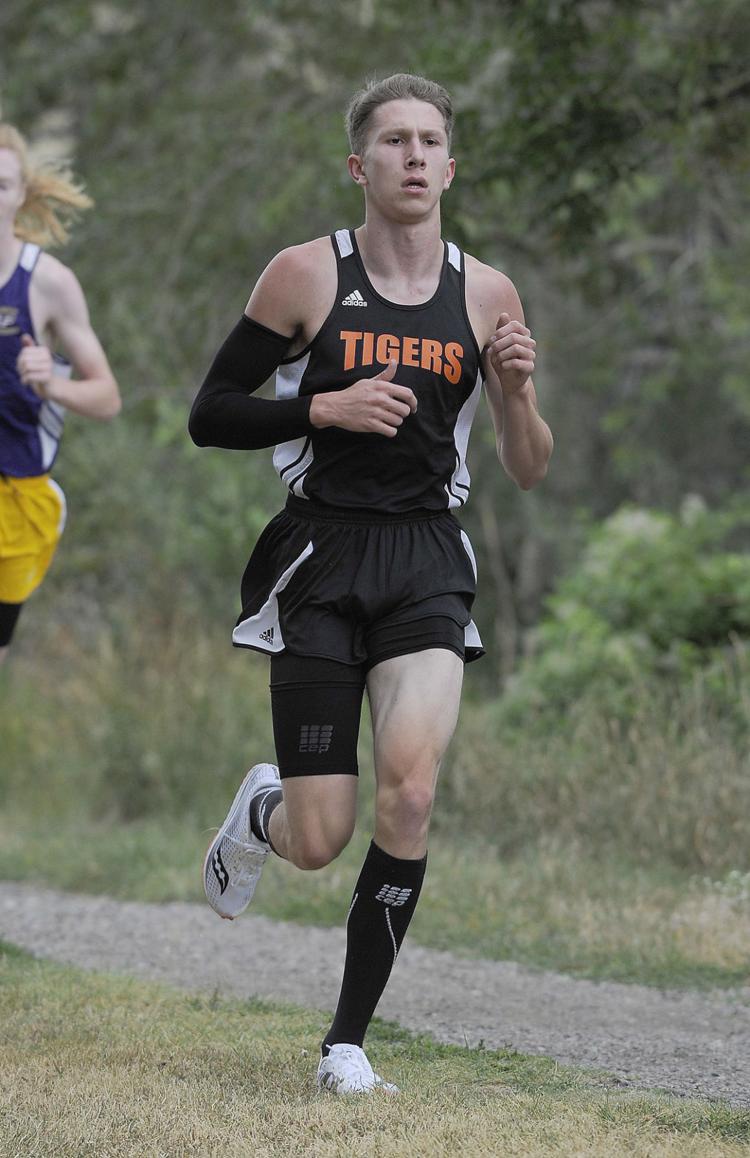 Morrison helped Christian win a third consecutive Class C championship a year ago, and eclipsed the classification record (16:54) that Schott set at state.
"We all love each other and we're all brothers. We love to go back and forth and we love to run together," Morrison said. "But it was for sure good to break my PR and the state PR too."
Schott, who won last year's individual championship at state, posted a time of 17:42, while Kenney finished in 17:57. The Eagles were rounded out by Nathan Adams (8th, 18:50), Devan Walhof (10th, 19:01), and Sam Leep (12th, 19:03).
"Riley and Matt are right ahead probably of where they were last year. I know Matt's mile is ahead of where it was last year. So we're looking good," Christian coach Nate TeSlaa said. "Nathan and Devan, this is their first time running varsity and they were holding their own, and Sam's faster than he was last year at this meet. So all in all we're making improvements from last year over last year's times."
With an impressive victory in the season opener, the Eagles again appear to be the favorite in Class C. But Morrison noted the team is focused on what they can control now and not looking ahead to state in October.
"We're honestly just taking it day by day. Just going to work hard and pray up, and God willing it'll happen," he said. "That's what we want and that's what we're going for, but we're just going to work hard and see what happens."
Park's Tommy Hicks earned a runner up finish after finishing with a time of 17:36. The Rangers were second in the team standings with 48 points.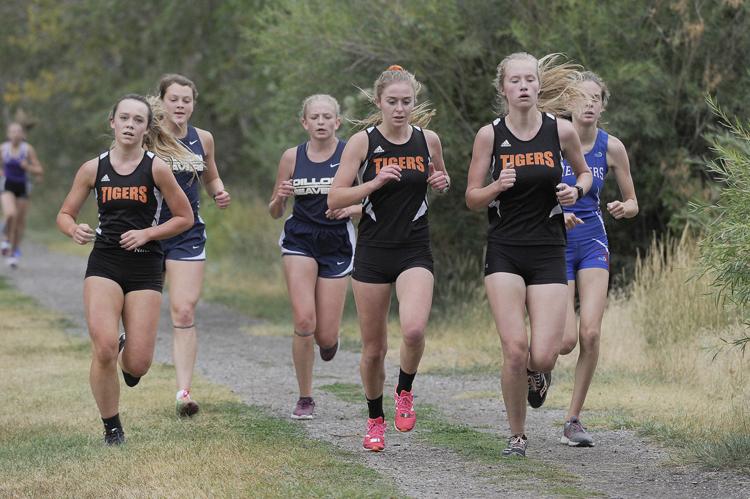 Manhattan's boys placed third among the four teams that scored led by Wyatt Barney. The junior finished fourth with a time of 18:37.
The Tigers lost their top two runners from last year's state championship team, and three who placed in the top 20, but coach John Sillitti likes his team's overall depth.
Sophomore William Rolando was 14th (19:12), while and Quinton Johnson (16th, 19:31) and Michael Tenney (18th, 19:46) also placed in the top 20.
For the girls, Jodi Cameron placed second en route to leading defending Class B champion Manhattan to the team title with 33 points. The senior posted a time of 21:15.
"It felt really good," Cameron said of the opening race. "I had Saige (Duffin) and Hallie (Hemenway) right there with me, so it was good."
Hemenway was fourth in 21:23, while Duffin was seventh in 21:47. Also earning top 15 finishes were Pralie Duffin (9th, 22:34), Kit Wiersema (11th, 23:00), Jessa Steele (12th, 23:35), and Rylee Cameron (23:56).
Beaverhead County's Madalen Shipman won the meet with a time of 21:06 as the Beavers placed second with 87 points.
While the Tigers return the majority of last year's team for a title defense, Jodi Cameron noted another championship isn't on the team's mind quite yet.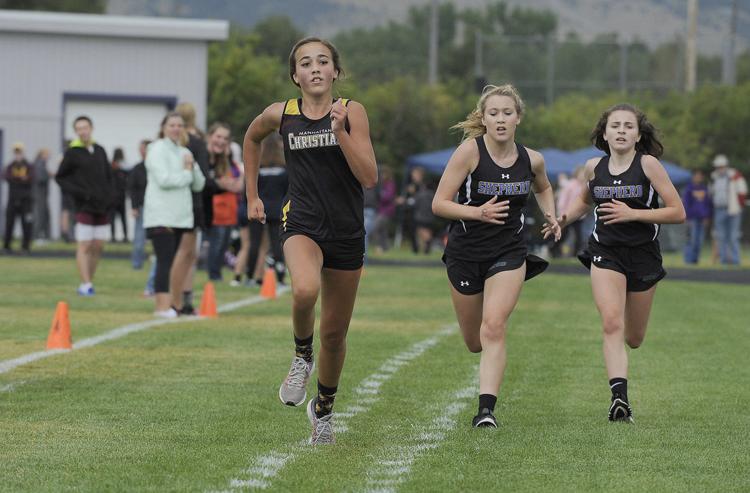 "We're not worried about it right now. We're just enjoying it," she said. "We feel pretty good. We didn't lose any seniors last year and we got a couple new freshmen. It's going to be fun."
Sillitti doesn't see his team as the favorite as the season begins, but he does see the potential to improve and possibly contend by the end of it.
"I need to remember that some of these girls are going to get faster as the season goes," Sillitti said. "I got three freshmen that are working hard and doing pretty well."
Christian's girls did not field a full team as a pair of underclassmen competed for the varsity. Freshman Ava Bellach placed 17th in 24:38, while sophomore Mali Kamerman was 25th in 25:48.
"Except for (junior) Rachel (Bos) none of them have run a high school race," noted TeSlaa. "They came out fast and they came out strong. They just did so well. I'm just so proud of them. It was just a great day."
Seamus Camp invitational
(at Park County High, Livingston)
Boys Results
Team scores: 1, Manhattan Christian 27; 2, Park 48; 3, Manhattan 75; 4, Shepherd 153. No score: Beaverhead County, Butte Central, Lockwood, Shepherd, Twin Bridges, Sweet Grass.
Individual results: Ben Morrison, MC, 16:42; Tommy Hicks, Park, 17:36; Riley Schott, MC, 17:42; 4, Ben Steadman, Bea, 17:47; 5, Matt Kenney, MC, 17:57; Wyatt Barney, Man, 18:37; McCrae Wester, Park, 18:44; Nathan Adams, MC, 18:50; Chandler Steadman, Bea, 18:54; Devan Walhof, MC, 19:01; Andrew Durgan, Park, 19:01; Sam Leep, MC, 19:03; Colter Sienkiewicz, Park, 19:10; William Rolando, Man, 19:12; Chris Orr, PArk, 19:26; Quinton Johnson, Man, 19:31; Caleb Baker, SG, 19:45; Michael Tenney, Man, 19:46; Morgan Hendrickson, TB, 19:46; David Durgan, Park, 19:48; Payden Cantalupo, Man, 20:01; Jayden Mitchell, BC, 20:04; Charlie Serafin, Park, 20:09; Luke Meeker, Man, 20:13; Nate Gorham, Shep, 20:34; Colter Fleming, SG, 20:36; Daniel Martin, Bea, 20:43; Graysen O'Connor, SG, 20:47; Ty Ferguson, SG, 20:56; Colton Zubach, Shep, 21:07; Kaden Southworth, Shep, 21:13; Rob Dale, TB, 21:30; Thomas Evans, Shep, 21:52; Lukas Kiekover, Shep, 22:13; Cooper McCormack, Shep, 22:30; Will Morse, TB, 22:35; Griffen Gertsch, Shep, 22:42.
Girls Results
Team scores: 1, Manhattan 33; Beaverhead 51; 3, Shepherd 87. No score: Beaverhead, Butte Central, Lockwood, Park, Shepherd, Sweet Grass, Twin Bridges.
Individual results: Madalen Shipman, Bea, 21:06; Jodi Cameron, Man, 21:15; Natalie Wood, SG, 21:17; Hallie Hemenway, Man, 21:23; Elianna Wester, Park, 21:34; Kelle Mosher, Bea, 21:37; Saige Duffin, Man, 21:47; Bri Williams, Bea, 22:29; Pralie Duffin, Man, 22:34; Elise Wadle, Park, 22:54; Kit Wiersema, Man, 23:00; Jessa Steele, Man, 23:35; Rylee Cameron, Man, 23:56; Keani Lundin, Shep, 24:06; Emilie Strand, Bea, 24:15; Piper Ruffing, Shep, 24:24; Ava Bellach, MC, 24:38; Bailey Hofmann, Shep, 24:38; Kiarra Kennedy, Shep, 25:07; Paeden Hammer, Bea, 25:22; Kailey Forrey, SG, 25:24; Savannah Parks, BC, 25:41; Sophie Kelly, Shep, 25:45; Mali Kamerman, MC, 25:48; Abi Southworth, Shep, 25:55; Emma Donald, SG, 31:27; Cara Lorenzini, SG, 33:14.