With two more conference sweeps, Manhattan Christian inched closer to completing an unbeaten regular season.
The Eagles swept Lima 25-3, 25-10, 25-10 in District 12C action Saturday, and then beat Gardiner in three sets Tuesday 25-9, 25-16, 25-13.
"We served pretty tough. We kept them out of system, which was good," Christian head coach Hannah Van Dyk said of the victory against Gardiner. "Defensively we really stepped up and we played with some intensity."
Katelin Van Kirk, who did not play against Lima, led the Eagles against Gardiner. The freshman outside hitter tallied 12 kills, 11 digs and added a block.
"She was playing well," said Van Dyk. "Taylor (DeVries) gave her some good sets and she was able to get there and close, and hit really well."
Van Dyk also noted the effort of senior middle hitter Eliana Kuperus, who finished with seven kills. Kiersten Van Kirk, a junior opposite, also tallied seven kills, but struggled at times with five hitting errors.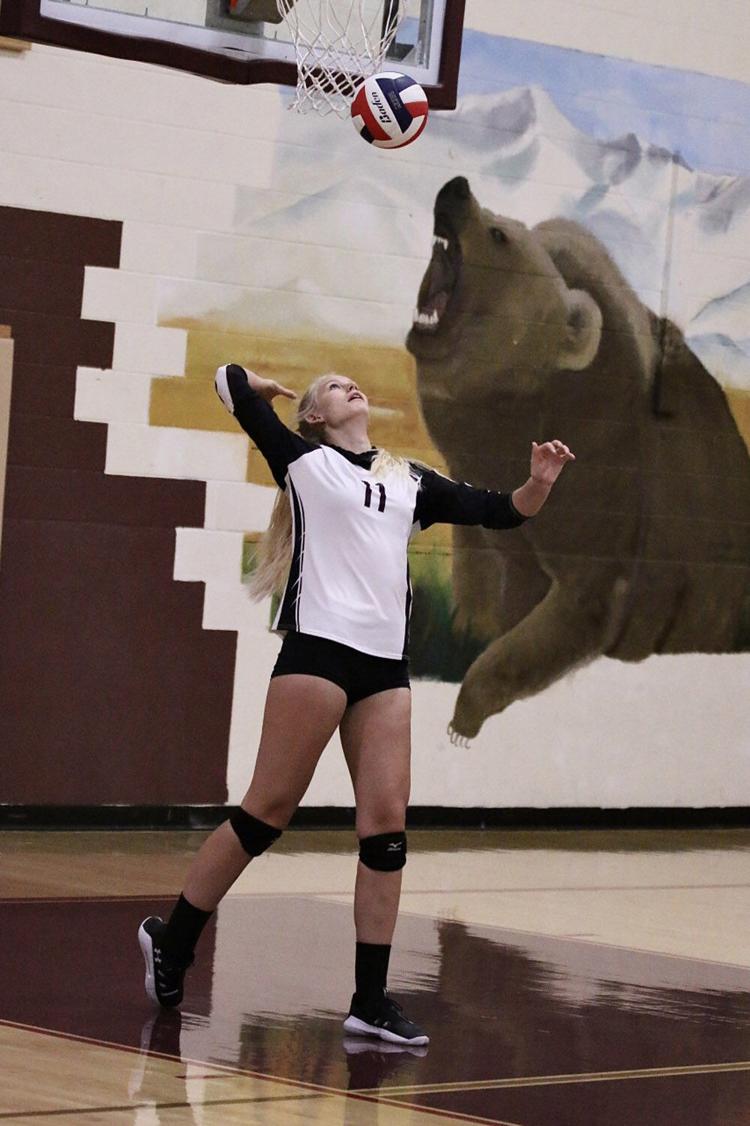 "Kiersten didn't have her best hitting day, but I thought she made up for that with just overall leadership of the team on the floor. It was good to see her take charge and lead," said Van Dyk. "Passed well, had some good two-balls, yeah, she played really well without leading in kills. It was good for her to see that she can be a big leader out there without having to have a bunch of kills."
DeVries dished out 23 assists and had 10 digs, while Kuperus had 11 digs. As a team, the Eagles tallied 31 kills and had 4.5 blocks.
"We had a hundred attack attempts, which is a lot," noted Van Dyk.
Kiersten Van Kirk led the charge against Lima, finishing with 12 kills, 11 digs and five aces. Hope Kenney added seven kills and five aces.
"We worked on running our offense and we did a really good job of that," Van Dyk said. "We passed well and we were able to have people up in the air for that set and give Taylor a lot of freedom on where she's gonna set the ball."
Christian improved to 15-0 (10-0 District 12C) and extended its win streak to 18 dating back to last year's state tournament. But the team closes out the regular season playing a pair of unbeatens, as well as Manhattan, a stretch that begins Wednesday in Fort Benton.
"We actually have some really good matches coming up," said Van Dyk. "Fort Benton I actually think is unbeaten right now, so that will be a good one. Lone Peak's been playing well and then Manhattan, they've been playing well too."
Manhattan Christian def. Lima 25-3, 25-10, 25-10.
MANHATTAN CHRISTIAN (14-0) - Kills: 41 (Kiersten Van Kirk 12, Hope Kenney 7). Digs: 35 (Van Kirk 11, Maddie Visser 8). Blocks: 1 (Natalie Walhof 1). Aces: 14 (Kenney 5, Van Kirk 5). Assists: 34 (Taylor DeVries 28).
LIMA - Stats not provided.
Manhattan Christian def. Gardiner 25-9, 25-16, 25-13.
MANHATTAN CHRISTIAN (15-0) - Kills: 31 (Katelyn Van Kirk 12). Digs: 57 (Maddie Visser 12). Blocks: 4.5 (Hailey VanDyken 2). Aces: 10 (Hope Kenney 4). Assists: 28 (Taylor DeVries 23).
GARDINER (8-6) - Stats not provided.