MANHATTAN — Admittedly, Manhattan Christian didn't have its best night. But the defending Class C champions did enough Tuesday to post another sweep.
Sisters Kiersten and Katelyn Van Kirk combined for 19 kills to lead the Eagles to a 25-21, 25-18, 25-22 victory against Manhattan. Christian extended its winning streak to 20 dating back to last year's state tournament, and swept its 15th opponent this season.
"They're tough, they're solid, they got some big talent," Manhattan coach Charli Chapman said. "And momentum is definitely on their side."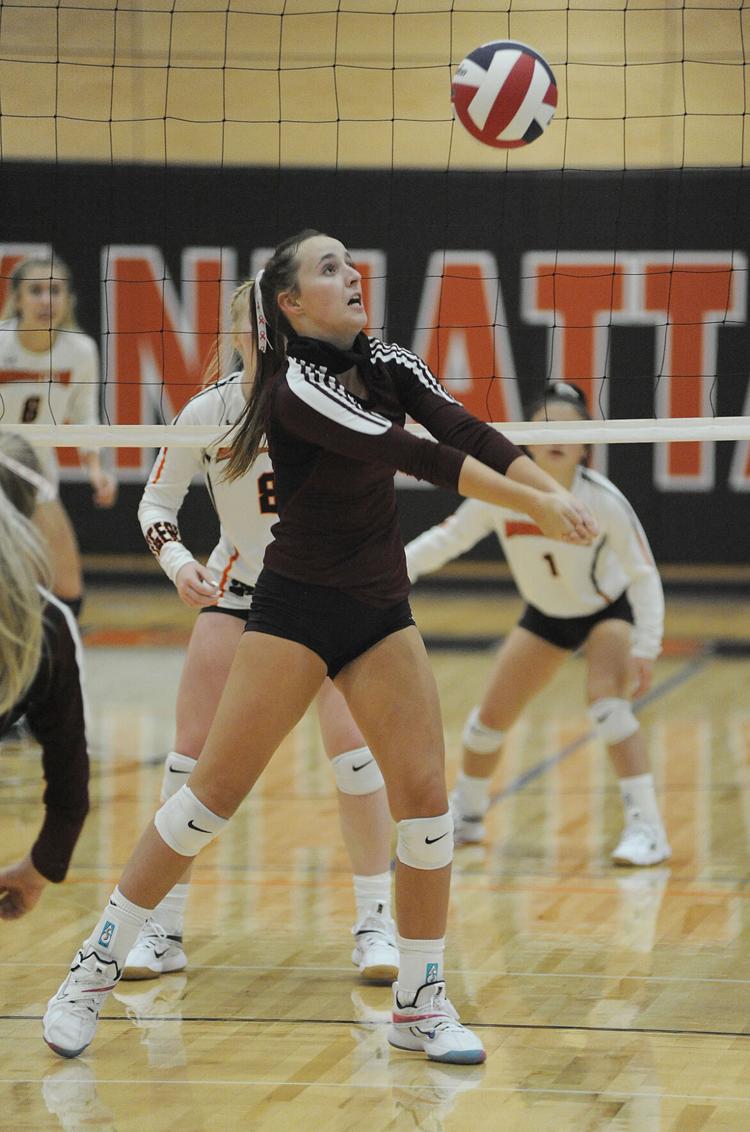 While the Eagles (17-0) swept the match, there were some struggles. It could be attributed to a strong service game by Manhattan as well as a bit of an off night offensively.
"Everything seemed so hard for us today," Christian coach Hannah Van Dyk said. "Manhattan played really well, they kept us out of system. We just did not execute as well as we can, but it's still good to see that we can get the 3-0 W(in) on not our best effort."
Manhattan (9-8) jumped out to a 5-0 lead in the first set behind the serving of Cayli Chapman. The junior scored on ace during the early run en route to finishing with three, and flustered the Eagles offensively on her opportunities at the service line.
"We talked about that in practice," coach Chapman said of her team's aggressive serving. "Making them have to choose maybe not where their first priority is to go with the ball every time."
While the Eagles were out of system at times offensively, senior setter Taylor DeVries still managed to get the ball to the Van Kirks. The duo fueled the rally in the first set, which was capped by an ace from Katelyn Van Kirk.
Christian led much of the second set and by as many as eight, 21-13, following a net violation by the Tigers. But the third set was tight late after Cayli Chapman scored on an ace to trim the deficit to 21-18.
The Eagles held on, however, and got kills from Kiersten Van Kirk and Eliana Kuperus down the stretch. Kuperus finished with seven kills and 10 digs.
"I would say from our last match up (another 3-set defeat) with them to tonight, it was night and day difference," said coach Chapman. "I think the piece that probably was missing was just wondering if we truly believe that we can beat them. You look at those scores, I'm happy with how they competed."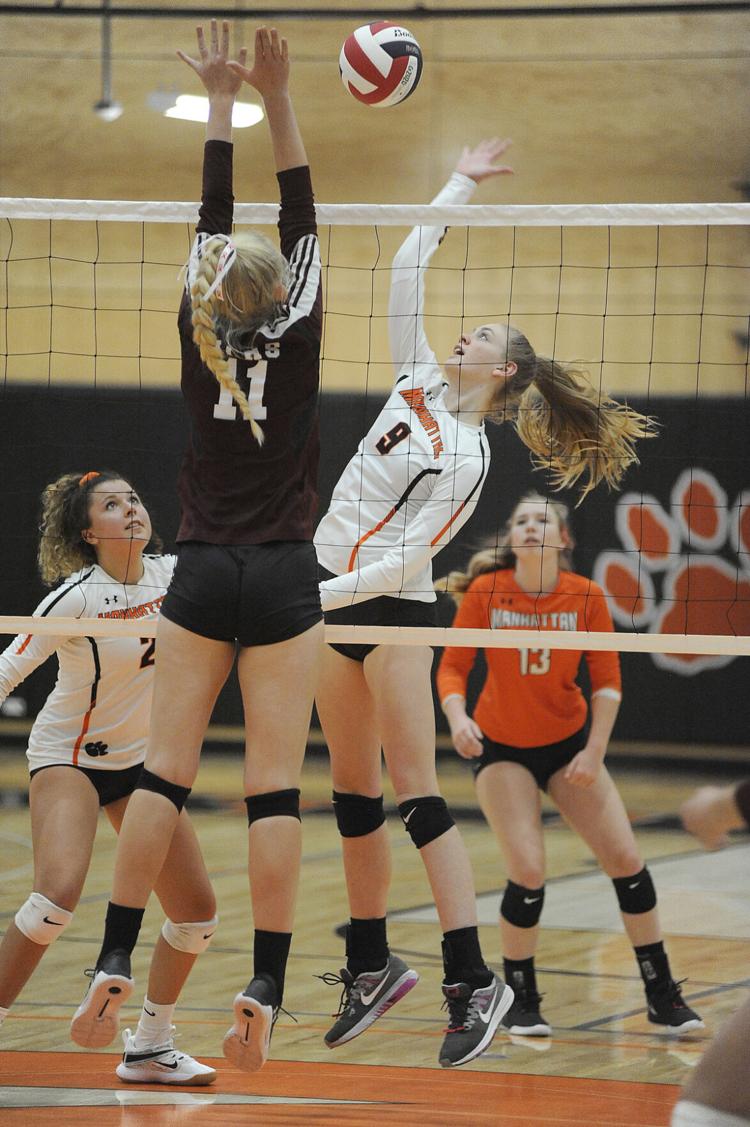 Kiersten Van Kirk finished with 11 kills, while Katelyn had eight kills, five aces and four digs. DeVries chipped in with 29 assists and six digs.
"We'll have some tougher practices thrown in there where we're having to fight a little bit more ... a little more desire," said Van Dyk. "But it's reassuring to know we can play like that and still come out on top."
Oliviah Westervelt led Manhattan's attack with eight kills and 10 digs.
"We dug up a lot of stuff that we didn't dig up last time we saw them, so that was good," coach Chapman said. "We were in system a little bit more than we were last time, which helps. Just have to go out competing, having fun and letting mistakes go, and I think we did a better job of that tonight."
Manhattan wraps up the regular season hosting Jefferson in a conference match Thursday.
Christian was slated to host Lone Peak Thursday to cap the regular season, but the league contest has been moved to Monday. Both teams are unbeaten and the winner claims the No. 1 seed heading into the district tournament.
"We're not overlooking Lone Peak. We're excited to play Lone Peak. We want to have that opportunity to have a good match," said Van Dyk. "And then we have districts and getting ready for all that stuff too. It's going to be a good next few weeks."
Manhattan Christian def. Manhattan 25-21, 25-18, 25-22.
MANHATTAN CHRISTIAN (17-0) - Kills: 34 (Kiersten Van Kirk 11, Katelyn Van Kirk 8). Digs: 43 (Maddie Visser 10, Kuperus 10). Blocks: 10.5 (Hailey Van Dyken 2.5). Aces: 11 (Ka. Van Kirk 5). Assists: 34 (Taylor DeVries 29).
MANHATTAN (9-8) - Kills: 21 (Oliviah Westervelt 8, Esther Halverson 4, Cayli Chapman 4). Digs: 54 (Adele Didriksen 14, Westervelt 10). Blocks: 5 (Teresa Bannan 3). Aces: 4 (Chapman 3). Assists: 19 (Chapman 18).