CHURCHILL — There are many goals that Manhattan Christian's players hope to achieve this season with returning to the state tournament at the top of the list.
The Eagles return a wealth of talent and it was on full display Thursday night in the Memorial Event Center. But third-year head coach Jeff Bellach was simply grateful to see the team on the court considering the uncertainty of a season due to the global pandemic.
"It was just great for the kids to be on the floor again and have some fans in the stands. It's been a long time," Bellach said. "It was special that we got the opportunity and hopefully we can keep it going and they'll keep their opportunities."
Christian tipped off its season with a wire-to-wire victory against Townsend. Led by Kiersten Van Kirk and Eliana Kuperus, who combined for 33 points and 18 rebounds, the Eagles soared to a 58-32 non-conference victory.
"Kiersten and Eli, they're capable of stretching the floor and kind of playing position-less," said Bellach. "Kiersten's getting better and better all the time. She's getting to the point where she can stick (with) guards and she can play on the perimeter. She can probably even break the press if we need her to."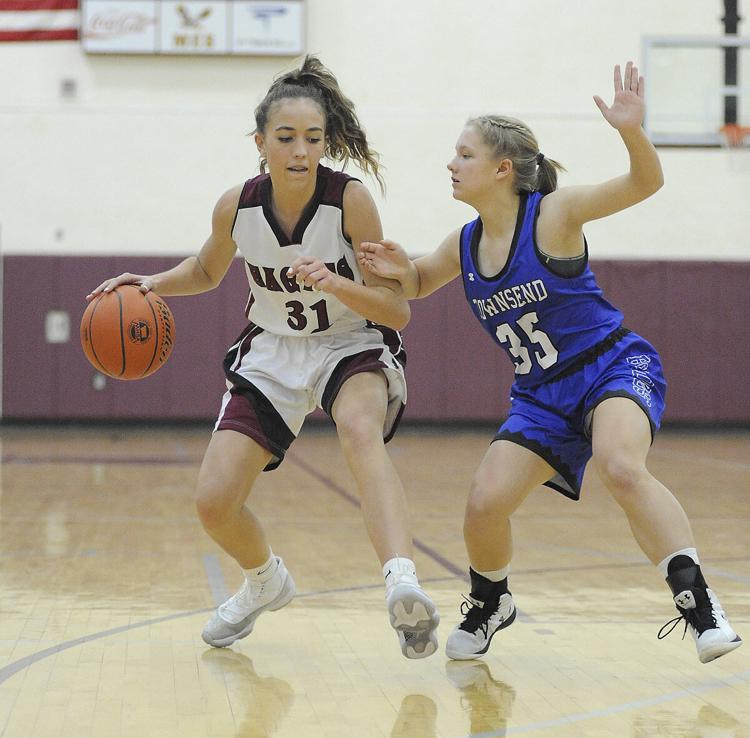 The 6-foot-3 Van Kirk tallied a double-double with a game-high 18 points and 11 boards. But it was the entire team effort and game intensity that Bellach was most pleased with following a full month of practice prior to the season opener.
"After 16 practices sometimes you're like, 'Boy I don't know.' Because you get to those last couple practices before game week and it gets a little dry," he said. "But our girls did a good job of keeping focused in practice and building good habits, and it showed the way we came out."
The Eagles scored the first 11 points of the contest after Grace Aamot and Taylor DeVries buried back-to-back 3's. Bellach could not have been more pleased with the opening possession when the ball was kicked out of the paint to Aamot, who drilled the shot.
"We talked about going inside and out and that first possession is exactly what we talked about wanting to do. We want to do more of that," said Bellach. "We got it in, it got kicked out, shot fake, we drove to the paint and kicked it out — that possession right there is something we really want to build on."
While Kuperus and Van Kirk, who each garnered All-State honors last year, led the offensive attack, Christian also saw key contributions from several others including Ava Bellach. The sophomore connected on a pair of 3's and combined with Aamot for 11 points.
The contest was the start a three-game homestand to begin the season. The Eagles open conference play Friday against Shields Valley and then welcome White Sulphur Springs Tuesday.
Manhattan Christian 58, Townsend 32
Townsend                  4    7   11  10  -  32
Christian                   19  12  15  12  -  58
TOWNSEND (0-2) - Kylah Clowes 0 0-0 0, Emma Huffman 1 3-4 5, Charlotte Watson 4 4-4 15, Kennedy Vogl 0 1-2 2, Bailey Taves 1 0-0 2, Kadyn Braaten 0 0-2 0, Trinity Wilson 3 0-1 6, Luci Horne 0 0-0 0, Melanie Woodward 0 0-0 0, Sarah Christensen 0 0-0 0, Ella Begger 0 1-2 1, Emily Bird 1 0-0 2, Havyn Vandenacre 0 0-0 0. Totals: 10 9-15 32.
MANHATTAN CHRISTIAN (1-0) - Anna Keith 0 0-0 0, Taylor DeVries 1 2-2 5, Hope Kenney 0 2-2 2, Alexis DeVries 0 0-0 0, Eliana Kuperus 6 3-4 15, Kiersten Van Kirk 7 3-4 18, Katelyn Van Kirk 1 0-0 2, Ava Bellach 2 0-0 6, Grace Aamot 2 0-0 5, Natalie Walhof 1 0-1 3, Hailey VanDyken 1 0-0 2. Totals: 21 10-13 58.
3-point goals: Tow 3 (Watson 3), MC 6 (Bellach 2, T. DeVries 1, Ki. Van Kirk 1, Aamot 1, Walhof 1).