MANHATTAN — A 9-0 run early in the fourth quarter stretched an eight-point lead to double figures, and Manhattan Christian cruised from there to open the season with a victory on the road Friday night.
Eliana Kuperus tallied a double-double with 13 points and 12 rebounds, while Kiersten Van Kirk added a game-high 16 points and nine boards, as the Eagles pulled away to beat Manhattan 50-35.
Christian had scored the final eight points of the third quarter, and then countered a bucket by the Tigers' Amy Grevious to begin the fourth with nine consecutive points. The 17-2 run busted open what had been a very competitive game.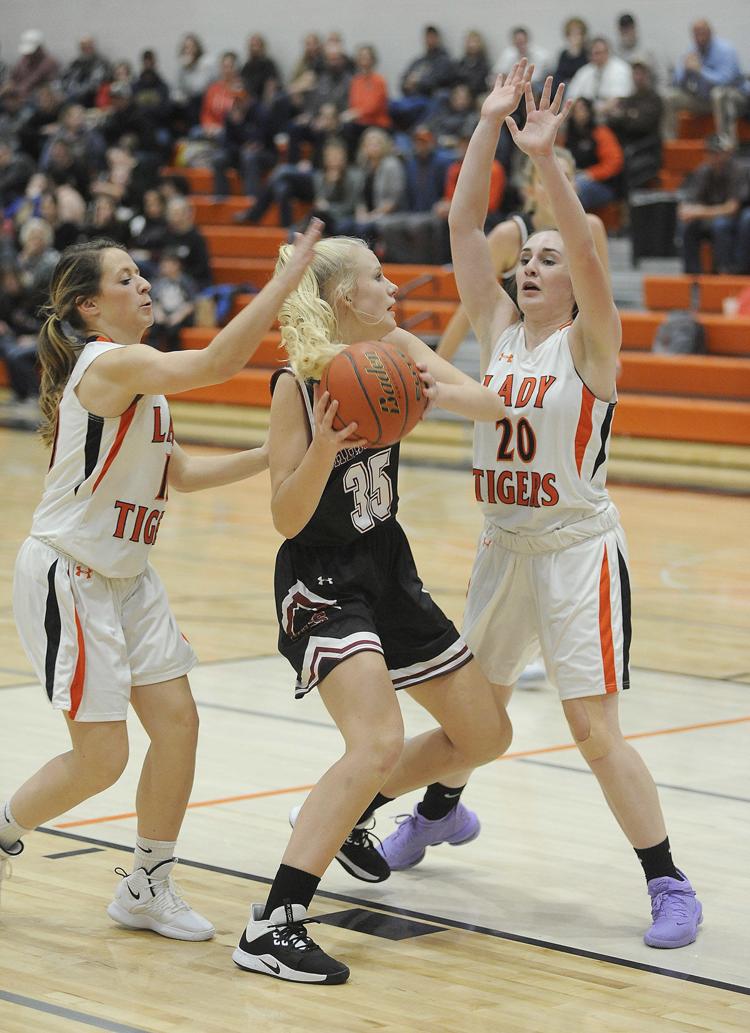 "It was a slow run," second-year Eagles coach Jeff Bellach noted. "We stretched it out again in the fourth and that was big. I think our girls were tired tonight, but they had enough at the end."
The contest featured several key runs for the Eagles, who briefly trailed twice in the first quarter. They lead 16-12 entering the second quarter, and then stretched the lead to 10 points, 22-12.
Manhattan rode its press back into the game, rallying to get within 22-21 following a bucket by Grevious. But the Eagles eventually took a 24-23 lead into halftime.
"We came out a little bit flat. Christian made some adjustments and we didn't do what we needed to do to meet those adjustments," Manhattan coach Mikal Herron said. "But I was happy with our intensity and our effort that first half. If we can play four quarters of basketball that way we'll have a pretty good year."
The Tigers took their final lead of the contest early in the third quarter when Sophie Duffin converted a turnover into a 27-26 lead. But Christian countered with 3-pointer by Taylor DeVries and gradually pulled away from there.
Manhattan scored just 12 points in the second half and committed 23 turnovers in the contest.
"It got better as the game went on," Bellach said of the defensive effort. "Still got to work a little bit on some screen stuff and communication there."
The Eagles struggled much of last year against full and halfcourt pressure, but Bellach was pleased with how the team performed despite committing 33 turnovers.
"I was happy with the way we were able to handle their pressure. I think some of that was a little bit of fatigue too," he said. "We got a little more patient on offense in the halfcourt and the ball moved better and the bodies moved better too, and we were able to get it back inside."
Christian out-rebounded the Tigers 53-27, and the team displayed its depth as 10 players saw at least five minutes of action and six scored in the contest.
"Overall, for the first game, we're well ahead of last year," Bellach said. "We can see that even with the ball handling and all that. We can do that a little bit more by committee and not so much on Taylor's shoulders as far as that goes."
Manhattan was led by Olleca Severson and Grevious, who combined for 15 points. But the Tigers shot just 25.4 percent from the field, including just 1 of 13 from beyond the arc.
"There's going to be nights when the ball doesn't go in the hole as well others, but we were getting good shots. They were rattling in and out and sometimes that's just the way the cookie crumbles," said Herron. "We just have to continue playing and keep our heads up."
Both teams return to action at the Manhattan Bank Tip-Off Tournament Dec. 13-14. Games will be held in Manhattan as well as Churchill.
"I told the girls it was a great effort," said Herron. "I was happy with that first half and we need to remember that and what it felt like and work to build on that."
Christian is back in action Saturday hosting Whitehall in another non-conference game.
Manhattan Christian 50, Manhattan 35
Christian                     16  8  15  11  -  50
Manhattan                 12  11  6   6   -  35
MANHATTAN CHRISTIAN (1-0) - Anna Keith 0 0-0 0, Taylor DeVries 3 1-1 9, Hope Kenney 3 0-0 6, Grace Aamot 0 0-0 0, Eliana Kuperus 4 5-6 13, Kiersten Van Kirk 7 2-2 16, Maddie Liudahl 1 0-0 2, Rylie Thompson 0 0-0 0, Natalie Walhof 0 0-0 0, Hailey VanDyken 2 0-0 4. Totals: 20 8-9 50.
MANHATTAN (0-1) - Amy Grevious 4 0-0 8, Sophie Duffin 2 0-0 4, Olleca Severson 3 0-1 7, Ariah Carrier 0 0-0 0, Pralie Duffin 0 2-2 2, Jasmine Grossman 1 0-2 2 Ruby Stenberg 1 2-3 4, Hallie Hemenway 4 0-0 8. Totals: 15 4-8 35.
3-point goals: MC 2 (DeVries 2), Man 1 (Severson).