BOZEMAN — Manhattan Christian is taking home a trophy from the state tournament. Now it's just a matter of which one.
The Eagles soared to a pair of victories Thursday to begin the state Class C tournament at Brick Breeden Fieldhouse, and are guaranteed of finishing no lower than third.
Christian (23-1) posted a pair of four-set victories led by the hitting of Kiersten Van Kirk. The 6-foot-2 sophomore tallied a match-high 18 kills in a 25-10, 25-12, 19-25, 25-15 first round win against Roy/Winifred and then had 20 kills in a 23-25, 25-20, 25-14, 27-25 win against Plentywood in the quarterfinals.
After losing in the quarterfinal round of the tournament last year, Christian's players were determined to produce a different result.
"There's just so much excitement. This is what we have worked for the whole year," Van Kirk said. "Last year we lost out, so our main goal was to make it back to tonight's game and make it all the way to the semifinals. So we're really excited."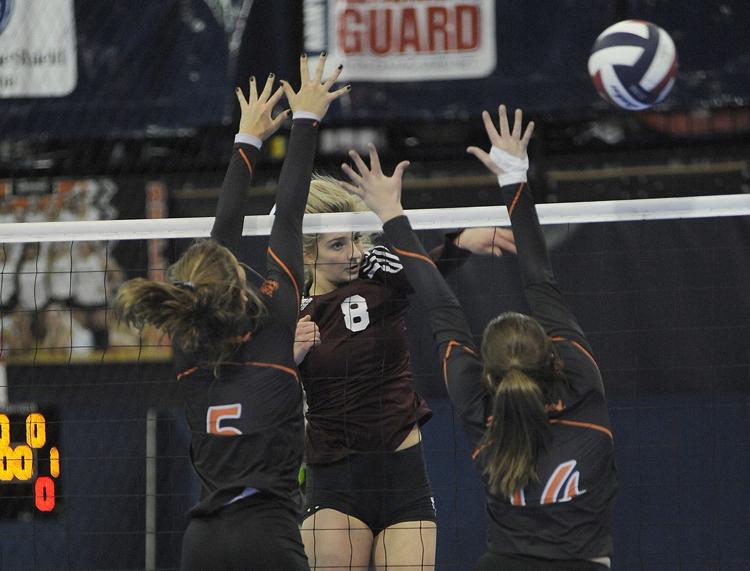 The Eagles will face last year's state runner up, Bridger, in the undefeated semifinal at 6 p.m. Friday. The Scouts (31-2) notched victories against Westby/Grenora and Fort Benton Thursday.
"They're tough," Christian coach Jill Ayers said. "They run really wonky stuff. Just abnormal defensive and offensive systems and they're hard to scout … they're a good team, but so are we."
While Christian took a 14-12 lead in the first set against Plentywood following an ace by Van Kirk, the offense struggled. The Wildcats capitalized on every little miscue en route to the win.
"First game we were just out of system and all over the place," said Ayers. "But as soon as we got in system and started passing, we started being able to run some stuff and it was good."
It took a while, however.
Plentywood, led by outside hitters Donni Longan and Liv Wangerin, kept the Eagles on their heels throughout the match. The duo combined for 40 of their team's 44 kills and helped the Wildcats build an 11-6 lead in the second set.
Christian's blockers eventually got their timing down, and while Longan and Wangerin still continued to rack up kills it became a little more difficult.
"Both of those girls have a little herky-jerk in their arm. They wouldn't swing right away, so our block was kind of down before they (hit). We got them to wait like a quarter second and then they finally kind of got on them," said Ayers. "But man, those two are powerhouse hitters."
Christian scored the final five points of the second set, and then rode that momentum into the third en route to building a 12-point lead. The fourth set, however, was back-and-forth.
The Eagles trailed 23-19 and then began to feed Van Kirk the ball at every opportunity. She responded with three consecutive kills to trim the deficit to 23-22, and then knotted the set at 24.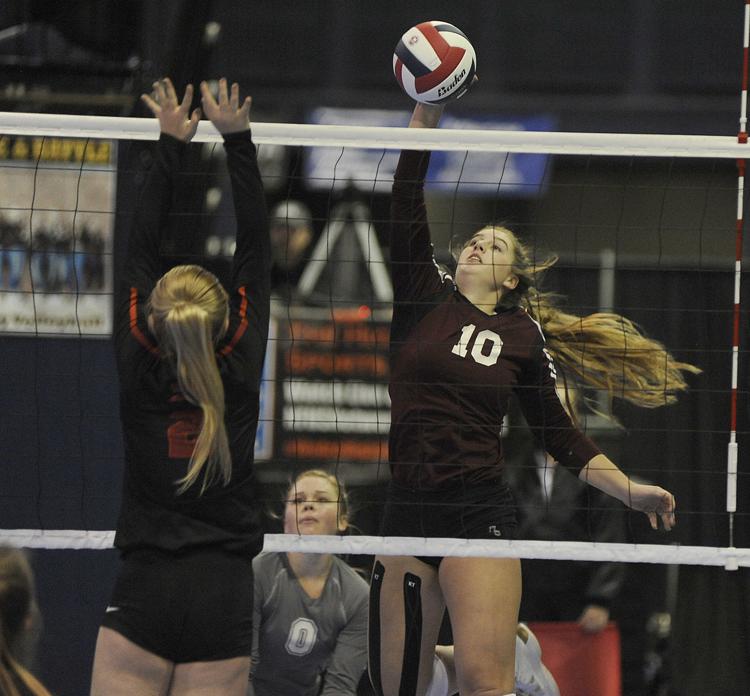 Van Kirk eventually gave Christian match point with another kill before setter Taylor DeVries capped the victory with a tip. Knowing what was on the line, Van Kirk embraced spotlight.
"I loved it," she said. "Pressure situations are so much fun."
DeVries, who is the team's setter, finished with nine kills, 13 digs and dished out 30 assists.
While the Eagles already know that they'll be playing Saturday, Ayers noted the road won't get any easier.
"We're at state. Every win is going to take hard work," she said. "Nobody's going to lay down here for you. They found that out tonight."
The Eagles cruised in their tournament opener with the exception of a slight hiccup in the third set. Roy/Winifred jumped out to an 8-0 lead and never trailed.
"I think they turned their rotation on us to try and get a different match up on their hitter and our blockers. And then they went to the short game there for a few, you know, just dropping tips and stuff," said Ayers. "It took my girls way too long to adjust to that."
Van Kirk almost single-handily carried the Eagles back into the set. The sophomore tallied seven of her kills in the game, and added a pair of blocks, as Christian closed to within one, 15-14. But the Outlaws managed to score the final four points after a Van Kirk kill had cut it to 21-19.
"I'm glad to get one of those out of the way. If you're going to have one of those, and in a tournament there's bound to be one set that's bad, we got that one out of the way hopefully," said Ayers. "But I like the way my girls came back. They didn't let that rattle them. They just let it go and came back out and went to work."
The Eagles built an early 6-2 lead in the fourth set and never trailed en route to victory. Eliana Kuperus finished with 12 kills, while Hailey VanDyken contributed nine kills and four blocks.
Roy/Winifred was led by Dyauni Boyce and Madeline Heggem, who combined for 15 kills.
Manhattan Christian def. Roy/Winifred 25-10, 25-12, 19-25, 25-15.
WINIFRED/ROY – Kills: 25 (Dyauni Boyce 8, Madeline Heggem 7)). Digs: 62 (Boyce 18, Olivia Geer 15). Blocks: 8 (Boyce 4). Aces: 4 (Becca DeMars 2). Assists: 25 (Cassie Smith 25).
MANHATTAN CHRISTIAN (22-1) – Kills: 48 (Kiersten Van Kirk 18, Eliana Kuperus 12, Hailey VanDyken 9). Digs: 103 (Taylor DeVries 29, Maddie Liudahl 21). Blocks: 11 (VanDyken 4). Aces: 7 (Van Kirk 4).  Assists: 47 (DeVries 40).
Manhattan Christian def. Plentywood 23-25, 25-20, 25-14, 27-25.
PLENTYWOOD – Kills: 44 (Donni Longan 24, Liv Wangerin 16). Digs: 53 (Ashtyn Curtiss 12, Longan 10). Blocks: 1 (n/a). Aces: 2 (3 with 2). Assists: 39 (Curtiss 25).
MANHATTAN CHRISTIAN (23-1) – Kills: 40 (Kiersten Van Kirk 20, Taylor DeVries 9). Digs: 78 (Maddie Liudahl 20). Blocks: 10 (Van Kirk 3). Aces: 6 (Van Kirk 2). Assists: 39 (DeVries 30).
State C Tournament
(at Brick Breeden Fieldhouse, MSU)
Thursday's scores
Plentywood def. Belt 15-25, 25-23, 25-14, 25-14.
Manhattan Christian def. Roy/Winifred 25-10, 25-12, 19-25, 25-15.
Bridger def. Westby-Grenora 25-23, 25-11, 25-16.
Fort Benton def. Charlo 30-28, 22-25, 25-17, 26-24.
Manhattan Christian def. Plentywood 23-25, 25-20, 25-14, 27-25, quarterfinal.
Bridger def. Fort Benton 25-17, 28-26, 25-20, quarterfinal.