Two of the top runners in Class C faced off against each other Tuesday in Lewistown.
Richey-Lambert's Samuel Smith, who is last year's state runner up, and Manhattan Christian's Riley Schott, who placed third at state, got their first look at each other this fall.
Smith took this round by winning the Fergus Invitational Cross Country Meet at Pine Meadows Golf Course with a time of 17:08.92, while Schott placed second in 17:31.22.
Christian head coach Nate TeSlaa noted it was a good measuring stick for Schott.
"We don't get to see him often during the season, so this was a great opportunity to see where we're really at," he said. "I think we had good races and Sam just had a little bit better one today."
While Smith won the individual title, Christian won the team title with 46 points after placing five runners in the top 16. Hardin and Fergus rounded out the top three with 69 and 71 points, respectively.
Matt Kenney earned a fourth place finish for the Eagles after finishing in 17:45.54, while Devan Walhof was 11th in 18:28.49.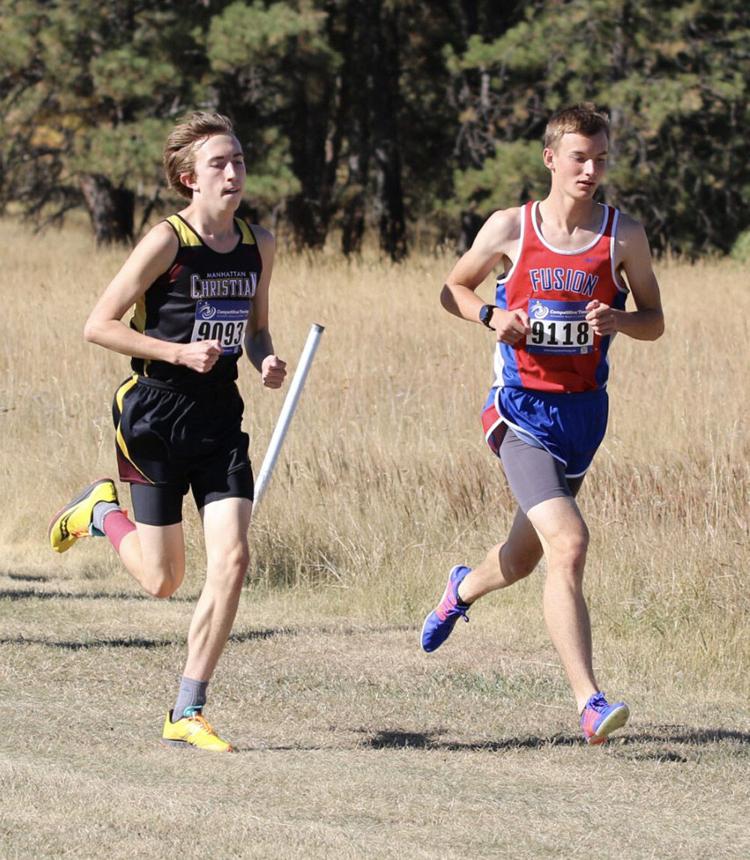 The meet featured wave starts, and while Schott and Smith were in the first wave, Walhof ran in the second along with teammates Nathan Adams (18:41.49) and Oren Arthun (18:53.28), who placed 14th and 16th, respectively.
"I think Devan was one of the leaders of the pack in the second wave, but he didn't know where he stood against the people in the first wave," said TeSlaa. "It was just a little bit different pace-wise to figure out where you're at and who you're running against, but still even with that they all pushed each other and we just had a really good day."
Christian was rounded out by Cullen Visser (31st, 20:16.87) and Cody Hager (46th, 21:53.76), who competed in the third wave.
On the girls' side, Laurel posted a score of 29 to win the team title led by a second place finish from Grace Timm (20:39.14). Christian did not field a full team.
The Eagles were led by Ava Bellach, who was eighth with a time of 22:14.56.
"She just attacks a challenge and a hilly course is a challenge, and she went for it," said TeSlaa. "She does great no matter what and I think she's starting to really the lead the team in that way with just work ethic and push and drive."
Sisters Kiersten and Katelyn Van Kirk were the team's other runners. Kiersten placed 25th with a time of 25:09.96, while Katelyn was 43rd in 27:48.07.
Christian is back in action Saturday at a meet in Deer Lodge. It will cap a busy stretch of competition consisting of three meets over an eight-day span.
"We went east today and we're going to go west on Saturday, and just see some teams that we haven't seen yet this year," said TeSlaa. "Normally, Covid, you get to see a wider variety of teams and so the idea here is to have a challenging week, but also just see where other schools are at."
Fergus Invitational
(at Pine Meadows Golf Course)
Boys Results
Team scores: Manhattan Christian 46; Hardin 69; Fergus 71; Park 101; Laurel 117; Belt/Centerville 150; Richey-Lambert 153; Townsend 209.
Top 10 individuals: Samuel Smith, R-L, 17:08.92; Riley Schott, MC, 17:31.22; Ben Archer, Fer, 17:37.02; Matt Kenney, MC, 17:45.54; Jalen Robinson, Fer, 17:58.08; Dylan Paris, Lau, 18:01.43; Asa Jassen, B/C, 18:07.63; Bryson Rogers, Har, 18:11.69; Tayjon joe, Har, 18:13.90; Tegan Medicine Bull, Har, 18:25.04.
Girls Results
Team scores: Laurel 29; Townsend 57; Hardin 65; Park 93; Fergus 106; Belt/Centerville 128. No score: Manhattan Christian.
Top 10 individuals: Lindsey Paulson, B/C, 19:48.59; Grace Timm, Lau, 20:39.14; Emma Stolte, Tow, 20:29.37; Carly Cook, Lau, 21:05.92; Andria Mourich, Lau, 21:09.53; Madison Harmer, Har, 21:33.78; Bailey Taves, Tow, 22:13.47; Ava Bellach, MC, 22:14.56; Ruby Smith, Lau, 22:15.09; Dierra Takes Enemy, Har, 22:23.46.