With both arms raised in the air as he crossed the finish line, Ben Morrison began his celebration. And, he was overcome with a mixture of feelings.
The Manhattan Christian standout had just won the individual Class C title at the 56th annual Montana High School Association State Cross Country Championships, and achieved a goal that had been set long before the season began in August.
"I think it was just joy, honestly. Joy and also just exhaustion too," Morrison said. "I was pretty tired, but joy and gratitude."
The senior navigated a snow-covered course at Eagle Falls Golf Course in Great Falls to post a winning time of 16:52.99. Morrison edged Richey-Lambert's Samuel Smith by just under two seconds to place first.
His victory was the start of a dominant finish to the race. The Eagles boasted five harriers in the top six, and seven in the top 15 en route to winning a fourth consecutive state championship.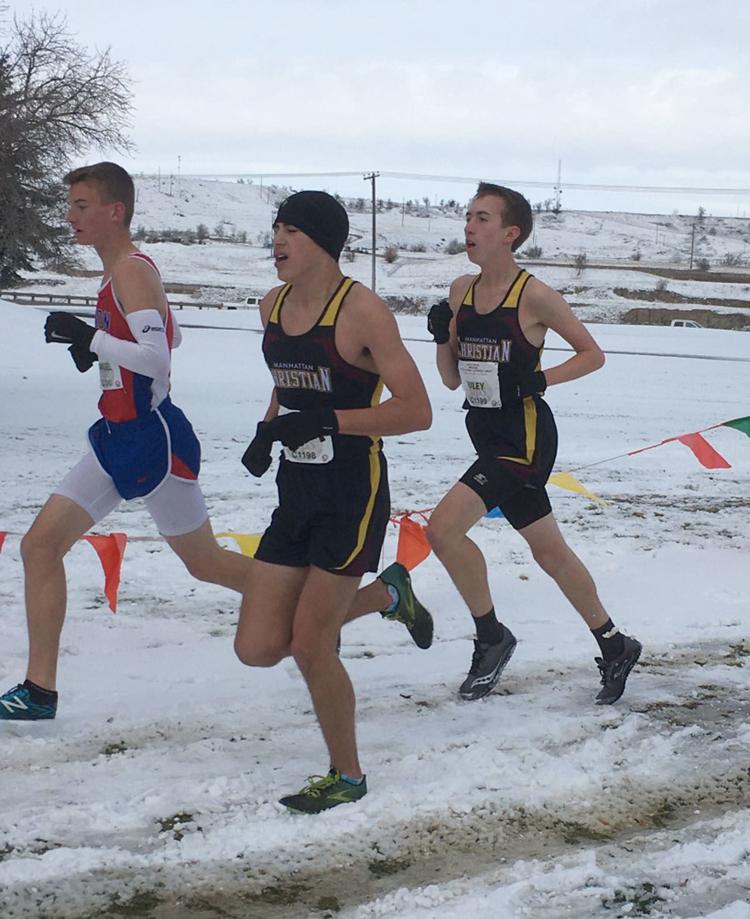 "They were just going crazy. They had a amazing day," Eagles coach Nate TeSlaa said. "It was just good to see the team kind of click and come together. Even with snow on the ground and a little bit cold, they just went for it. It was awesome."
Christian finished with eight points, while Richey-Lambert and Twin Bridges rounded out the top three with 31 and 63, respectively.
It was the second consecutive season that Christian has boasted the individual champion. Riley Schott won it a year ago as a sophomore and placed third with a time of 17:01.77.
Matt Kenney followed in fourth place for the Eagles in 17:31.11, while Devan Walhof was fifth with a time of 17:45.76 and Sam Leep sixth in 17:49.76. Cullen Visser and Eli Swets added top 15 finishes after placing ninth and 12th, respectively, with times of 18:43.79 and 18:51.90.
"We were hoping (for that)," TeSlaa said of placing all seven runners in the top 15. "But you know how it goes. The potential was there, but I don't like predict anything. So we knew the potential was there, but we knew we had to run a good race."
Morrison had actually lost to Smith in the regular season finale a week ago. After trailing nearly the entire race on a windy day in Townsend, Smith surged ahead with about 400 yards remaining to out-sprint Morrison to the finish.
"I was done because I used everything I had on the windy parts. It was super windy," Morrison said. "He just rode me. It was great strategy and kudos to him. He had a great race."
During Friday's walk through at state, however, Morrison hatched his own strategy for winning the rematch. The fairly flat course featured two laps with a final hill towards the finish line.
That, Morrison noted, is where he'd make his move.
"I just thought that if it comes down to a sprint that hopefully I can pull it out," he said. "So I just tried to stay at his side."
The duo was shoulder-to-shoulder heading up the hill, but Morrison crested first thanks to a little extra motivation from another state champion.
"Riley, this helped me so much, Riley yelled at me 'Ben go. Go get it.' That honestly really helped me and that's where I went," said Morrison. "I definitely looked back a few times as I was going down the final stretch."
A couple of hours after the victory, while stopping for food before leaving Great Falls, it still seemed a little unreal.
"It hasn't really sunk it yet. I crossed the line, and even then I was like, 'Wait, did I just win,'" said Morrison. "Glory to God. It's been a ton of hard work and a ton prayer, and a ton or mentoring and strategy from coach. Fun time for the guys, and it's really great to go out and graduate with this."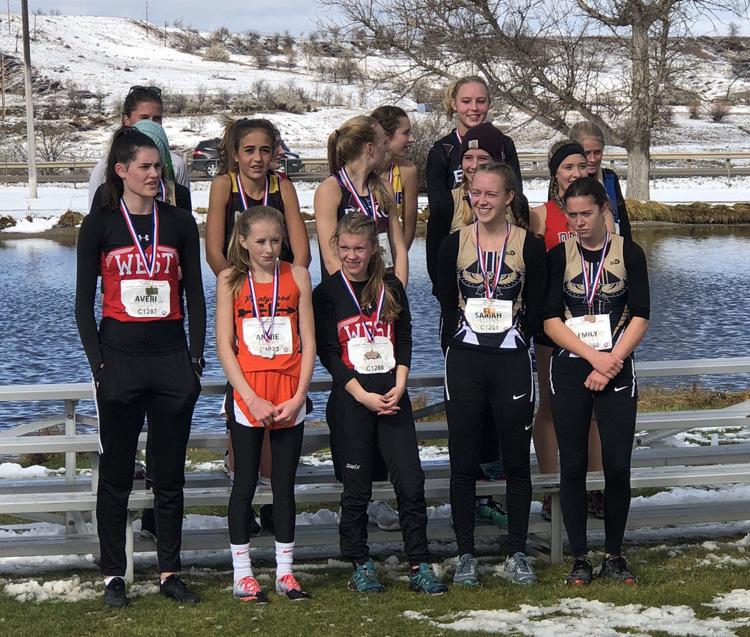 All seven of Christian's runners earned All-State honors by placing in the top 15, and four will return next year. Leep, Morrison and Swets will graduate as four-time state champions.
"What a special four years with these seniors. It's been amazing and they started something really special," said TeSlaa. "It's just been a fun four years with these folks."
About 90 minutes after the boys won another championship, the girls put together their best meet of the season.
Ava Bellach earned All-State honors by placing seventh with a time of 21:21.55. The freshman led the Eagles, who finished with 69 points, to a fourth place finish.
Seeley-Swan won its first-ever state championship with 15 points, while West Yellowstone and Centerville rounded out the top three with 21 and 40 points, respectively.
While the snowy course proved to be a tad bit slower for the earlier races, it had little effect on Christian's girls. The quintet each set season bests.
"I don't think it made as big a difference as some people thought it was going to make. We had really good times," said TeSlaa. "I think it might have effected the boys a little bit more than the girls because they were just a little bit earlier."
Mali Kamerman placed 19th with a time of 22:48.23, while Malaya Kamerman (43rd, 24:59.97), Megan Leep (45th, 25:08.90), Rachel Bos (86th, 30:33.78), and Kaitlyn Scott (97th, 35:47.16) rounded out the squad. All six runners cut anywhere from 30 to 60 seconds off their time.
"They all dropped time today. It was just so much fun to watch," said TeSlaa. "Ava dropped over a minute and she's seven seconds away from the school record now. She just turned it on and went."