CHURCHILL — As an errant pass by one of his players headed toward the bench, it wound up in the hands of Layne Glaus. Manhattan Christian's first-year head coach spotted up and then launched a long shot much to the surprise of the crowd Friday night in the Memorial Event Center.
Although it missed off the iron, it brought plenty of laughter from the hometown crowd. By that point, midway through the fourth quarter, the Eagles had already secured a non-conference victory.
In a friendly showdown of unbeaten teams, Christian jumped out to a double figure lead and tallied 28 points in the first quarter en route to beating Manhattan 62-41.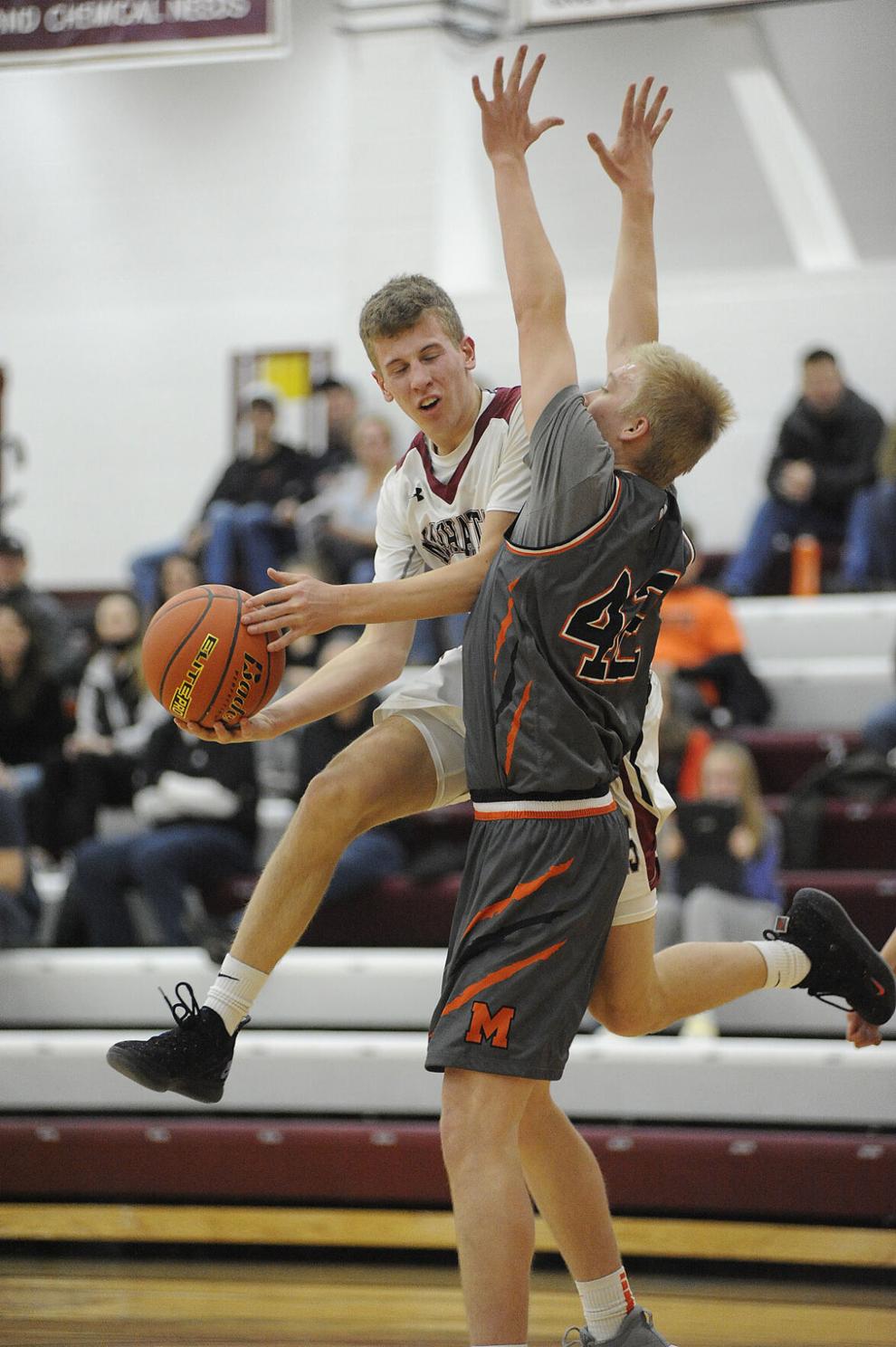 "Manhattan-Manhattan Christian's been a great rivalry for a number of years. This is my first experience with it, but leading up to it you could tell there was a little more energy before the game," Glaus said. "They were ready."
The contest was close early as Christian's Jackson Leep and Manhattan's Finn Tesoro traded 3's. But after Tesoro's cut the deficit to 9-7, the Eagles took control with an 11-0 run.
"Christian is athletic and very disciplined. They came out right away and punched us in the mouth," Manhattan coach Wes Kragt said. "Credit the energy and the hard work they came out (with) and took it right to us."
The Eagles (8-0) flustered Manhattan with their full court pressure and led by as many as 18 early in the second quarter. While Tesoro, Markus Fenno and Tate Bowler connected on three consecutive 3's to draw the Tigers within 30-21 with 3:44 remaining in the first half, Manhattan continued to struggle offensively.
"I think the press might have sped them up a little bit and our guys were doing a good job communicating," said Glaus. "It's a good offensive team and they do a great job of moving the ball and setting good screens off the ball. But I felt like our guys were connected with their talk."
A pair of free throws by Caden Holgate cut the deficit to eight, 37-28, early in the second half. But by the end of the third quarter the Eagles had stretched the lead to 55-34.
"I think we started to execute our press a little better that second half. Guys were getting to their spots earlier and I think that helped us get going," said Glaus. "Got a few turnovers and easy looks."
Manhattan (4-1) committed 21 turnovers and shot just 24.4 percent from the field. That includes going just 6 of 23 from behind the arc.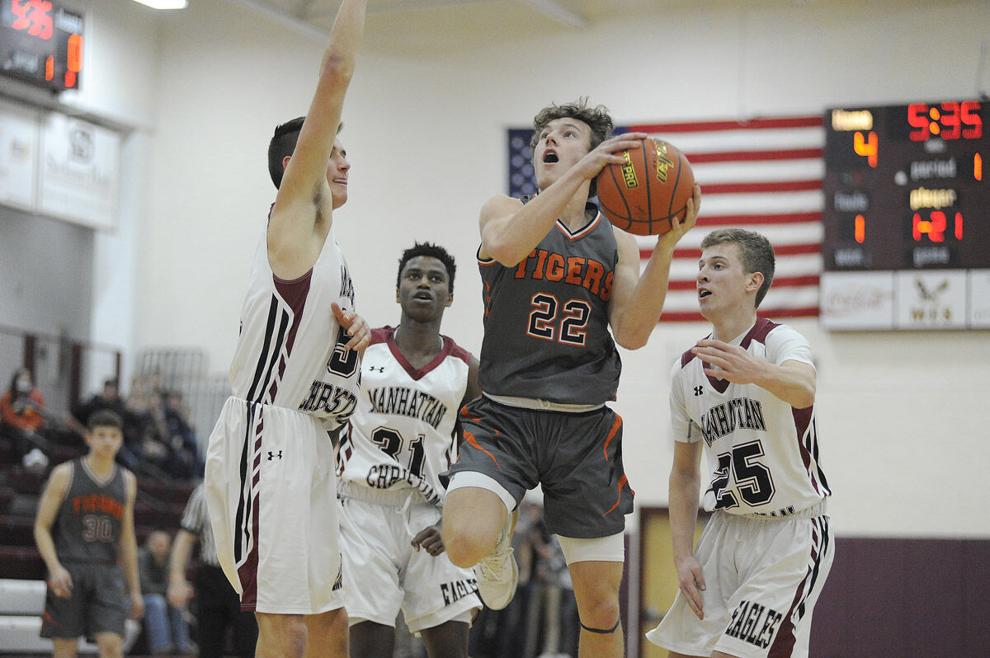 "They sped the game up on us and with us only playing four games we haven't seen a team that has done that against us yet," said Kragt. "So that was good for us to see that tonight and how we reacted. Hopefully we can respond in a different way when we see that again."
Seth Amunrud led the Eagles with a game-high 17 points and nine rebounds, while Logan Leep and Tebarek Hill and Caidin Hill each reached double figures with 16, 12 and 11 points, respectively.
Bowler tallied 15 points and five rebounds for the Tigers, while Holgate added 11 points.
"(They're) great shooters and everybody has an off night every once in a while. So I think part of it was we were fortunate, but our guys were doing a good job contesting their perimeter looks," said Glaus. "So I was proud of our guys with their defensive effort."
The victory came on the heels of a lopsided conference win Thursday night. Christian shot 58 percent from the field en route to a 93-25 District 12C rout of Lima.
All 12 players scored for the Eagles led by 13 each from Willem Kimm and Caidin Hill.
Christian is back in action Saturday hosting Three Forks in a non-conference game.
The Tigers were scheduled to play at conference game at Jefferson Saturday, but it has been moved to Feb. 11. It's the second game this season that the team has either had canceled or postponed.
"It's been killing us," Kragt said. "The last two weeks we've had two games canceled, so only being able to play one game a week, we don't have a lot of game experience right now. And then we're really back–loaded at the end, so we just got to keep improving and take this loss and use it as a learning experience."
Manhattan is scheduled to host Butte Central Thursday.
Manhattan Christian 93, Lima 25
Lima                           5    8    1   11  -  25
Christian                   16  37  23  17  -  93
LIMA (0-4) - Garet Lessley 2 1-1 6, Zane Wendt 0 0-0 0, Walker Nygren 2 3-4 8, Peyton Haws 4 1-4 11, Jacen Haws 0 0-0 0. Totals: 8 5-9 25.
MANHATTAN CHRISTIAN (7-0) - Trevor VanDyken 3 0-0 9, Seth Amunrud 4 0-0 9, Gavin Weiss 3 0-0 6, Logan Leep 3 0-0 6, Tebarek Hill 4 0-0 8, Caidin Hill 5 2-4 13, Jackson Leep 4 0-0 10, Mason Venema 3 1-1 8, Ethan Venema 2 0-0 4, Sam Carlson 1 1-1 3, Devan Walhof 2 0-0 4, Willem Kimm 6 1-1 13. Totals: 40 5-7 93.
3-point goals: Lim 4 (P. Haws 2, Lessley 1, Nygren 1), MC 8 (VanDyken 3, J. Leep 2, Amunrud 1, C. Hill 1, M. Venema 1).
Manhattan Christian 62, Manhattan 41
Manhattan                   12  13  9  7  -  41
Christian                       28  7  20  7  -  62
MANHATTAN (4-1) - Caden Holgate 3 4-511, Colter Barta 0 3-4 3, Finn Tesoro 2 0-0 6, Jadon Pierce 0 0-0 0, Tate Bowler 5 4-7 15, Corban Johnson 0 0-1 0, Wyatt Jones 0 1-2 1, Sven Stenberg 0 2-2 2, Markus Fenno 1 0-0 3. Totals: 11 14-21 41.
MANHATTAN CHRISTIAN (8-0) - Trevor VanDyken 0 0-0 0, Seth Amunrud 7 3-6 17, Gavin Weiss 0 0-0 0, Logan Leep 7 0-0 16, Tebarek Hill 5 1-2 12, Caidin Hill 4 3-4 11, Jackson Leep 0 0-0 0, Mason Venema 0 0-0 0, Ethan Venema 0 0-0 0, Sam Carlson 0 0-0 0, Devan Walhof 0 0-0 0, Willem Kimm 2 2-4 6. Totals: 25 9-16 62.
3-point goals: Man 5 (Tesoro 2, Holgate 1, Bowler 1, Fenno 1), MC 3 (L. Leep 2, T. Hill 1).