With the exception of a five-set victory in the season opener against Choteau, Manhattan Christian has seldom been tested this season.
The Eagles have swept seven of their eight opponents thus far, but were pushed for the first time since the opener Saturday night. Christian held on to win the first set and then put together a big rally in the third to post a 28-26, 25-20, 25-23 District 12C victory.
"After that first set there was just a lot of adrenaline pumping," first-year Eagles coach Hannah Van Dyk said. "It was fun to see us actually get pushed. They were tested."
Christian (8-0, 5-0 District 12C) trailed 19-7 in the third set before rallying to tie it at 21. The comeback was sparked by a service run from senior Taylor DeVries, and then freshman Katelyn Van Kirk added another to tie the set.
"It was fun to see us put in a little grit and dig deep for that," said Van Dyk. "We had a lot of mental errors in the third set where we had ball handling errors, blocking errors, setting errors, passing errors, it was a mess. But we were able to clean it up at the end of that game, which was really fun to see."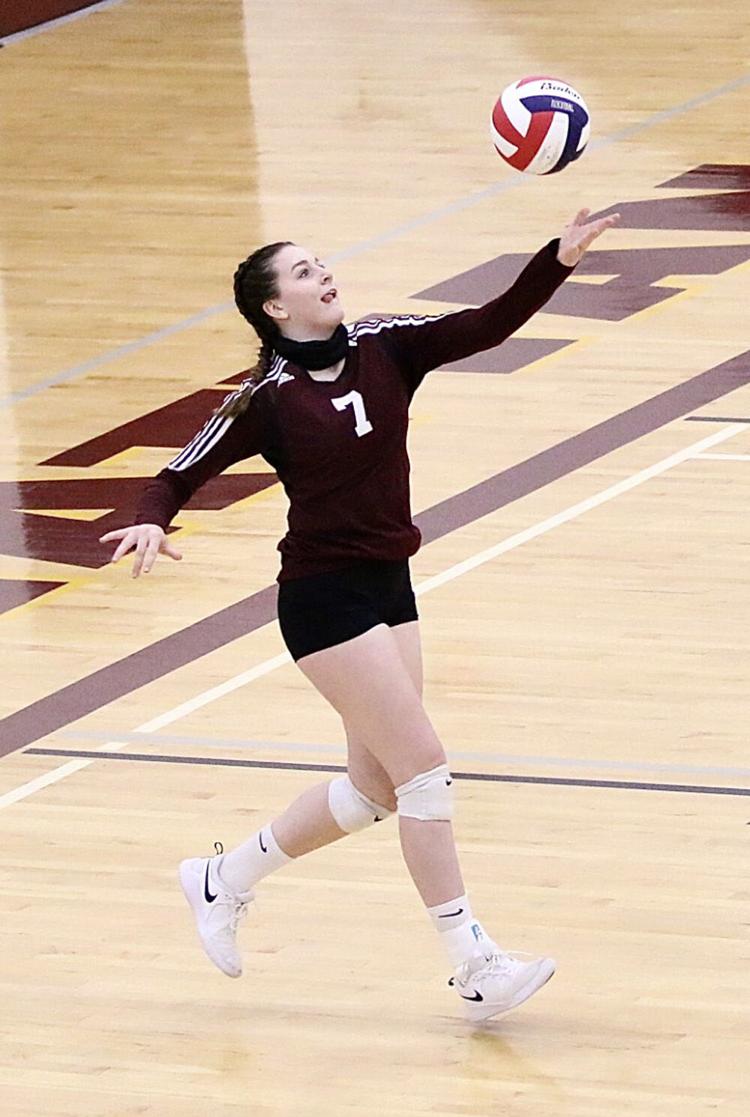 Kiersten Van Kirk led the Eagles with 15 kills and nine digs, while Katelyn added 10 kills and eight digs. The team finished with 18 aces and Katelyn led with five.
While Van Dyk noted her players got a little frustrated early in that third set when nothing would go down, she praised her team for battling back. She also noticed a major deficiency the team needs to work on — block coverage.
"We haven't been blocked all season long, so having a block up is just kind of surprising to us," Van Dyk said. "We adjusted, but it took us a long time to figure it out."
Christian also swept White Sulphur Spring 25-8, 25-18, 25-13 Thursday, and Ennis 25-9, 25-7, 25-23 Friday. The match against Ennis was a non-conference contest.
Eliana Kuperus led the Eagles with 10 kills against White Sulphur, while Maddie Visser had seven digs.
The Van Kirk sisters combined for 24 kills and six aces against Ennis, while DeVries dished out 32 assists.
"Ennis took us to 23 that third set last night," noted Van Dyk. "So I feel like we're going to have some tougher games coming up, which will be good."
Christian hosts Harrison in a 12C match Thursday and Manhattan in non-conference action Saturday.
Manhattan Christian def. White Sulphur Springs 25-8, 25-18, 25-13.
WHITE SULPHUR SPRINGS - Stats not provided.
MANHATTAN CHRISTIAN (6-0) - Kills: 36 (Eliana Kuperus 10, Kiersten Van Kirk 9, Katelyn Van Kirk 9). Digs: 28 (Maddie Visser 7). Blocks: 4 (Ki. Van Kirk 1.5). Aces: 16 (Taylor DeVries 7). Assists: 33 (DeVries 30).
Manhattan Christian def. Ennis 25-9, 25-7, 25-23.
ENNIS - Stats not provided.
MANHATTAN CHRISTIAN (7-0) - Kills: 38 (Kiersten VanKirk 14, Katelyn VanKirk 10). Digs: 25 (Eliana Kuperus 6, Ki. Van Kirk 6). Blocks: 5 (Natalie Walhof 1.5). Aces: 11 (Ki. VanKirk 3, Ka. VanKirk 3). Assists: 36 (Taylor DeVries 32).
Manhattan Christian def. Gardiner 28-26, 25-20, 25-23.
GARDINER (3-3) - Kills: 28 (Josie Thomas 11). Digs: 46 (Thomas 11). Blocks: 8.5 (Ellie 7). Aces: 9 (Thomas 6). Assists: 23 (Chase Cunningham 23).
MANHATTAN CHRISTIAN (8-0) - Kills:  34 (Kiersten Van Kirk 15, Katelyn Van Kirk 10). Digs: 42 (Ka. Van Kirk 9, Ki. Van Kirk 8). Blocks: 6 (Eliana Kuperus 2, Hailey VanDyken 1.5). Aces: 18 (Ka. Van Kirk 5). Assists: 32 (Tayor DeVries 29).