POLSON — With her fist clenched, and yelling in celebration, Erin Elgas trotted to teammate Haylee Curry and exchanged a high-five.
Belgrade's ace had just struck out back-to-back batters and none was more important than the final out in the top of the sixth. Elgas worked out of a bases loaded jam by sitting down Claire Bagnell for the second time, and then she breathed a big sigh of relief.
It was a pivotal strike out for the senior as Belgrade was able to maintain its two-run lead, and then held on in the seventh to beat Frenchtown, 3-1, in a quarterfinal game Friday at the state Class A tournament.
"I just kept trying to breath and control emotions and control the butterflies," Elgas, who improved to 15-0 in the circle, said. "Just knew I had to keep throwing as hard as I possibly could and efficient as possible. Haylee did a great job back there (at catcher). She was helping so much on those two strike outs."
The Broncs (16-7) got a pair of runners on base in the seventh, but Elgas struck out Makaela Field to end the game. She did so after Curry made the last of half a dozen trips to the circle to ease her pitcher's nerves.
"Haylee's my best friend, so we have some pretty funny conversations," said Elgas. "But she always tells me, 'You got it, you got this.' She calms me down always and then I made a little bit of a comeback, more centered."
It was a historic performance for Elgas, who struck out a career-high 19 batters — which also set a single game school record — and had a hand in all 21 outs. She had a put out to first after fielding a soft grounder in the fifth, and then threw to third on a fielder's choice in the sixth to get the lead runner for the first out.
"She got every single out in that game," noted Panthers coach Andrea Folkman. "Even the throw to first base and the throw to third, she was a part of every single out — that's incredible."
Elgas struck out the first eight batters of the contest and received some early run support when Kenna Thomas led off the bottom of the first with a solo home run. The junior belted the first pitch she saw over the left field fence.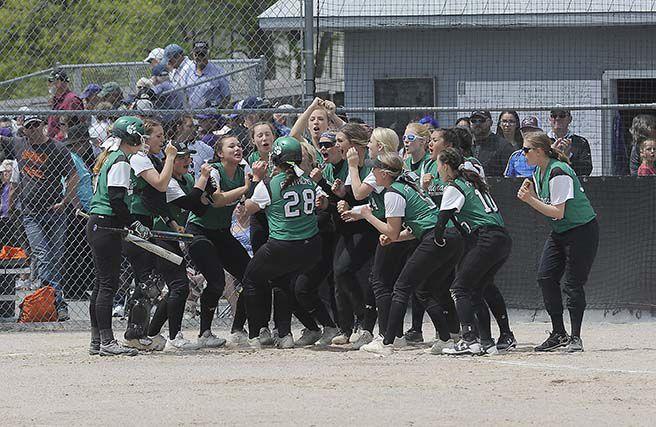 Olivia Cook added her team-leading seventh homer on a solo shot in the third to make it 2-0, and then Panthers stretched it to 3-0 in the fourth. Lanie Morgan led off with a double down the left field line, and then pinch runner Tycelee Bowler scored a short time later from third on a sacrifice fly by Curry.
While Elgas dominated early and scattered four hits in the victory, she did surrender a solo home run to Hallie Habeck in the fifth, gave up three walks, and hit a batter. The Broncs' lineup adjusted as the game progressed and fouled off numerous pitches late in the contest.
"They grew their confidence in those later innings," said Elgas. "They started catching up to me, but I just started focusing on spinning the ball harder than throwing it harder. Just thinking about throwing spins faster."
Belgrade (21-0) advanced to the undefeated semifinal and will play Hamilton, a 2-1 winner against Polson in other quarterfinal action, Saturday at 9 a.m. It will be a rematch of last year's state championship game.
"That's going to a great game," said Folkman. "They had a great win against Polson and they're a scrappy team. They manufacture runs and they're a good defensive team too."
The consolation game is slated for 11 a.m. followed by the championship game at 1 p.m.
Friday's scores
Stevensville 4, Fergus 3, loser-out
Park 7, Hardin 6, loser-out
Columbia Falls 17, Custer County 7, loser-out
Ronan 14, Laurel 2, loser-out
Hamilton 2, Polson 1, quarterfinal
Belgrade 3, Frenchtown 1, quarterfinal
Columbia Falls 14, Ronan 0, loser-out
Park 16, Stevensville 14, loser-out
Polson 11, Columbia Falls 0, loser-out
Frenchtown 12, Park 9, loser-out
Boxscore
Belgrade 3, Frenchtown 1
Frenchtown    000 010 0  -  1  4  1
Belgrade          101 100 x  -  3  6  0
Claire Bagnell and n/a. Erin Elgas and Haylee Curry. W – Elgas (15-0). L – Bagnell.
FRENCHTOWN (16-7) – Cassidy Bagnell 1-3, Mikaela Field 1-2, Charity Rebich 0-0, Layne Bauer 0-3, Taylor Garren 1-3, Cassidy Moen 0-3, Cl. Bagnell 0-3, Hailey Arthur 0-4, Hallie Habeck 1-2 (HR), Kendra Williams 0-2.
BELGRADE (21-0) – Kenna Thomas 1-4 (HR), Maddisen Tomasetti 0-3, Madi Kreiger 0-2, Olivia Cook 3-3 (HR), Hazel Eaton 0-3, Lanie Morgan 1-3 (2B), Tycelee Bowler 0-0, Curry 0-1, Elgas 1-3, Kamie Gorrell 0-2, Arin Eaton 0-0.