MANHATTAN — Hank Dunn was happy to pick up the slack.
Entering the Class B championship game Saturday, Eureka was without injured running back Chet McCully. The senior had rushed for nearly 1,700 yards and 22 touchdowns.
But Dunn filled the void with his legs as well as his arm to lead the Lions to victory. The senior quarterback rushed for two scores, threw for another, and picked off a pair of passes defensively to lead Eureka to a 20-6 victory against Manhattan.
"With Chet being out we just had to go with our second string back, which is Chance Muller. He did a heck of a job," said Dunn. "We came in with the idea that we were going to have to throw the ball to win and we did that efficiently. And when we needed to we ran the ball."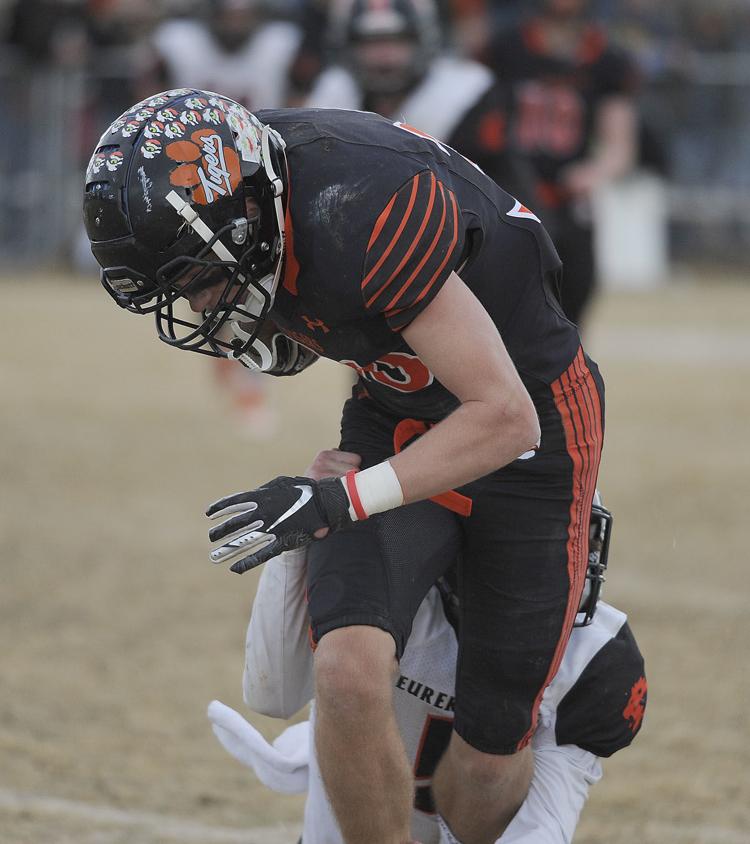 It's the third championship in four years for Eureka (12-0), which is the first team in Class B to accomplish that feat since Baker from 2001-04.
Manhattan (11-1) competed in its first-ever title game. Following countless hugs and handshakes with players and fans, sixth-year Tigers coach Chris Grabowska praised his team's effort.
"I'm just extremely proud of how our kids battled today and all year long. All the work they put in even up to this point," he said. "At the end of the day a lot of teams will kill to be in a position like this and even though we didn't win today our kids our still winners and I'm still proud of them."
Dunn rushed for a game-high 124 yards, including a 35-yard scamper shortly before halftime to set up the offense at Manhattan's 2. Two plays later Dunn burrowed his way into the endzone and then held the ball as younger brother Danny booted the PAT for a 14-6 lead.
That score proved to be a pivotal momentum swing after Manhattan had cut the deficit to 7-6 on a 4-yard run by quarterback Lane Veltkamp with 4:01 remaining in the first half.
The Lions quickly moved the ball to midfield on their ensuing drive, but eventually faced fourth-and-7 at the Manhattan 37. That's when Dunn scrambled inside the five with just 7.4 seconds remaining to set up the TD.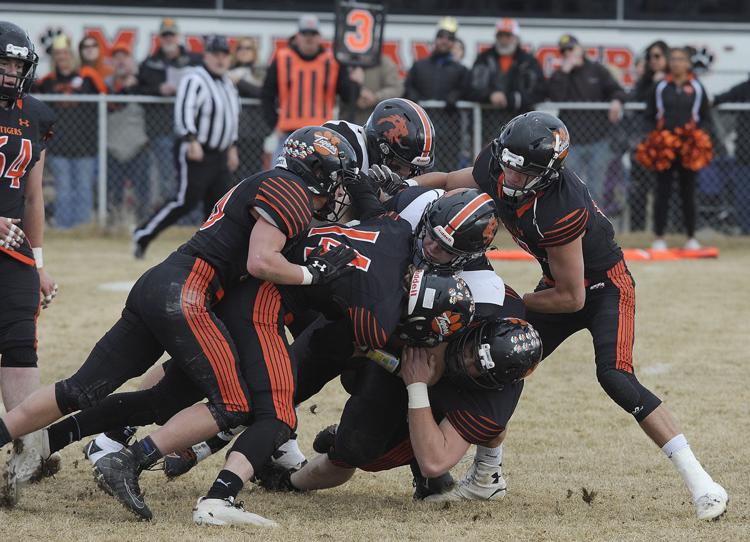 "That was huge. It really set the tone right before the half. Go up 14-6, it was awesome," said Dunn. "Finished with the PAT, my little brother, there's nothing better than that."
Dunn also completed passes of 15 and 17 yards on the drive.
"He's a special player. He's a good player and we knew that coming into the game," said Grabowska. "There were some good players on both sides of the ball and it was what a championship game is supposed to be. It's unfortunate we didn't come out on top, but it was a great season by our kids and I'm still proud of them."
Dunn was far from finished, however. He added a 53-yard touchdown run early in the fourth quarter to stretch the lead to 13, and his interceptions — the first midway through the third quarter and the second with less than 3 minutes remaining in the contest — squashed scoring chances for Manhattan.
Afterwards, following hugs with family and teammates, Dunn was basking in the championship glow.
"I'm at an all-time high. This is one of those things that you don't know until you experience it," Dunn said. "It's just amazing. It can't get better than this."
After Dunn capped Eureka's second drive of the game by throwing a 25-yard touchdown pass to Cory Chaney, the Tigers were in prime position to tie the game. A 15-yard run by Lane Veltkamp moved the ball to the 4 as the first quarter concluded.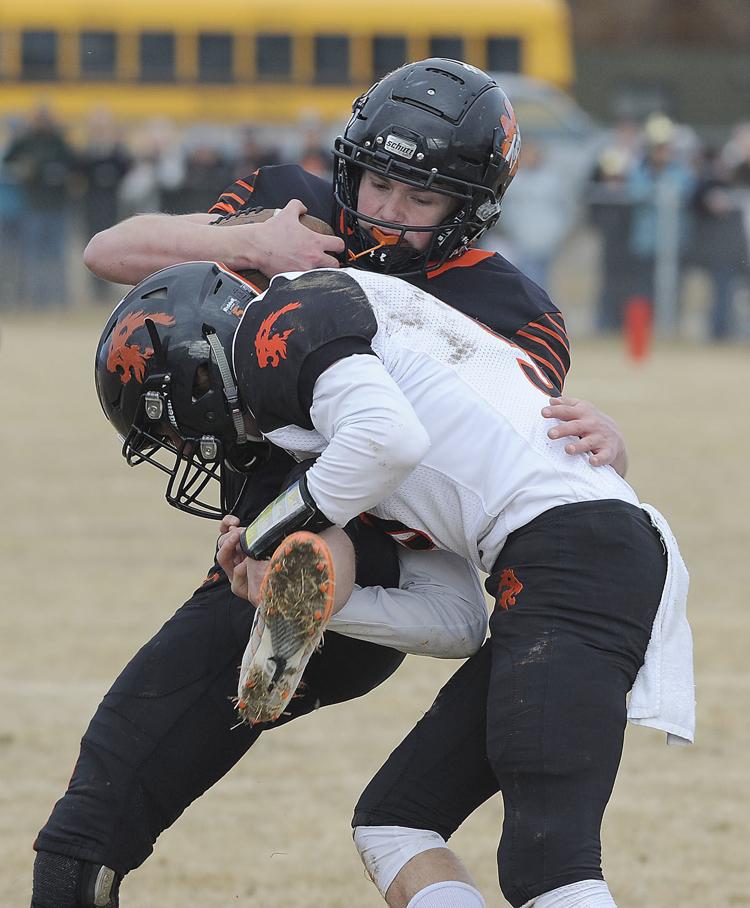 But after Veltkamp got to the 1 on another run, the senior was tackled for a 3-yard loss on second down and then threw incomplete passes on third and fourth down. It was the first of several productive drives that the Tigers were unable able to finish.
"They did a good job of shutting our run down. We would have liked to run the ball a little bit more and we got down and we had to start throwing the ball a little," said Grabowska. "I felt like we moved the ball. We just didn't capitalize on drives today."
Manhattan's offense moved the ball into Eureka territory time and time again, but was not only hampered by the second half turnovers, but a handful of untimely penalties. That includes a personal foul for taunting after Dunn had been drug down for a loss.
On the next play, Dunn scored on the 53-yard third quarter run.
The Tigers were also whistled for an illegal block and then holding on their final possession of the game while trying to make a last ditch effort to get within a touchdown. The 12-play drive consumed more than four minutes off the clock and concluded when Dunn picked off a pass by Caden Holgate on a trick play inside Lions' 5.
"At the end of the game when we started moving the ball a little bit and had a chance to maybe come back there, we had some costly penalties that just kills our drives," said Grabowska. "But our kids battled hard and I thought we were in position to win a game throughout the whole game. That's all you can ask for."
Eureka 20, Manhattan 6
Eureka        7  7  6  0  -  20
Manhattan     0  6  0  0  -   6
First quarter
Eur - Cory Chaney 5 pass from Hank Dunn (Danny Dunn kick), 4:09
Second quarter
Man - Lane Veltkamp 4 run (kick failed), 4:01
Eur - H. Dunn 1 run (D. Dunn kick), :00
Third quarter
Eur - H. Dunn 53 run (pass failed), 10:31