It's been a whirlwind 24 hours for James Matter Jr. After months of uncertainty about whether the 7th Annual Veterans Memorial Softball Classic would be held, the green light was finally given, much to his delight.
The Gallatin County Health Department gave the two-day tournament, which will be held Aug. 7-8 at the Belgrade Softball Complex, it's stamp of approval Monday. Then Belgrade School District Superintendent Godfrey Saunders followed with approval to use the softball complex, which is on school district grounds, Tuesday morning.
Matter Jr., who is the tournament's organizer, quickly began to notify players and coaches that the event was a go, and noted things have shifted into high gear.
"I was just telling my wife last night I've gone from not knowing if this was going to happen and being OK with that to almost being overwhelmed in a matter of hours with so much that we have left to do," he said. "So many things that we normally would have already taken care of took a back seat until we knew absolutely certain we were going to have this thing. Now we've got to play to catch up."
The tournament features five teams named after each branch of the military and honors Montana veterans. Around 60 players, who earned either All-State or all-conference honors, have been invited to participate.
Since this past season was canceled due to the COVID-19 pandemic, last year's participants who did not graduate in 2019 were invited to return. The rest were based on recommendations from coaches.
"Some of those invites were no brainers. Some of it took quite a bit of work on our part to narrow it down, those last remaining invites," said Matter Jr. "But I think we actually did really well. We've got a really good mix of talent coming out this year and we're pretty happy with those rosters and the help that all the coaches have given us the last couple of months."
Among the players invited is Great Falls pitcher Anna Toon, who is a two-time winner of the Montana Gatorade Softball Player of the Year award.
Four members of Belgrade's softball team — Hazel Eaton, Ellie Milesnick, Kenna Thomas and Maddie Tomasetti — will also participate. The quartet helped the Panthers win a third consecutive Class A title in 2019, and Thomas and Tomasetti were participants a year ago.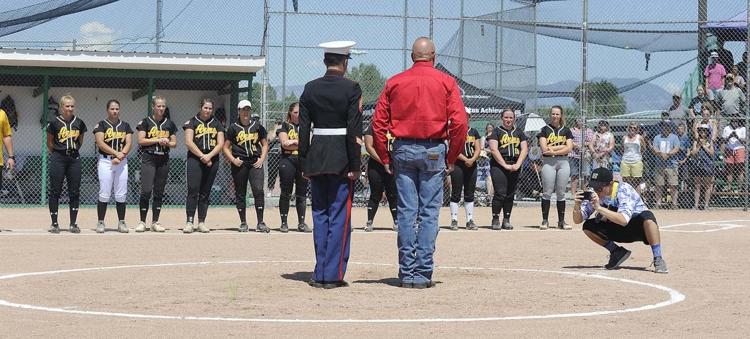 "We're always excited to show off that local talent. It was really a shame to not get to see those Belgrade players compete in double A for the first time this year," said Matter Jr. "It'll be good to see them come out and compete against that talent that they would have during the season."
Adele Didriksen will be the first-ever representative from Manhattan to compete in the tournament, and Matter Jr. expects everyone who was invited to participate based on response to invitations.
"The feedback actually has been pretty outstanding. I really couldn't have asked for a better response given the circumstance," he said. "We expect some kickback from the public. There's obviously some people that aren't happy about events like this continuing on, but we hope to take those in stride."
A safety plan was submitted to the health department, Matter Jr. said, which included removing the family dinner at the softball complex on Friday. Opening ceremonies will be "low key" he noted, but the weekend will still feature the home run contest and pop-to-pop and base running competitions.
Fans are encouraged to bring their own seating to help with social distancing, and six-foot barriers will be created in the grandstands.
"We'll have to make sure that the dugouts are cleaned in between games. We'll have sterilization equipment on hand and we'll have hand sanitizer of course," said Matter Jr. "Things in place to sanitize any shared equipment."
While facemasks are not required for outdoor events if social distancing is possible, a plan is being put into place to provide those as well.
"I think we're looking into possibly providing those to fans. Those fans that might feel comfortable wearing one," said Matter Jr. "We want to make sure that we provide everything we can to make everybody as comfortable as possible."
The tournament will consist of at least 10 games beginning Friday afternoon. Opening ceremonies will be held at 6 p.m. Friday, and the championship game is slated for 5:30 p.m. Saturday.
Veterans Memorial Softball Classic
(Belgrade Softball Complex, Aug. 7-8)
Schedule
Friday, Aug. 7
Field 1 - Coast Guard vs. Marines, 2:30 p.m.
Field 3 - Navy vs. Army, 2:30 p.m.
Field 1 - Air Force vs. Winner 1
Field 3 - Loser 1 vs. Loser 2
Opening Ceremony, 6 p.m.
Home Run Derby, 7 p.m.
Saturday, Aug. 8
Field 1 - Winner 4 vs. Loser 3, 8 a.m.
Field 3 - Loser 4 vs. Loser 5, 10 a.m.
Field 1 Winner 2 vs. Winner 3, 10 a.m.
Pop to Pop & Base Running Contests, 11:30 a.m.
Field 1 - Winner 5 vs. Winner 6, 12:30 p.m.
Field 1 - Loser 7 vs. Winner 8, 2:30 p.m.
Session Break, 4-5:30 p.m.
Championship, 5:30 p.m.
2nd Championship (If necessary), 7 p.m.
Rosters
Ronald Albright - Army
#1 Josie Caye, Polson
#2 Sydney Jackson, Plains/Hot Springs
#3 Mackenzie Wright, Missoula Sentinel
#4 Jessica Newman, Stevensville
#5 Claire Bagnell, Frenchtown
#6 Kya Egan, Colstrip
#7 Sami Knapp, Corvallis
#8 Jensen Keller, Billings Senior
#9 Sammie Labrum, Glacier
#10 Morgan Sunchild, Great Falls
#15 Taylor Feller, Laurel
#16 Lauren Phillips, Conrad/Choteau
Robert Green - Navy
#1 Avery Escobar, Eureka
#2 Kenna Thomas, Belgrade
#3 Layne Bauer, Frenchtown
#4 Kennedy Venner, Billings Senior
#5 Gracie Fleming, Park
#6 Ashlynn Nixon, Corvallis
#7 Macy Mangold, Fergus
#8 Adele Didriksen, Manhattan
#9 Skylar Higgs, Park
#10 Rachel Porter, Great Falls
#11 Kynzie Mohl, Glacier
#12 Jordyn Zimmer, Huntley Project
Gail Moore - Air Force
#1 Ellie Milesnick, Belgrade
#2 Katie Schmidt, Eureka
#3 Mikalyn Brickley, Hamilton
#4 Kylee Pittman, Dillon
#5 Jenna Priddy, Helena Capital
#6 Nicole Green, Hardin
#7 Grace Hardy, Missoula Sentinel
#8 Addy Hultgren, Huntley Project
#9 Sydnee Paul, Stevensville
#10 Shyanne Reum, MAC
#11 Sofee Thatcher, Butte Central
#15 Sage Vanterpool, Glacier
Phillip Baucus - Marines
#1 Maria Hickey, Corvallis
#2 Abby Johnson, Hamilton
#4 Anna Toon, Great Falls
#5 Kassidy Yeoman, Florence-Carlton
#6 Azia-Rain Humhrey, MAC
#7 Maddie Tomasetti, Belgrade
#8 Hannah Fetters, Cut Bank
#9 Addie Labrum, Glacier
#10 Macao Jackson, Ronan
#11 Lauren Archi, Helena Capital
#12 Taylor Springer, Stevensville
#13 Abigail Brevig, Dillon
Morris Beeson - Coast Guard
#1 Shelby Dunwell, Missoula Sentinel
#2 Amber Countryman, Helena
#3 Maleeyah Knows His Gun, Colstrip
#4 Jessica Morgan, Fergus
#5 HaLeigh Davis, Shepherd
#6 Mikaela Field, Frenchtown
#7 Sydney Witing, Havre
#8 Kaycee Gordon, Fergus
#10 Allie Myer, Glacier
#15 Reagan Frantz, Park
#11 Hazel Eaton, Belgrade
#12 Cassidy Venner, Billings Senior