Olivia Wegner saw an opening, dribbled through the lane, and scored on a contested layup. The bucket capped 6-0 run for Belgrade and Erika Gustavsen had seen enough.
The Bozeman coach called time out with just over five minutes remaining after her team's 14-point lead and had been cut to eight Tuesday in the Belgrade Special Events Center.
Following the time out, the Hawks swung the ball around the perimeter until they found Lucy Child in the corner, and the senior guard drilled a 3 to stretch the lead back to double figures.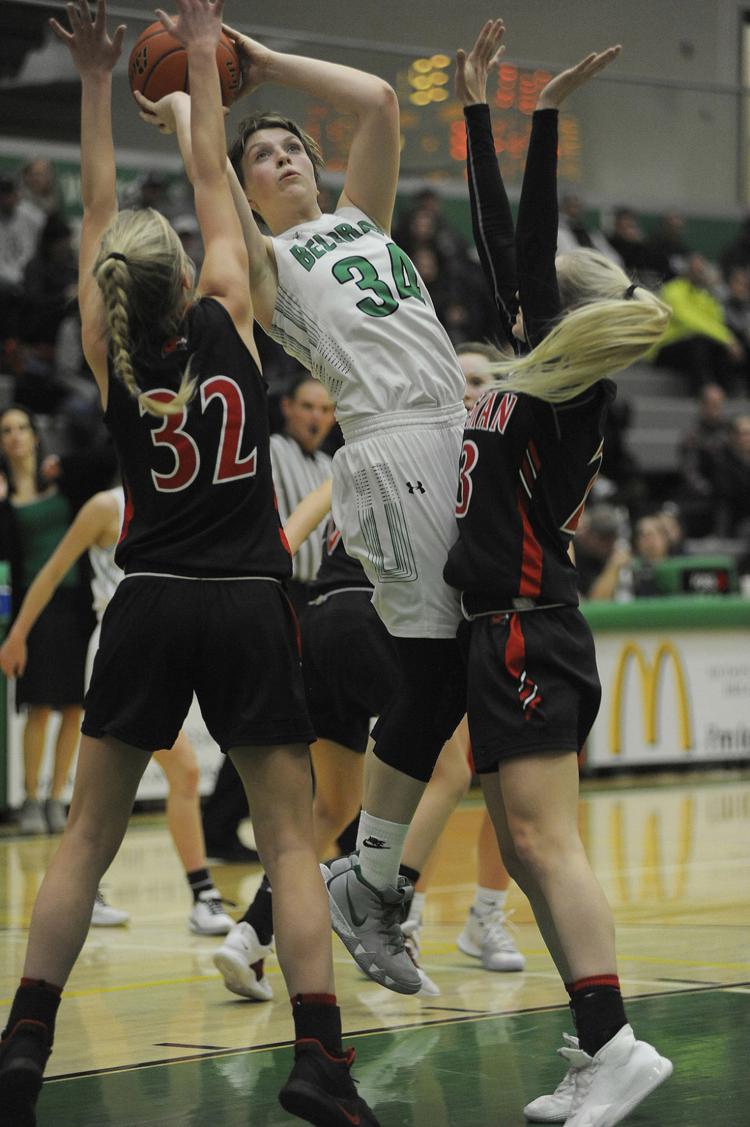 "I just kind of reminded them that we were still up by eight. Basketball's a game of momentum and they had that little run back," Gustavsen said of the time out. "So I just kind of wanted to refocus my team on that we still had the lead. We don't need to play frantic, we just need to come out and execute and stay in control. Thankfully they responded."
Belgrade (1-6, 0-3) was only able to get within nine down the stretch as the Hawks held on for a 47-35 Eastern AA victory.
"We were in that game and we just got to work on shooting the ball," Belgrade coach Erin Nolte said.
The Panthers have struggled at times to generate points this season, but trailed just 10-7 heading into the second quarter after Sophia Flikkema hit a long 3 at the buzzer. Then Grace Garvert and Olivia Wegner connected on 3's in the second quarter to help trim an eight-point deficit to 21-15 at halftime.
But Belgrade committed turnovers on its first five possessions of the second half, while Addi Ekstrom drilled a pair of 3's at the other end for the Hawks, to fall behind 29-15.
"We started the third quarter slow. But those are just things that we're going to start working on. Coming out of the locker room in control," said Nolte. "Part of our offense is being strong and being confident."
Bozeman (3-4, 2-0) took a 12-point lead into the final frame and then withstood the early fourth quarter run by the Panthers. Ekstrom finished with a game-high 13 points, while Gabby Klein had 11.
"We didn't do a great job of taking care of the ball and your gotta give Belgrade a lot of credit. They came out and really beat us up. They're scrappy and forced us to turn the ball over," said Gustavsen. "So I'm thankful to come out of here with a win. Any conference win is a good win."
Belgrade was led Wegner, who scored a career-high 11 points. Garvert added nine.
"That kid (Wegner) just keeps getting better and better. She's got fight and she gives us a ton of spirit on the floor," said Nolte. "We just follow her lead and she's killing it."
Bozeman 47, Belgrade 35
Bozeman                  10  11  15  11  -  47
Belgrade                    7    8    9   11  -  35
BOZEMAN (3-4) - Nicole D'Agostino 0 1-2 1, Gabby Klein 5 1-2 11, Emily Williams 1 0-0 2, Aliza Lewis 0 0-0 0, Pauton Putnam 1 0-0 2, Lucy Child 2 0-0 6, Cooper Knarr 1 0-0 2, Addi Ekstrom 5 1-2 13, Avery Burkhart 1 1-2 3, Macy Mayer 2 3-4 7. Totals: 18 7-12 47.
BELGRADE (1-6) - Sarah Riley Morris 1 0-0 2, Emmery Blossom 0 0-0 0, Grace Garvert 3 1-2 9, Olivia Wegner 3 4-6 11, Hazel Eaton 0 2-4 2, Sophia Flikkema 3 0-2 7, Gracie Carter 2 0-0 4, McKenna Morris 0 0-0 0, Naomi Reanier 0 0-0 0. Totals: 12 7-14 35.
3-point goals: Boz 4 (Child 2, Ekstrom 1), Bel 4 (Garvert 2, Wegner 1, Flikkema 1).