Bozeman extended its possession with an offensive rebound, fed Carter Ash and the senior guard scored.
He drew a foul too, causing the Hawks' bench players and coaches to jump up and pump fists and yell. Ash made the free throw to push Bozeman's lead to 22, double Belgrade's total at the time.
A play later, Bryson Zanto added to the Hawks' advantage. Another steal, another layup, another Panthers timeout. With Bozeman running away, the student sections lobbed verbal jabs at each other across the court.
But the balanced shouting match wasn't reflected on the court. Bozeman seized command early and never relented in a 69-42 win Friday at the Belgrade Special Events Center.
"We just wanted to come out strong," Hawks forward Brett Clark said. "Once we got a lead, we wanted to keep it rolling, just keep playing hard."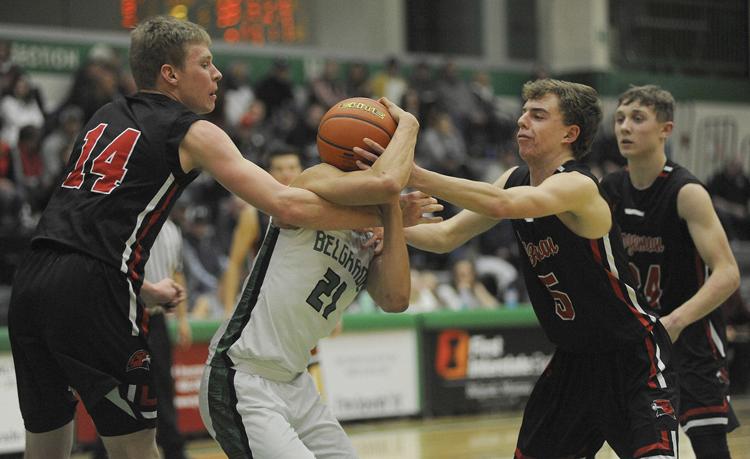 In the first Class AA matchup between the two teams, the Hawks (5-2, 2-0 Eastern AA) showed their might. Clark finished with a game-high 15 points and 11 rebounds. Ash added 14 points and Jackson Coles scored 12 for Bozeman.
The balanced scoring keyed the Hawks' rout and held the Panthers (1-7, 0-3 Eastern AA) at bay. Belgrade's Ta'Veus Randle scored 13 points and Wyatt Russell pitched in 12, but it wasn't enough to keep up.
Now on a four-game win streak, Bozeman's players are fitting in well with each other. Hawks head coach Wes Holmquist complimented his team for not having a bad practice all season. It's paying off during the recent surge.
"I just really appreciate this group," Holmquist said. "These guys have been working their tails off. I think they believe in each other. If you can do that and have the right mindset and mentality every day when we come to practice, we're going to continue to get better."
With both student sections packed, the contest began with Belgrade fans chanting "We believe that we will win." The teams traded baskets throughout the first quarter.
Late in the opening frame, Ash hit a 3-pointer and students cheered, "Ash is cash."
Ash's shot was the start of a 13-0 run that gave the Hawks a comfortable cushion. Belgrade struggled penetrating against Bozeman. Noel Reynolds threw the ball out of bounds while trying to beat the Hawks' press. Ash made a layup and put Bozeman up 12.
The lead continued expanding. The Hawks led by as many as 16 later in the second quarter when Brady Lang canned a 3-pointer.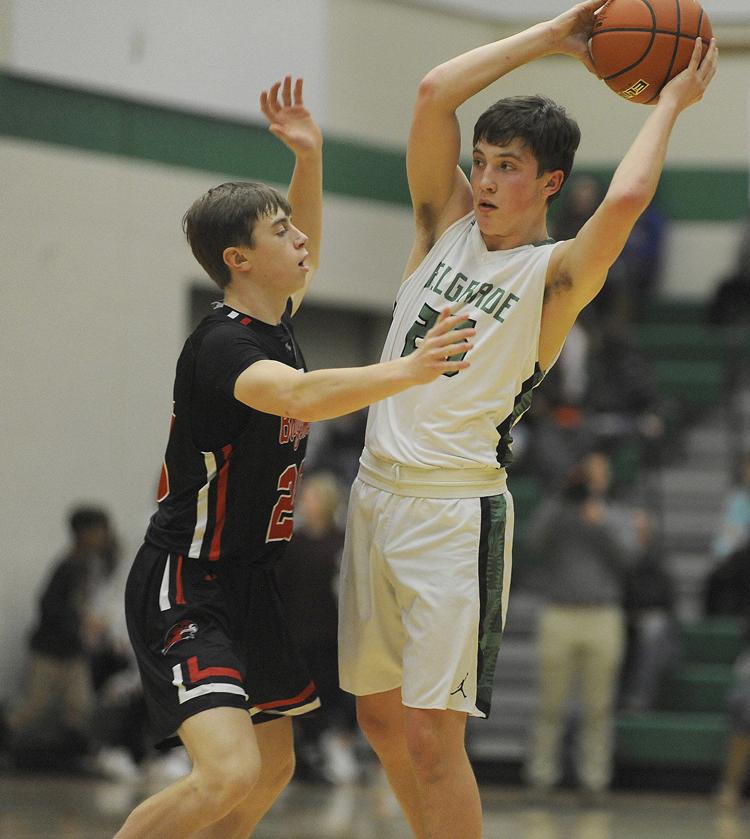 "We're going to make runs. They're going to make runs," Holmquist said. "But when you make your runs, you want to keep them going as long as you can."
After opening with two losses in three games, the Hawks expanded their win streak by continuing the explosive style of play that lifted them to a Class AA title in the spring.
The beginning of the year was spent adjusting to new roles. Now that Bozeman has settled in, it exerted its dominance once again.
Midway through the third, Ash hit a baseline jumper. Then on defense, he stole the ball, passed ahead to Coles and he finished a transition layup. He absorbed contact from Wyatt Russell and drew a foul. Belgrade called timeout trailing by 16.
"They have so many athletes and so many good shooters it's really hard to guard them," Panthers head coach Mike Deming said. "I thought they did a good job of shooting the open shot on the perimeter, but at the same time, attacking us at the high post. We had to pick our poison."
Bozeman forced 15 turnovers and scored 26 points off them. This is when the Hawks are at their best.
"I think we're just getting more and more experience playing with each other," Clark said.
Prior to the game, Holmquist challenged the 6-foot-5 Clark. Ash, a 6-1 guard, was leading Bozeman in rebounding. The Hawks recently learned junior Kenneth Eiden will miss the rest of the season due to a wrist injury. So Holmquist wanted Clark to emerge.
The coach told Clark he wanted him to grab double-digit rebounds. Clark answered the call with a double-double.
"It was nice to see Brett play with a little confidence tonight, especially at the high post," Holmquist said. "... I thought he squared up really well and did a good job passing out too and finding guys."
Throughout the second half, Bozeman kept pulling away.
With six minutes left, Coles nailed a 3 from the corner in front of Bozeman's bench. Coles' teammates on the sideline pretended to shoot arrows into the sky. And his classmates in the stands chanted, "This is our house."
Bozeman 69, Belgrade 42
Bozeman                  12  20  18  19  -  69
Belgrade                   10   8    6   18  -  42
BOZEMAN (5-2) - Padraig Lang 1 3-4 6, Brady Lang 2 0-0 6, Hudson Willett 1 0-0 3, Jackson Coles 5 1-2 12, Brett Clark 6 3-4 15, Bryson Zanto 1 2-3 4, Tanner Weppler 1 0-0 2, Carter Ash 6 1-1 14, Ty Huse 0 2-2 2, Branden Taraborhia 2 0-0 4, Jackson Basye 0 0-0 0, Rylan Schlepp 0 0-0 0. Totals: 25 13-18 69.
BELGRADE (1-7) - Tate Bowler 1 2-2 4, Ta'Veus Randle 3 6-7 13, Austin Spangler 0 0-0 0, Cooper VanLuchene 3 0-2 6, Noel Reynolds 2 0-0 4, Wyatt Russell 4 2-2 12, Kade Schlauch 0 0-0 0, Sage Smart 1 0-0 2, Hunter Simon 0 1-2 1. Totals: 14 11-15 42.
3-poin goals: Boz 6 (B. Lang 2, P. Lang 1, Willett 1, Coles 1, Ash 1), Bel 3 (Russell 2, Randle 1).