THREE FORKS — Corban Johnson caught three touchdown passes and returned an interception for a touchdown Friday to lead Manhattan to a Southern B rout of Three Forks.
The 6-foot-2 junior receiver/defensive back had touchdown receptions of 21, 19 and 29 yards, and returned the pick-six 17 yards as the Tigers cruised to a 47-0 victory.
It was a break out game for Johnson, who caught four passes for 84 yards. He also caught a touchdown, as well as a two-point conversion, in the Tigers' season-opening victory against Florence-Carlton a week ago.
"We knew going into the season he was going to be a good receiver. Not just only a complimentary receiver to (Gabriel) Delgatty, Tate (Bowler) and those guys, but we knew he could be good," Manhattan coach Chris Grabowska said. "He's definitely stepped up these first two games. He's got his opportunity now and he's stepping up to the plate."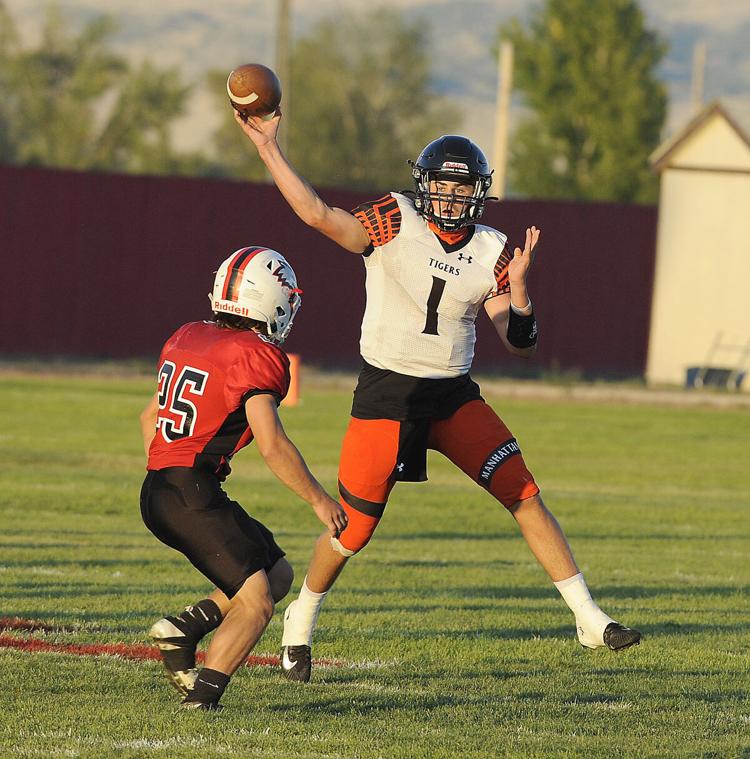 Manhattan (2-0, 1-0 Southern B) needed just five plays to reach the end zone after receiving the opening kickoff. Johnson hauled in the first of his three touchdown receptions to cap the drive, and the Tigers went on to score on four of their six first half possessions.
Isaac Richardson punched the ball in on a pair of short touchdown runs to stretch the lead to 20-0, and then Johnson scored his second touchdown with 6:37 left in the first half. A little over a minute later Johnson was celebrating in the end zone again after picking off Owen Long on a third down throw as the lead swelled to 35-0.
Logan Vasarella came off the bench in the third quarter to cap the scoring for Manhattan with a 40-dash that began through the interior of the Wolves' defense and then down the sideline.
Following some undisciplined play in the opener, Grabowska challenged his team to eliminate mental mistakes and not to commit any penalties.
"That's a really high bar," he said. "But overall I thought they played a really clean game, and Caden (Holgate) did a great job leading the offense."
Holgate, a first-year starter at quarterback, was 9 of 13 for 155 yards and threw three touchdown passes for the second consecutive game. The senior also threw a second quarter interception.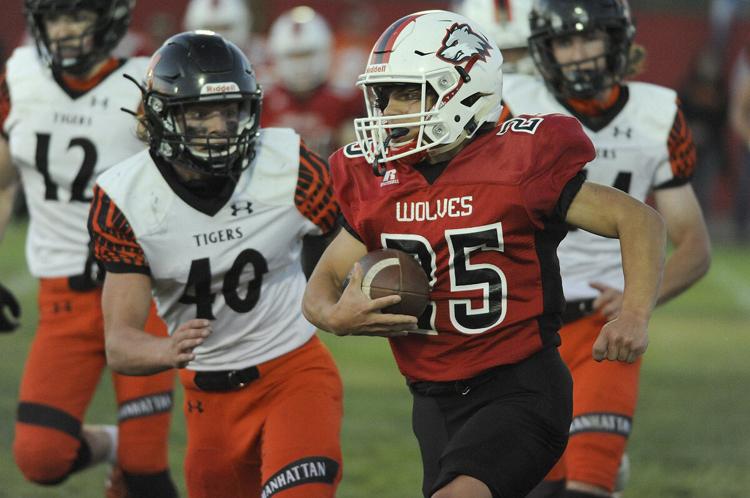 Three Forks (1-1, 0-1 Southern B) tallied 36 points in a season-opening victory against Deer Lodge, but found little success offensively in its home opener. The Wolves gained just one first down in the first half — a 17-yard pass by Owen Long to Reid Woodward — punted three times and turned the ball over twice.
"They did what we expected them to do," Grabowska said of his defense. "Prepared well all week and guys were filling their gaps, got good pressure on the quarterback, and the back end played really well in the secondary."
Long completed just 5 of 16 passes for 29 yards and was under pressure throughout the contest en route to being sacked half a dozen times.
"We didn't protect real good. But there was some throws that he should have made," Three Forks coach Connor Sullivan said. "I wanted to see him come from week one to week two because I knew this would be a completely different ball game, and there's some things that we definitely need to clean up like getting the ball out earlier and not just sitting in the pocket as long."
Manhattan makes it home debut Friday hosting Missoula Loyola, while Three Forks will host Columbus.
"There's a lot of positives more than negatives that we can take out of this," Sullivan said. "We knew they were a good football team. We're still a young team. We have no seniors on this team, but there's a lot more positives than negatives we can take from this game."
Manhattan 47, Three Forks 0
Manhattan                 14  21  12  0  -  47
Three Forks    0    0     0  0  -   0
Man - Corban Johnson 21 pass from Caden Holgate (kick blocked)
Man - Isaac Richardson 2 run (Gabriel Delgatty pass from Holgate)
Man - Richardson 1 run (kick failed)
Man - Johnson 19 pass from Holgate (Delgatty pass from Holgate)
Man - Johnson 17 interception return (Drew Demming kick)
Man - Johnson 29 pass from Holgate (kick failed)
Man - Logan Vasarella 40 run (kick failed)