In just one half of play Tuesday afternoon, Bozeman's Drew Johnson etched his name into the record book.
The 6-foot-1 junior forward scored six goals — all in the first half — to lead the Hawks to a 8-0 Eastern AA victory against Belgrade. The six tallies tied the record for most goals in match, which had previously been set by Corvallis' Emmett Semple, according to the Montana High School Association record book.
Johnson scored goals in the 3rd, 15th, 18th, 19th, 20th and 22nd minutes as Bozeman (4-0-0) took a commanding lead into intermission at the Belgrade Youth Sports Complex.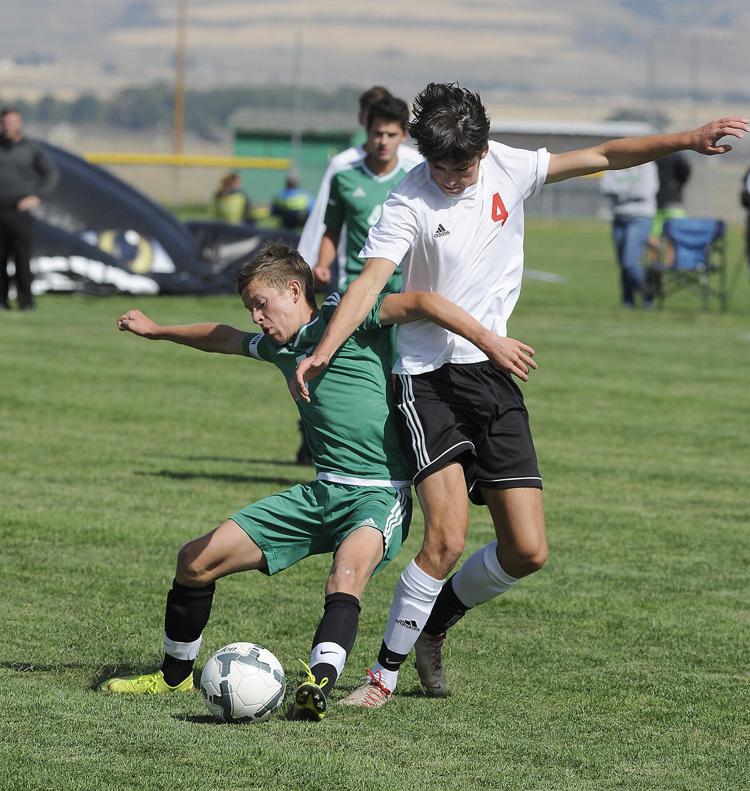 "We should have just marked him right away," first-year Belgrade coach Sydney McCauley said. "They just passed around the whole game."
Johnson just missed scoring on two other attempts and Bozeman finished with 24 shots on goal.
Following a thrilling 3-2 road victory against Billings West on Saturday, McCauley noted her team lacked energy against the Hawks.
"I just think that we came out flat," she said. "We weren't ready."
Cole Kanehi scored an unassisted goal in the 47th minute for the Hawks, and then Andrew Barckholtz capped the scoring after heading in a cross by William Raymond Wilson in the 59th.
Belgrade was limited to just five shots and keeper Shay Schoolcraft made 13 saves.
"We're still fine. We just start out flat and then we can't recover sometimes, but other than that we're fine," said McCauley. "We have good athletes, we have good soccer players."
Belgrade (2-3-0) is back in action Saturday at Gallatin High before traveling to Billings Senior Sept. 15.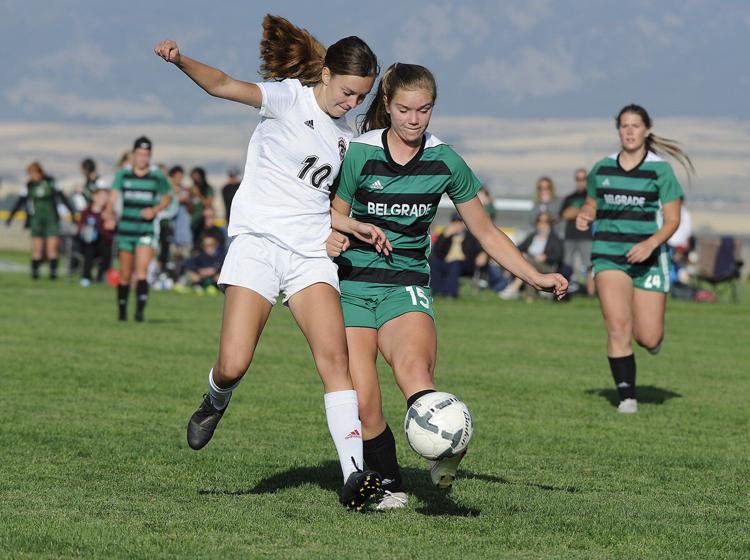 Belgrade girls shut out in loss to Hawks
Once again the defensive effort was there. But for the third time in five matches, Belgrade was unable to produce a goal Tuesday.
The Panthers' offense was limited to just one shot in a 2-0 Eastern AA defeat against Bozeman at the Belgrade Youth Sports Complex.
Second-year Belgrade coach Carl Bridwell noted his team has done a great job of neutralizing opponents as only one team has scored more than two goals.
"What that also means is that we don't score a lot," Bridwell added. "We grind out 2-1, 2-0 games … our games are very just emotional in the trenches, grinds. If we get a goal we're very excited, if not it's tough."
In an attempt to get a spark up top, Bridwell started Mackenzie Turner at striker. The junior, who is typically the team's starting keeper, also saw action at the position in the second half of a 4-1 loss to Billings West on Saturday.
"Mackenzie, when she came off the bench for us against Billings West, brought us some much needed energy. Today it was energy in a different direction," said Bridwell. "We had to be a lot calmer on the ball and we weren't today."
Bozeman (3-1-0) scored the only goal it would need when Payton Putnam got behind the defense in the 8th minute and beat keeper Maya Amundson on the ensuing shot.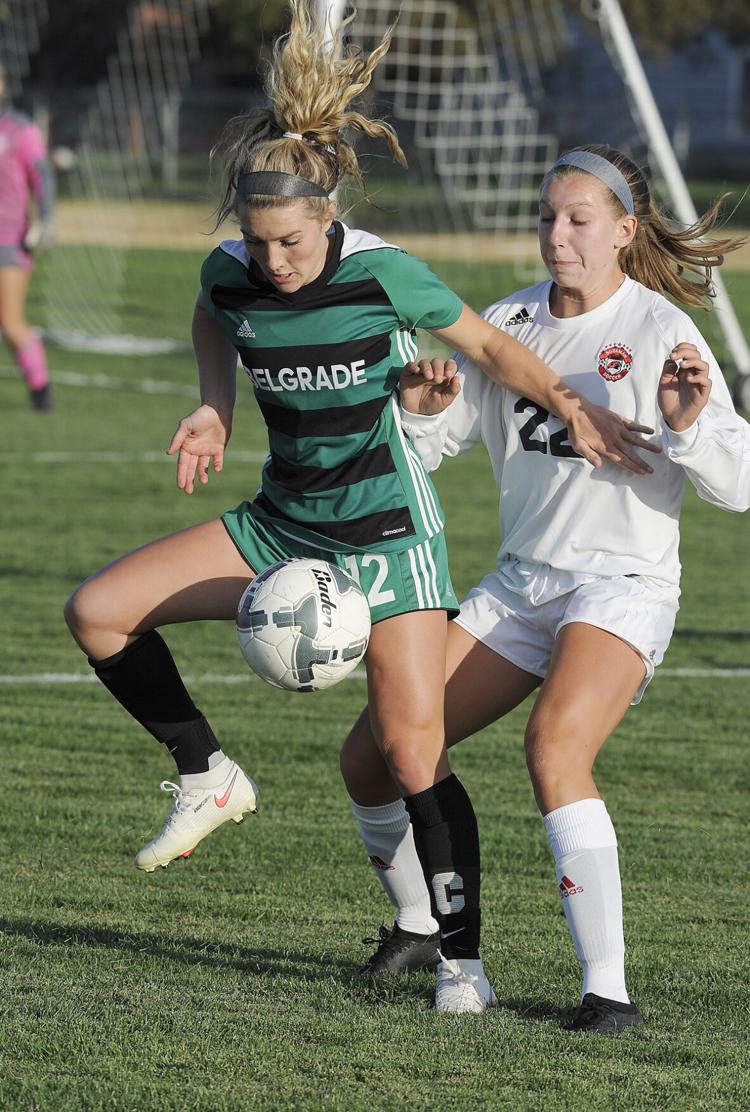 With Turner back at keeper to start the second half, the Hawks caught a break in the 61st minute and increased the lead to two on an own goal. Bozeman's Sami Murphy booted a direct kick about 30 yards from outside of the box and Turner tried to punch it over the net. But the ball connected with the cross bar and then was inadvertently knocked in by a defender.
"Looked like it hit the top, but not enough to get up and over. So just the right bounce and our back, whoever it was, did the right thing and tried and get a head on it," said Bridwell. "Unfortunately just couldn't direct it away."
As they have been the past two weeks, the Panthers continue to play shorthanded. The team had just three subs and those players also swing down to the JV, thus Bridwell has had to be creative with the lineup.
"Until we get healthy we're not going to show that kind of gritty mentality that we want to show," he said.
Belgrade (0-3-2) is back in action Saturday at Gallatin High, and then travels to Billings Senior Sept. 15.
"Now that we've seen pretty much everybody except for Gallatin and Senior, every team we don't feel like we've been blown out of the water," said Bridwell. "Every team we feel like we can compete with. We just have to bring all 11 players, all of our subs, and everyone ready to go and then we'll see what happens."
Boys
Bozeman 8, Belgrade 0
Bozeman        6  2  -  8
Belgrade        0  0  -  0
Boz - Drew Johnson (Bridger Foran), 3rd
Boz - Johnson (Nolan Robbins), 15th
Boz - Johnson (Samuel Robinson), 18th
Boz - Johnson (Will Kaiser), 19th
Boz - Johnson (unassited), 20th
Boz - Johnson (Zachary Frisk), 22nd
Boz - Cole Kanehl (unassited), 47th
Boz - Andrew Barckholtz (William Raymond Wilson), 59th
Shots: Boz 24, Bel 5. CK: Boz 1, Bel 1. Fouls: Boz 4, Bel 5. Saves: Boz 3 (Malachi Allen 3), 13 (Shay Schoolcraft).
Girls
Bozeman 2, Belgrade 0
Bozeman        1  1  -  2
Belgrade        0  0  -  0
Boz - Payton Putnam (Mile Al-chokhachy), 8th
Boz - Own goal, 61st
Shots: Boz 24, Bel 1. CK: Boz 7, Bel 0. Fouls: Boz 3, Bel 5. Saves: Boz 1 (AJ Battle), Bel 21 (Mackenzie Turner 11, Maya Amundsen 10).