BOZEMAN — It appeared that all of the momentum was on Manhattan Christian's side.
The Eagles scored the first four points of the fifth set and led 10-7 following a kill by Kiersten Van Kirk Friday night. That would be their final point of the match, however, as mistakes proved costly down the stretch.
Bridger (32-2) rallied with eight consecutive points to win the undefeated semifinal at the State C tournament in Brick Breeden Fieldhouse. The Scouts advanced to the championship match for a second consecutive season, which will be held Saturday at noon.
"We were really streaky. I don't know what the deal was," Christian coach Jill Ayers said. "We'd go on a streak and then we just completely quit playing, and then we'd turn around and go back on another streak."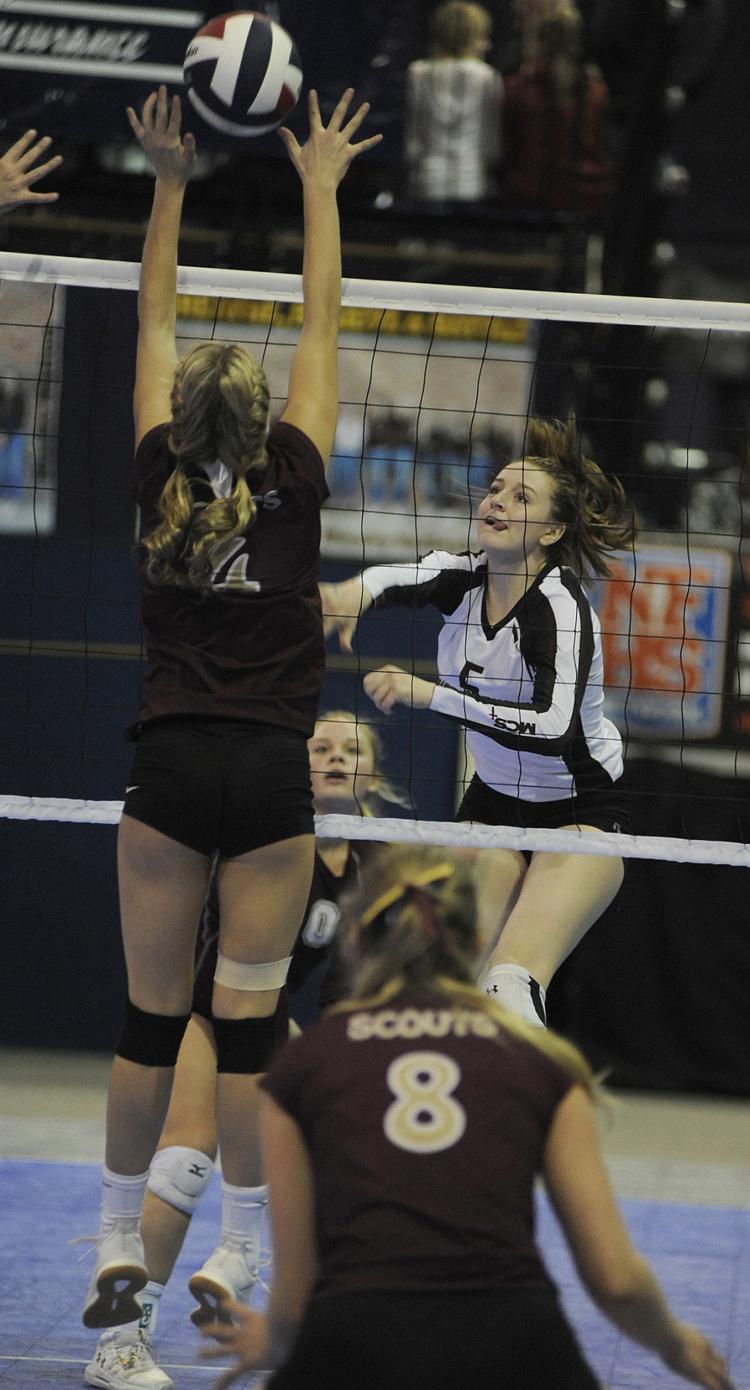 It was the Scouts who had the pivotal streak at the end en route to 25-20, 12-25, 23-25, 25-13, 15-10 victory.
"Big stage and I know they really wanted it. But I just told them, 'No worries. You're back here tomorrow. You got three matches to play tomorrow,'" said Ayers. "They're playing with the best of the best and this is state. It's Friday night and you just played in the undefeated game. There's nothing to be ashamed of."
The Eagles (23-2), who lost just their second match of the season, will play defending state champion Belt in the consolation match at 10 a.m. The Huskies won three loser-out matches Friday following a first round loss to Plentywood on Thursday.
Prior to match, Ayers noted her team was uncharacteristically quiet in the locker room.
"I think they were pretty nervous and I think they let that come out in their play a little bit," she said. "When you're nervous you tend get down easier and they let that play on them. This whole year they've been so good at getting a few points behind and just go to work and come back. Tonight they seemed to let that get in their heads a little bit."
The Eagles jumped out to an early lead in the fifth set after misfiring both offensively and defensively in the fourth. But after Emily Adkins stepped to the service line with Bridger trailing 10-8, the Eagles stumbled down the stretch.
Adkins immediately scored on an ace, and then Bridger tied the set at 10 when Eagles setter Taylor DeVries inadvertently delivered a dump out of bounds. Another ace by Adkins gave the Scouts their first let of the game, 11-10, and the Eagles were unable to recover following a serve-receive miscue and a hitting error.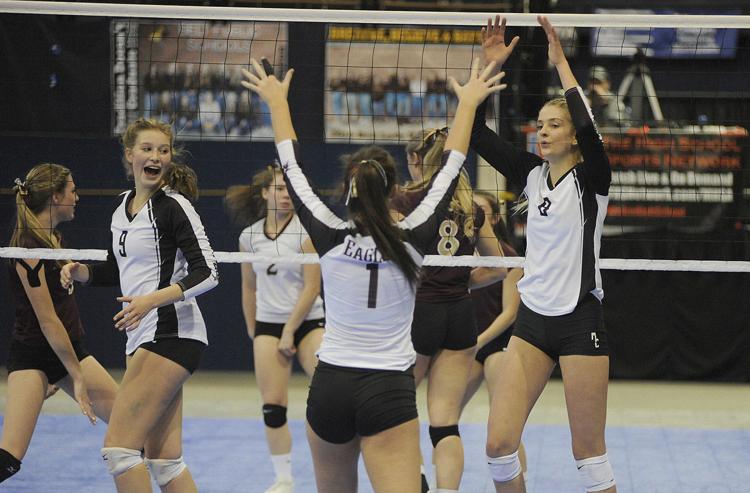 "They just made such silly mistakes that they know better," said Ayers. "And as soon as they make them they're like, 'Oh why did I do that.'"
After leading Christian to a pair of victories Thursday, Van Kirk continued her sensational play at the net. The 6-foot-2 sophomore tallied a match-high 28 kills and had four blocks.
Adkins finished with 24 kills and four aces for the Scouts.
Bridger def. Manhattan Christian 25-20, 12-25, 23-25, 25-13, 15-10.
BRIDGER (32-2) – Kills: 47 (Emily Adkins 24, Jenna Kallevig 12). Digs: 94 (Kyra Kroll 30, Kallevig 21). Blocks: 9 (Kallevig 3). Aces: 6 (Adkins 4). Assists: 40 (Sami Fusco 26).
MANHATTAN CHRISTIAN (23-2) – Kills: 48 (Kiersten Van Kirk 28, Eliana Kuperus 8). Digs: 90 (Kuperus 24, Maddie Liudhal 20). Blocks: 11 (Van Kirk 4, Hailey Van Dyken 3.5). Aces: 7 (Taylor DeVries 3). Assists: 47 (DeVries 42).
State C Tournament
(at Brick Breeden Fieldhouse, MSU)
Friday's scores
Belt def. Roy/Winifred 19-25, 25-14, 25-20, 25-18, loser-out.
Charlo def. Westby/Grenora 25-20, 25-15, 25-18, loser-out.
Belt def. Fort Benton 25-17, 23-25, 25-22, 20-25, 16-14, loser-out.
Plentywood def. Charlo 25-20, 19-25, 23-25, 25-19, 15-8, loser-out.
Bridger def. Manhattan Christian 25-20, 12-25, 23-25, 25-13, 15-10, semifinal.
Belt def. Plentywood 25-17, 25-18, 19-25, 25-12, fourth.