CHURCHILL — Maddie Liudahl has enjoyed plenty of success at Manhattan Christian, and hopes to continue to do so at the next level.
Wednesday the senior signed a letter of intent to play volleyball at Northwestern College in Orange City, Iowa. The Red Raiders reached the quarterfinals of the NAIA Volleyball National Championship this past season to cap an impressive 32-2 campaign.
Liudahl, a 5-foot-4 libero, helped Manhattan Christian win the second state championship in program history this past fall. The Eagles finished with a 26-2 record after beating Bridger in the Class C title match.
"It's definitely exciting to be on a winning team and then go to another very successful team. I'm real excited," Liudahl said. "The coach there is great, the team is great, it's just a super great atmosphere and I'm real excited to be a part of that and to hopefully continue winning with them."
By the time Liudahl graduates in May, she will have earned 12 varsity letters in basketball, golf and volleyball. She's helped the girls golf team win three consecutive state championships and placed 17th individually as a junior.
While Liudahl is an accomplished golfer, and a guard on the basketball team, volleyball is her first love.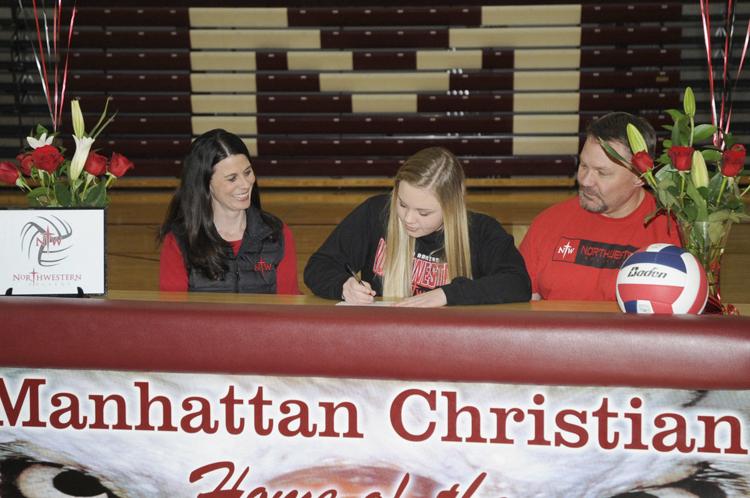 "I have considered (playing) golf. There's some really good scholarships that can come from a women's golf scholarship, so that was pretty big too," she said. "But in the end I just have a passion for volleyball and that's just really what I wanted to do."
Liudahl noted she looked at a handful of other programs before choosing to sign with Northwestern.
"I had a couple schools that I was considering, but Northwestern had basically everything that I was looking for. They had my degree and the community I was looking for, and I could play volleyball," she said. "So for me it was just the best fit."
Liudahl earned All-State honors this past season, and will graduate as the program's second all-time leader in digs with 1,217. She tallied a team-best 663 digs during the 2019 campaign and added 50 aces.
As a junior, Liudahl was selected as the team's most valuable defensive player, and has earned Academic All-State honors in each of her sports.
But, all of those accomplishments pale in comparison to winning a state championship.
"It was one of the best days of my entire life, I can easily say that," Liudahl said. "It was very surreal and it was just everything that I could have asked for my senior year, and the best way to close out a season for sure."
With a basketball season to complete, and golf on the horizon, Liudahl is grateful her future is secure.
"It's really relieving to finally just know where I'm going and to be sure of what my future holds now," she sail. "Yeah, I'm real excited for what that's going to look like."