Amy Grevious had planned on attending the University of Montana-Western to continue her education. But the Manhattan senior still had an itch to play volleyball, and now she'll be scratching it in North Dakota.
Grevious, a 5-foot-5 defensive specialist, signed May 17 to join  Williston State College. The junior college competes in the Mon-Dak Conference, and the volleyball team posted an 11-19 record this past fall.
"I kind of just wanted a new start and I wanted to keep on playing volleyball," Grevious said of her decision to play for the Tetons. "I was on a team call with all the girls on the team and they really influenced me to come there. They seemed like they were a really fun team to play with."
Grevious added that she has family in the state and plans to study massage therapy. After two years, if the possibility is there, she's open to continuing on to play at a four-year program.
This past season Grevious served as Manhattan's libero and helped the team post a 12-11 record and reach the Southern B Divisional for a third consecutive season. She tallied 534 digs (4.9 digs per set), 80 aces, and had a .666 serve reception percentage.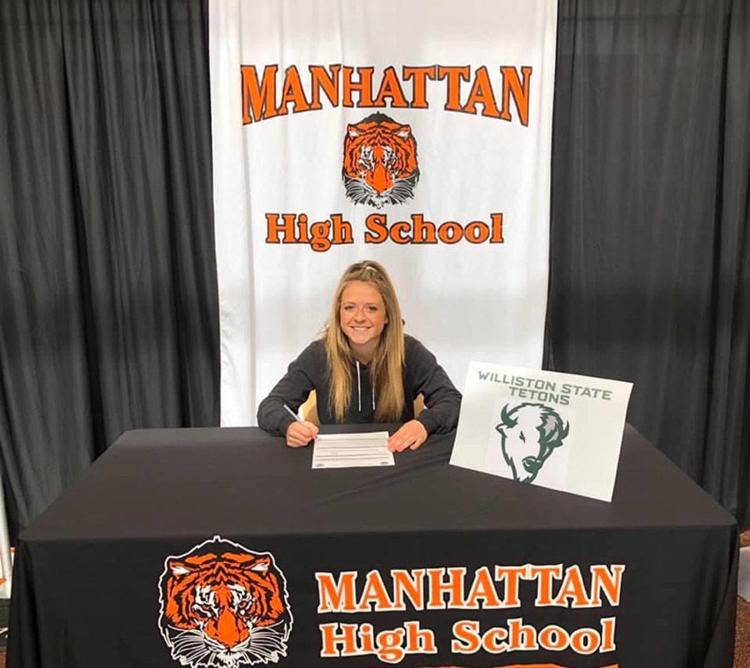 "She will be such a great asset to the Tetons volleyball program," Manhattan coach Charli Chapman said.
While Grevious spent her senior season as the Tigers' libero, she played several positions throughout her career, including outside hitter. But she made her mark as a defensive specialist.
"I think that I've liked passing better sometimes, but when I was just a libero I kind of missed playing all the way around," she said. "Because it almost felt like when I was in the front and maybe had a bad three rotations then in the back row it kind of calmed me down. But I think that I like back row better ... I'll miss hitting for sure."
Grevious noted she was among three defensive specialists recruited by Tetons head coach Chelsea Hinck.
"I think she played beach volleyball and so I think that she knows a lot about the game," Grevious said. "I watched some short little clips of them playing and the seemed like they were super intense and into the game, and play to win ... I think they take it pretty seriously and I'm excited for that."
Grevious also plays basketball and softball and is involved in 4H. However, the softball season was canceled due to COVID-19.
"I was pretty bummed about that," Grevious said, "but I still had club volleyball and so I was practicing that for a little bit and then they canceled their season."
Still, Grevious is now preparing for a college career and credited Chapman and club coach Melissa Holm for helping her reach that goal.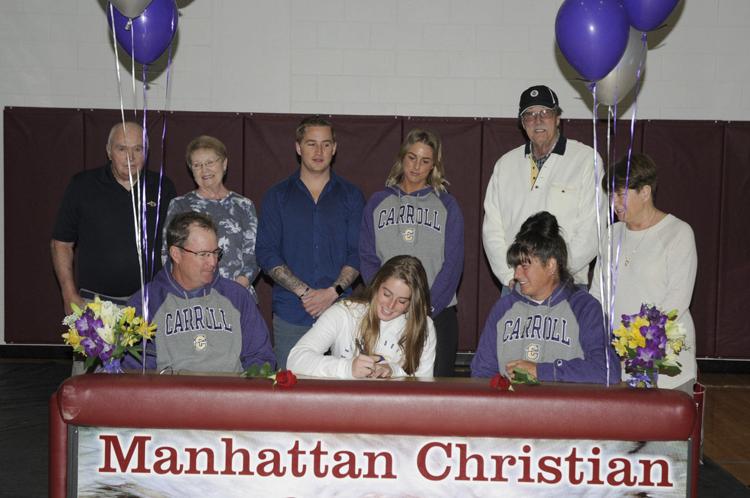 Eagles' Thompson to walk-on at Carroll College
All along Rylie Thompson had planned to attend Carroll College to further her academic career.
Since she'd be there for the next four years, why not try and play some volleyball too. So the Manhattan Christian senior contacted Saints head coach Maureen Boyle about the possibility.
"I reached out to Carroll because I really like the campus and just overall the community is just super sweet and really knit together. So I reached out to the coach and we arranged a practice so she could watch me," said Thompson. "During that practice she was really, I guess, pleased with my abilities."
That practice took place in February prior to the COVID-19 pandemic shutting down Montana as well as the rest of the country. The two kept in touch over the past three months and Thompson was offered a walk-on position, which she accepted May 20.
While Thompson has been recruited as an outside hitter, she's willing to play where ever needed.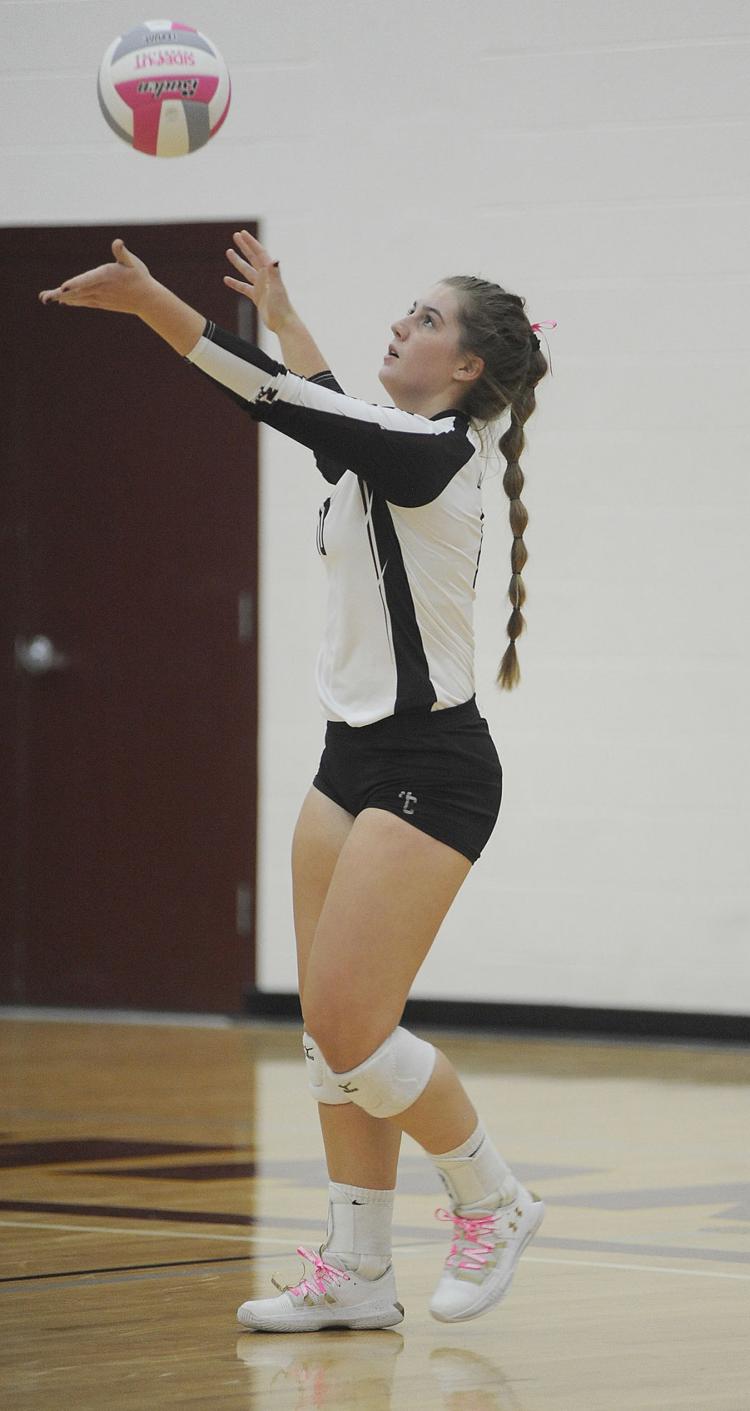 "Our coach likes to have a team of about three deep at each position, and right now I think I'm the third person for outside," she said. "I don't know if I'd be on JV or not, but I told her I'd be able to play any position she wanted me to play. I just want to play in college, I don't really care where I play."
Thompson helped the Eagles post a 26-2 record this past season and win the program's second state championship. She tallied 145 kills, 169 digs and 19 aces.
Christian has had plenty of success over the past decade, reaching state six times since 2011. The 2011 squad won the Class C championship, while the Eagles were the state runner up in 2014. Thompson was a part of two state tournament teams, including the 2018 squad that finished fourth.
She credited that success with helping the recruiting process.
"That definitely helps a lot just because winning a state title isn't exactly a small thing. So having that experience with going through the tournaments and pressure, it's really something that a lot of coaches look for and how you handle yourself in that position," Thompson said. "So that was really nice to be able to go through two years of state experience and then being able to tell my coaches, 'Yes, we handled it well enough to win state and I'm willing to give that to your program too.'"
Carroll College finished 16-12 this past season (6-6 Frontier Conference) and won a match at the conference tournament.
Thompson, who also competes in basketball and track, plans to study civil engineering. She'll graduate from Christian May 29 and then will leave the state for a summer job. In the meantime, she's been enjoying time with friends and family.