After sweeping state championships a year ago, and then graduating the majority of runners from those teams, Manhattan proved it's still a force in Class B.
The Tigers' boys and girls earned runner up trophies Saturday at the 56th annual Montana High School Association State Cross Country Championships at Eagle Falls Golf Course in Great Falls. The boys placed four runners in the top 25 en route to finishing with 96 points, while the girls did the same en route to a score of 79.
"The boys ran well considering the conditions. With the initial forecast we thought it would be to our advantage to race first. Instead we arrived to two to three inches of snow, and it actually got nicer as the day went on," Manhattan coach John Sillitti said. "The course cleared after a few races and it got less windy. Sun even came out after our girls were finished for the second half of the races."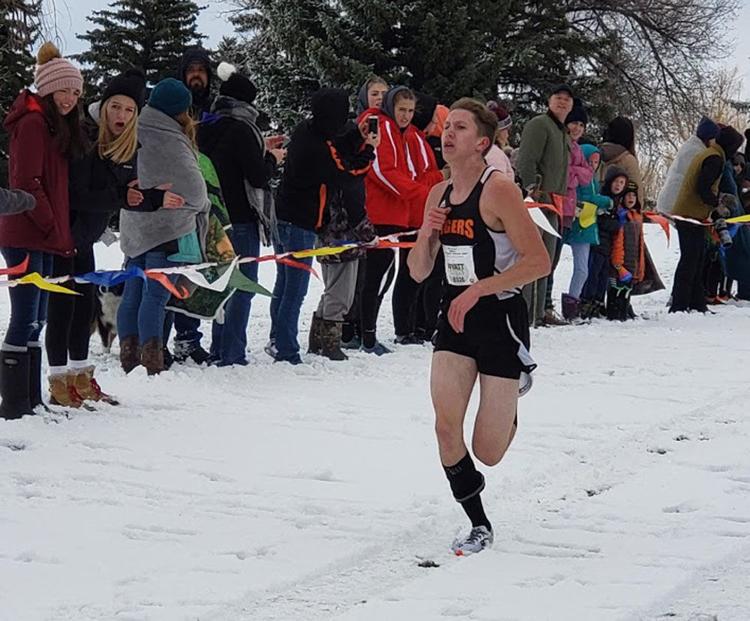 Class B boys were the first race of the day and the snowy course proved to be a little difficult to maneuver through.
"It was sloppy in the early going," said Sillitti. "The starting lanes were very tight and the course has a lot of sharp turns made extra challenging by the packed snow. That first race didn't see many PRs. Our boys ran really well considering."
Wyatt Barney placed fourth for the Tigers with a time of 17:30.74. The junior earned All-State honors along with senior Michael Tenney, who was 11th in 17:57.65.
Luke Meeker placed 20th in 18:27.14, while William Rolando was 22nd in 18:32.89. Manhattan was rounded out by Carson Blanchard (39th, 19:15.76), Quinton Johnson (42nd, 19:23.92), and Payden Cantalupo (67th, 19:57.73).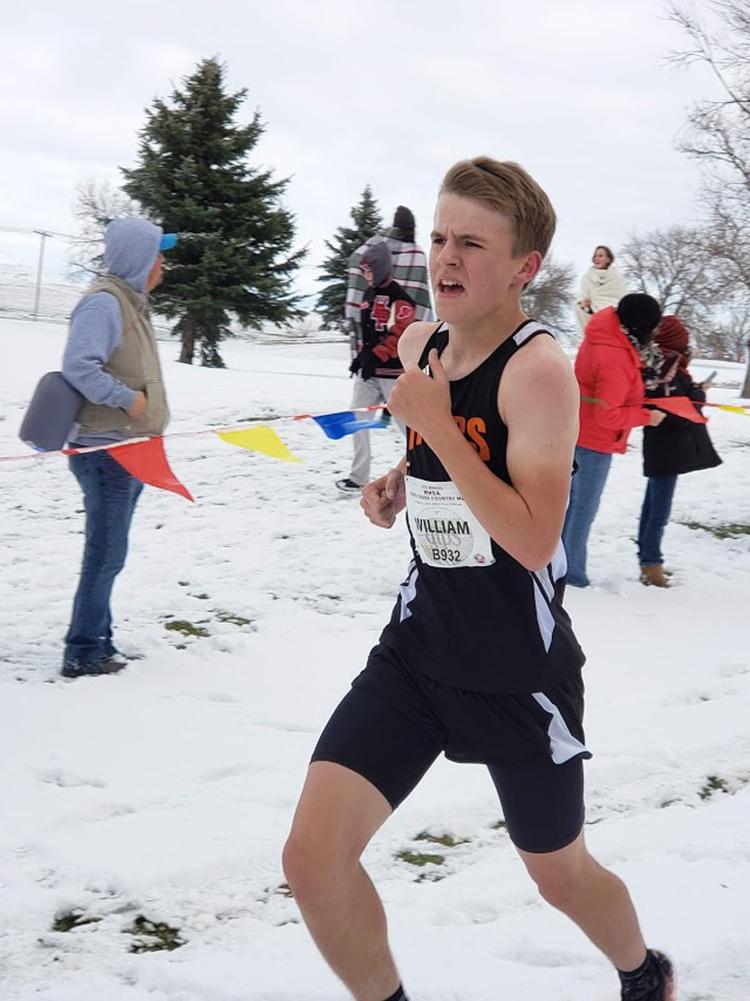 Runners from Eureka and Manhattan quickly separated from the field in the early going, and Eureka boasted four harriers in the top 20 en route to winning the title with 73 points. St. Labre was a distant third with 165.
"I'm super proud of our boys," said Sillitti. "After losing the guys we lost to graduation, and being projected to finish ninth in the state five weeks ago, I can't say enough about the progress the boys made this year."
Manhattan's girls, who had battled injuries all season, had two runners earn All-State honors. Jodi Cameron and Hallie Hemenway placed seventh and eighth, respectively, with times of 20:01.45 and 20:01.63.
Townsend won the championship after four runners finished in the top 15 and five were in the top 25. The Bulldogs scored 65 points, while Red Lodge was third with 187.
"The race was really always between Townsend and us, and that was clear in the final results. I think third place was almost 110 points behind us," said Sillitti. "Our girls were a little thrown off by the conditions, mostly the ground being slick and crowded start into early turns, and where we usually group up well, we got a little split up."
Saige Duffin was the third Manhattan runner across the finish line in 21:10.56 to place 18th, while Pralie Duffin was 20th in 22:41.78. The Tigers were rounded out by Kit Wiersema (26th, 22:13.27), Jessa Steele (30th, 22:18.39), and Rylee Cameron (34th, 22:30.86).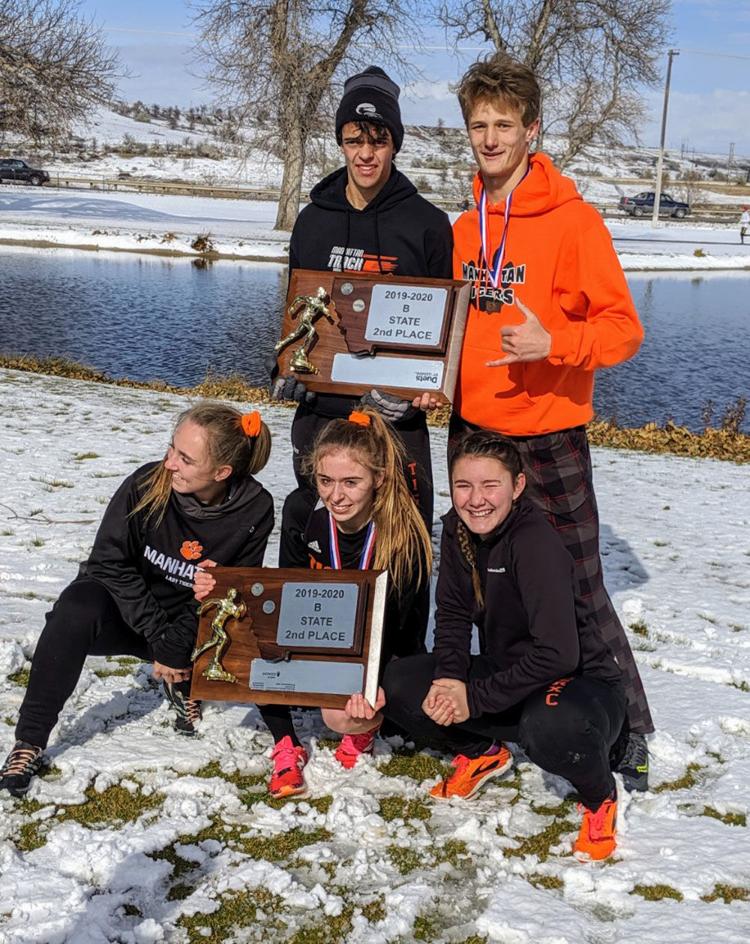 "I'm unbelievably proud of our girls, especially for how they congratulated Townsend afterward," said Sillitti. "Sometimes you just run into a good team that puts it all together like Townsend did, and they deserved to win."
Wolves' boys finish 12th
Three Forks boys placed 12th among 26 teams with 339 points. Jacob Ramsey led the way, placing 27th with a time of 18:40.22. Wolves coach Tara Forsberg noted he was the top freshman finisher in Class B.
Garrett Golding, another freshman, was 54th in 19:41.03, while Wyatt Golding was 71st in 20:04.26. The Wolves were rounded out by Devon Potts (90th, 20:30.02), Beau Johnston (97th, 20:38.47), Aden Lehr (137th, 22:18.06), and Dean Buchholz (140th, 22:23.06).
"Our boys team placed a place higher than last year which we are happy with," said Forsberg. "Our top five runners did well. The weather wasn't optimal but we did well despite it."
Three Forks' girls did not field a full team, but got a strong performance from Hannah Wilson. The senior placed 21st in 21:54.23.
The team was rounded out by Kodee Kolberg (56th, 23:19.77), Lily Jones (80th, 24:08.24), and Inna Pachalova (150th, 29:08.25).
"Our girls have struggled this year but they ran good," said Forsberg. "We had one in 21st place, which is what we were shooting for."
Belgrade boys 12th in AA
Rachel White was impressed with her team's grit.
While the Panthers' boys were out of trophy contention from the start, there were plenty of strong individual performances. And, they led to a 12th place finish at state with 332 points.
"For our double A debut, I am so impressed with their race performances," White, who is Belgrade's coach, said. "Very solid and moved up in tough spots and really fought for each position. Coaches are so proud of them."
Samuel Nash led the team on the day with a time of 17:02.78 to place 25th. Cooper McCormack was the only other Panther in the top 50 — he was 45th in 17:30.14 — while Bodee Bossert placed 74th in 18:17.00.
Belgrade was rounded out by Brandon Clingan (92nd, 18:59.68), Coulter Thorn (96th, 19:04.96), Shane Reardon (97th, 19:05.66), and Cole Blakeman (104th, 19:51.12).
Kyra Giese led the Panthers' girls, placing 50th with a time of 21:04.04. The sophomore led the team to a 13th place finish with 374 points.
Madison McLaughlin was 73rd in 22:11.50, while Lyndy Powers was 79th in 22:34.24). The team was rounded out by Charlize Glasgow (84th, 22:42.77), Katie Iverson (88th, 22:57.41), Aubree Walker (96th, 23:49.43), and Avery Johnson (99th, 23:58.08).
"All seven girls PR'd," noted White.