BOZEMAN — After crossing the finish line well ahead of the competition at Van Winkle Stadium, Caleb Bellach was informed of the hand held time.
It was close to what the 4x100 relay team had been seeking, but Bellach and his teammates had to wait several minutes before the official time was finally announced over the loud speaker. Then, Bellach and his teammates erupted in celebration.
The relay team, which also featured Landon Liudahl, David Aamot and Jakob Boscha, broke the school record after posting a time of 44.81 seconds. The previous time of 44.83 had been set a year ago.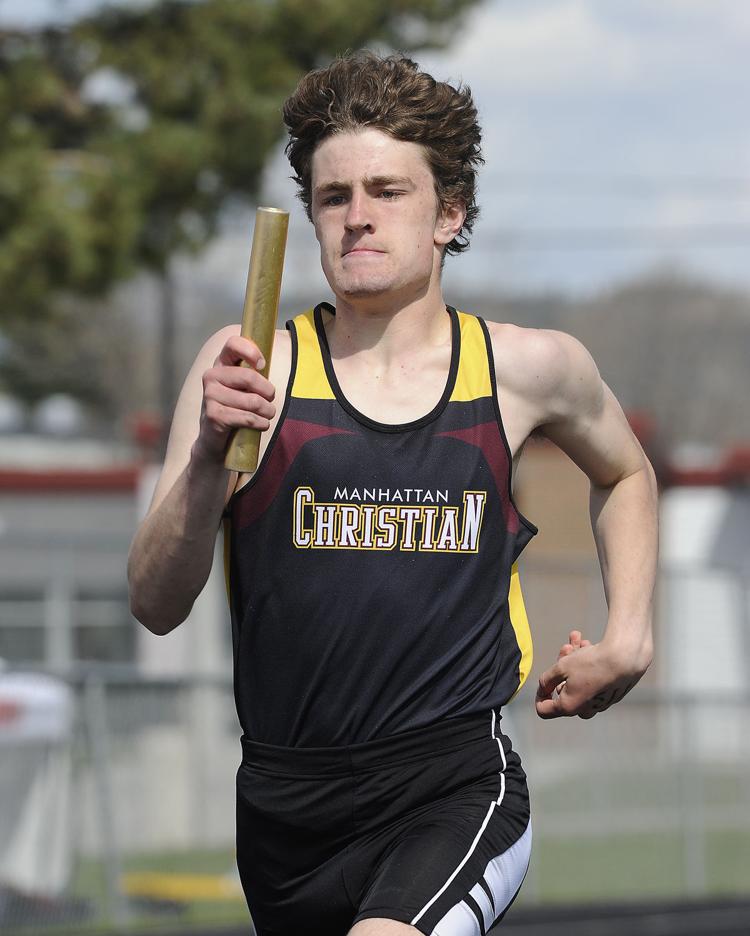 "We knew we were going to be close, so to beat it by two-hundreths of a second is pretty cool. And we still have four races left the next two weeks," said Bellach. "Can only get better hopefully."
That was one of many highlights Saturday as Manhattan Christian cruised to the District 11C championship. The Eagles won 15 of the 17 events en route to amassing 211 points. Gardiner was a distant second with 121.
"Just the way that our boys are performing this year, we kind of expected to win," first-year Christian coach Laura Arthun said. "But we didn't expect just the way everyone performed today. We had a lot of amazing performances overall."
Bellach led the way by winning four individual events and anchoring the sprint relay. The senior set personal bests in both the 400 (52.13) and 300 hurdles (43.86) and won the long jump and triple jumps with marks of 20-02.25 and 40-08, respectively.
"I won both (jumps), but I've done a lot better than I did," said Bellach. "I think (it was) just fatigue. The next two weeks they're on different days, so my legs will be fresh each day."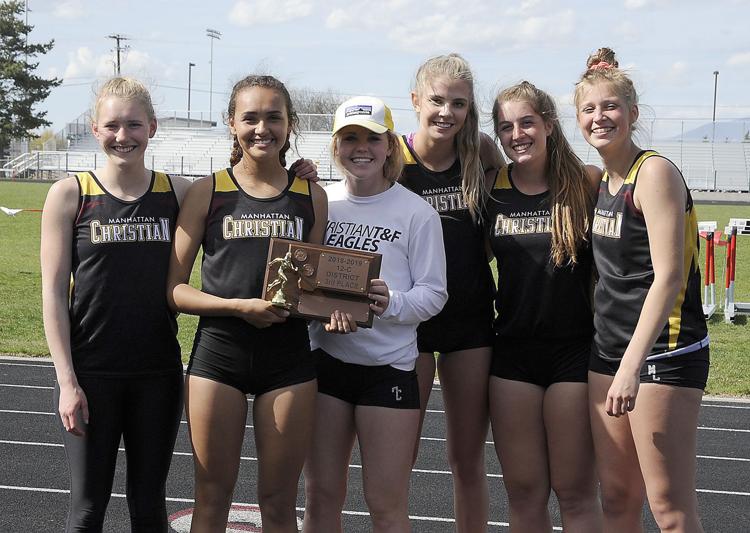 Liudahl was a double winner for the Eagles in the 100 (11.66) and 200 (23.87), and pre-qualified for state in the 100, while Tyler Kamps posted wins in the shot put (44-07.50) and discus (131-05).
Ben Morrison, Grant VanDyken and Riley Schott posted victories in the 800, 1,600 and 3,200 meter runs with times of 2:05.60, 5:33.68, and 10:53.79, respectively. Boscha added a win in the javelin (139-10), and Devan Walhof in the pole vault (10-06), while the 4x400 relay capped the meet in victory with a time of 3:46.06.
"We had a lot of kids that were working up to having their big day today," said Arthun.
On the girls' side, West Yellowstone tallied 142 points en route to winning the championship. Shields Valley placed second with 114, while Christian was third with 110.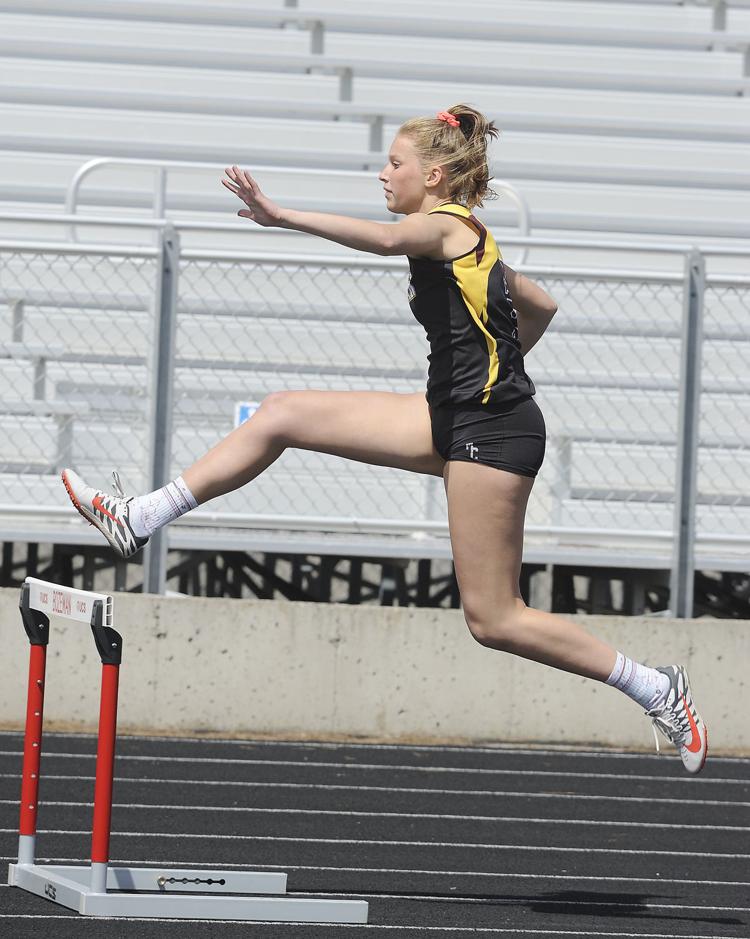 The Eagles were led by Faith Shepard, who won a pair of events and placed in five. The junior set a personal best in the pole vault after clearing 9-feet, 6-inches.
"We were just really waiting for that to happen," said Arthun. "We've been switching poles and just waiting for that big moment to happen, so I was really thrilled about all that."
Shepard had been stuck at 8-feet, 6-inches in competition since her freshman season, but had successfully cleared 9-feet in practice. Now, the junior is shooting for 10.
"Now that I got 9-6 I know that I can (get it)," she said. "Because I almost got 9-9 too."
Shepard pre-qualified for state in the 100 with a time of 13.14 to place second and posted a winning mark of 15-09 in the long jump. She also placed third in the 200 (28.02) and was fourth in the triple jump (30-07.50).
Christian's other winner on the day was Shelby Walls, who had a time of 2:39.11 in the 800. The senior also placed fourth in the 1,600 and 3,200.
Rylie Thompson earned a runner up finish in the shot put (29-11.75), while Shayla Ard was second in the discus (83-05).
"We knew it was going to be warm day and of course everyone does good when it's warm," said Shepard. "So we wanted to PR and have fun, and just do what we can do."
Complete meet results here: https://www.athletic.net/TrackAndField/MeetResults.aspx?Meet=373864&show=all