BOZEMAN — An all too familiar scenario was taking shape, so Jill Ayers called time out. But Manhattan Christian's longtime coach chose not to discuss strategy in the huddle and kept her talk lighthearted.
The Eagles had blown a three-point lead in the fifth set to Bridger — much like they had done in Friday night's loss to the Scouts — and fell behind 10-9. But despite weary legs in their third match of the day, the team buckled down to score six of the final eight points of the match.
When the final attack of the day landed on Bridger's side of the court, Christian had pulled off the improbable. The Eagles had won three consecutive matches on Day 3 of the State C tournament to claim the second state championship in program history.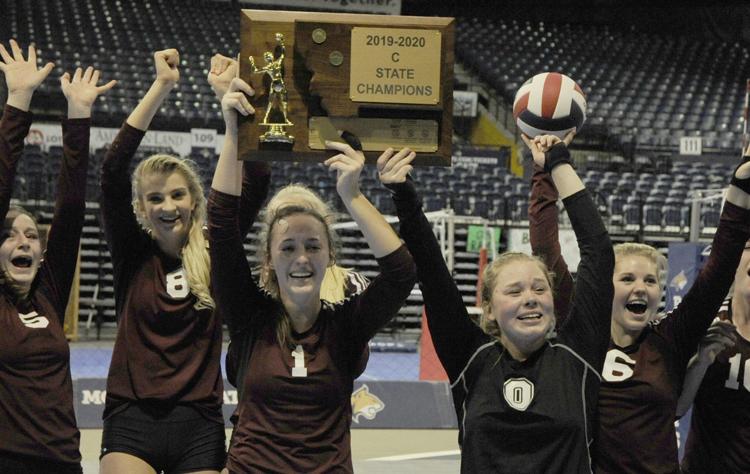 "Right now, it's just pretty surreal. I don't even know," sophomore Kiersten Van Kirk said. "Just all the feelings is crazy."
Van Kirk, a 6-foot-2 southpaw, tallied 81 kills on the day to lead Christian to the championship. That includes a tournament-high 33 kills in the second championship match in Brick Breeden Fieldhouse.
The Eagles (26-2) rallied past defending state champion Belt 25-21, 22-25, 24-26, 25-10, 15-12 in the consolation match to begin the day. Then they beat the Scouts 25-18, 25-8, 22-25, 25-23 in the first championship match before winning the second 25-20, 25-23, 18-25, 20-25, 15-12.
"It doesn't even feel real to me. It's so surreal. This was our goal the whole season and I'm so excited," junior setter Taylor DeVries, who dished out 144 assists on the day, said. "We're just really excited we won coach's last game for her. It's just so surreal."
Prior to the season Ayers told players it would be her last after 16 years at the helm. She notched her 300th career victory against Belt, and then celebrated a second championship as head coach.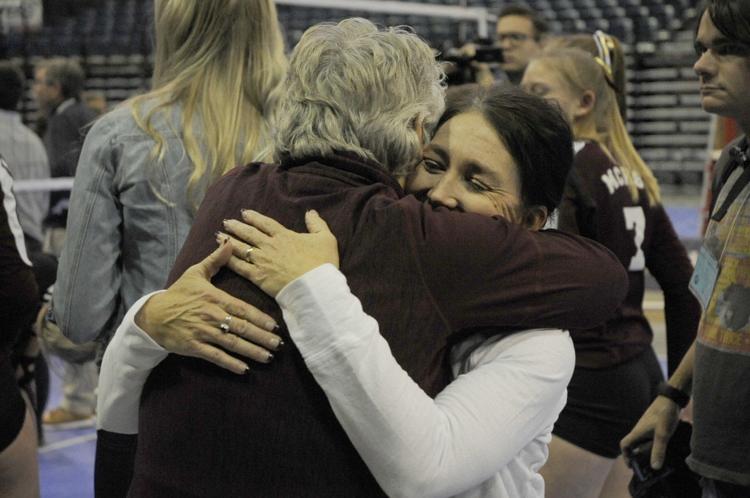 "What a way to go out," Ayers said. "This was a great bunch to go out with."
It could have easily gone the other way. Bridger had rallied from a 9-6 deficit in the fifth set of the finale to take a 10-9 lead.
But that pivotal time out managed to settle down the team, and following a pair of back row kills by Van Kirk, Christian was back on track.
"We didn't even really talk game. Just took a break and we tried to get them all pumped up and tried to keep the smiles on their faces," Ayers said. "Just told them this is the icing on the cake and enjoy the moment. So it was mostly let them take a breath for a minute and get back out there. No real instruction, and I think it's what they needed."
By then, DeVries noted the team was running on pure emotion in what was their 14th set of the day.
"Honestly, we had a lot of adrenaline, especially the last two games," she said. "After we won it was a little tiring, but it was so worth it."
Van Kirk tallied 28 kills to lead the rally against Belt, including the match-winning kill in the fifth set. Then she added 20 kills in the first championship match.
While some slight adjustments were made from Friday's semifinal loss, Van Kirk noted it was just a determined effort by the Eagles to persevere through three consecutive matches.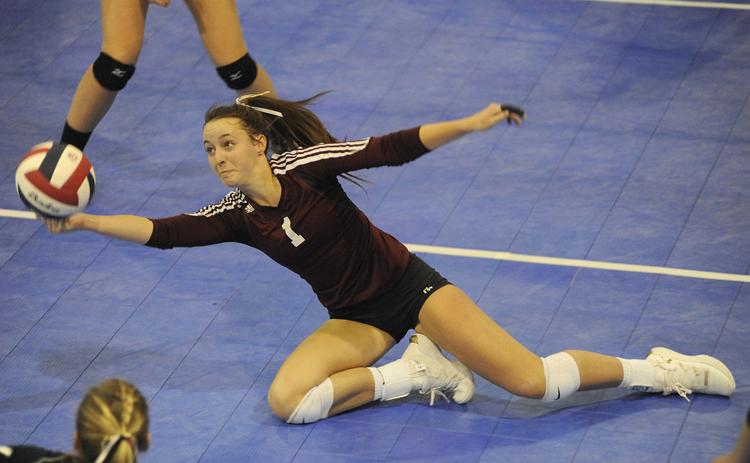 "We just kind of changed up some sets. Changing the height for the hitters," Van Kirk said. "And then just came out a really played our hardest. We remembered all the hard work in practices and just focused on the little details."
Bridger (32-4), which lost in the championship for a second consecutive season, was led by Emily Adkins. The junior outside hitter finished with 45 kills and eight blocks in the two matches.
The Eagles won their first championship since 2011 and just the second in eight title appearances. DeVries noted last year's fourth place finish — Christian lost to Bridger in the fourth place match — fueled this year's quest for the crown.
"Last year when we got fourth we did not want to have that feeling again. We just wanted to come back and give it our all," she said. "We all worked super hard in the offseason, we all wanted the same goal, and we all got it."
Manhattan Christian def. Belt 25-21, 22-25, 24-26, 25-10, 15-12
BELT (32-9) - Kills: 57 (Abby Gliko 19, Kyelie Marquis 12). Digs: 143 (Adell Meissner 47, Marquis 25). Blocks: 7 (Lindsey Paulson 5). Aces: 5 (Kolby Pimperton 2, Meissner 2).
MANHATTAN CHRISTIAN (24-2) - Kills: 55 (Kiersten Van Kirk 28, Eliana Kuperus 12). Digs: 131 (Maddie Luidahl 36, Taylor DeVries 28). Blocks: 9 (Kuperus 3). Aces: 11 (DeVries 3). Assists: 50 (DeVries 45).
Manhattan Christian def. Bridger 25-18, 25-8, 22-25, 25-23.
BRIDGER (32-3) - Kills: 36 (Emily Adkins 18, Jenna Kalleig 12). Digs: 82 (Kyra Kroll 23). Blocks: 6 (Adkins 5). Aces: 10 (Adkins 5). Assists: Sami Fusco 18, Taycee Spidahl 9).
MANHATTAN CHRISTIAN (25-2) - Kills: 51 (Kiersten Van Kirk 20, Eliana Kuperus 12). Digs: 94 (Maddie Liudahl 21, Taylor DeVries 19). Blocks: 12 (Hailey VanDyken 4). Aces: 9 (Kuperus 4, DeVries 3). Assists: 48 (DeVries 43).
Manhattan Christian def. Bridger 25-20. 25-23, 18-25, 20-25, 15-12.
BRIDGER (32-4) - Kills: 57 (Emily Adkins 27, Jenna Kalleng 17). Digs: 123 (Kyra Kroll 46, Kalleng 21). Blocks: 7 (Adkins 3). Aces: 6 (Sami Fusco 2, Adkins 2). Assists: 51 (Fusco 29).
MANHATTAN CHRISTIAN (26-2) - Kills: 63 (Kiersten Van Kirk 33). Digs: 110 (Maddie Liudahl 23, Van Kirk 23). Blocks: 10 (Van Kirk 4). Aces: 7 (Maddie Visser 2, Taylor DeVries 2, Liudhal 2). Assists: 61 (DeVries 56).