CHURCHILL — After clinching a berth to the state tournament Friday, longtime Manhattan Christian coach Jill Ayers felt her team came out a little flat Saturday afternoon.
Still, the Eagles did enough to claim their second consecutive Western C Divisional title in the Memorial Event Center. Led by 18 kills each from Eliana Kuperus and Kiersten Van Kirk, Christian beat Charlo 25-13, 25-16, 19-25, 25-19 in the championship match.
"Wasn't our best day," Ayers said, "but hey we got the job done. Whatever it takes."
Charlo had beaten Gardiner in four sets in the consolation match earlier in the day to earn a berth to state. It was a back-and-forth contest, and Ayers noted they were tired entering the finale.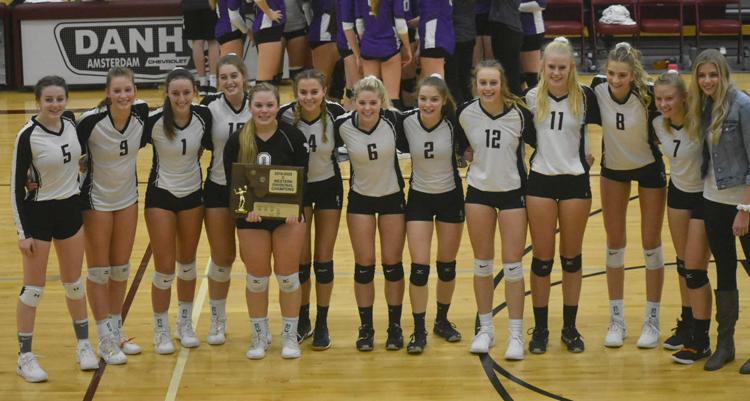 "We came out and just pretty easily swept the first two sets. And then I think they kind of decided, 'Hey, let's just play volleyball,'" she said. "So they turned it back on in the third set and we had a few rough spots."
But the Eagles (21-1) held off weary Charlo squad in the fourth set.
"Everybody just did their part," Ayers said. "But after the game I went in the locker room and I said to the girls, 'I wouldn't know if we won or lost.' Because they just weren't thrilled. I think the big thrill was last night beating Gardiner, and I think they just already moved on to next week and have their eyes set on something bigger than divisionals."
Christian, which beat District 11C rival Gardiner in Friday's undefeated semifinal, placed fourth at state a year ago.
Maddie Liudahl tallied 30 digs for the Eagles, while Taylor DeVries dished out 41 assists and had 18 digs.
"Just a total team effort today from everybody — bench players, subs, starters, it was a true team effort," said Ayers.
Manhattan Christian def. Charlo 25-13, 25-16, 19-25, 25-19.
CHARLO - Stats not provided.
MANHATTAN CHRISTIAN (21-1) - Kills: 51 (Elian Kuperus 18, Kiersten Van Kirk 18). Digs: 105 (Maddie Liudahl 30). Blocks: 9 (Kuperus 3.5). Aces: 7 (Hope Kenney 4). Assists: 50 (Taylor DeVries 41).