CHURCHILL — Following the post match celebration in the locker room, longtime Manhattan Christian coach Jill Ayers noted her players commented about smelling blue floors.
It was in reference to the playing surface that will be installed in Brick Breeden Fieldhouse on the campus of Montana State University next week for the all-class state volleyball tournament. The Eagles will be competing in the Class C portion of the three-day event after clinching a berth Friday at the Western C Divisional.
"They're like, 'We smell blue floors.' They were wanting to get there. That has been their goal all season," Ayers said. "We haven't really fixated on it because I like to take one game at a time and one day at a time. But it's always kind of been out there and they just did it."
Christian (20-1) is returning to state for a second consecutive season after beating District 11C rival Gardiner 25-18, 25-20, 21-25, 25-18 in the undefeated semifinal. It was the fifth match between the teams this season, and the Eagles have won four of the contests.
"I'm just super excited," senior libero Maddie Liudahl said. "Being a senior, it's something I always dreamed of just going to state. It's kind of surreal right now if I'm being honest. It's really exciting."
While a state berth has been clinched, there's still more volleyball to be played Saturday. The Eagles await the winner of the consolation match between Gardiner and Charlo, which begins at 11 a.m.
"We're still for sure going to play tough and play our best," Liudahl, who tallied a match-high 32 digs, said. "For sure it's a lot less stress free because we know that we're there, but we still want to take that first place trophy."
Christian won the district tournament for the first time in eight years a week ago and came out firing on all cylinders in the first set. A 10-3 run, featuring a pair of kills by Hailey VanDyken and a block by Kiersten Van Kirk, broke open the first set as the Eagles created an eight-point lead.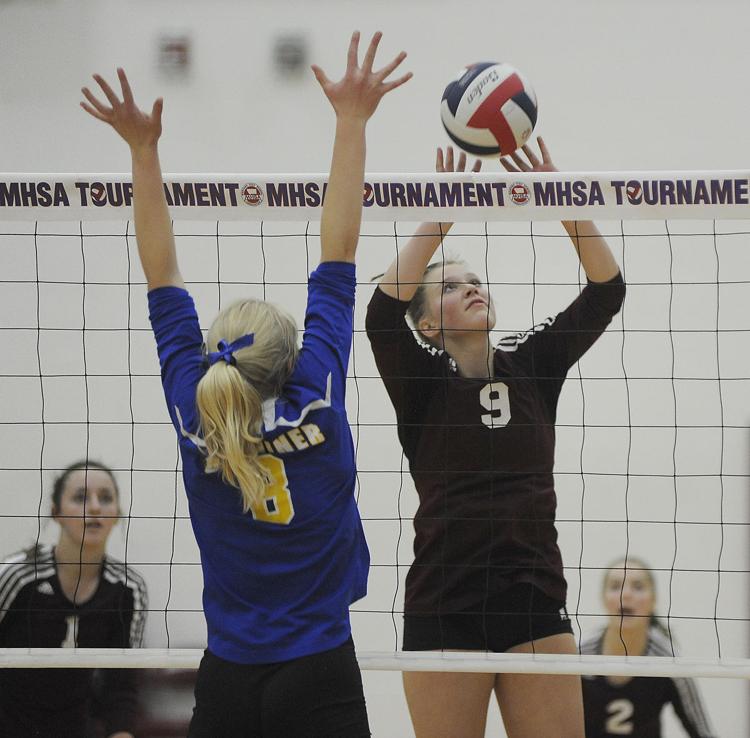 But Christian trailed by as many as six, 12-6, in the second set before rallying to win. An ace by Taylor DeVries tied the game at 13-all, and then tide slowly shifted.
Gardiner (16-6), which received 13 kills and a block from outside hitter Josie Thomas, rallied late in the third set to win. Thomas kept them close early, and then Kynda Long and Lanie Powell scored on a kill and ace, respectively, to put the Bruins in the lead for good, 21-19.
While Thomas and Long certainly had their moments, the seniors were held in check as well. The Eagles were prepared for Long's quicks in the middle, and made several key digs along the back row on Thomas.
"We really worked on the quicks this past week and we changed our defense so that we could pick up their balls more," Kuperus, who finished with seven kills and four blocks, said. "And they hit line a lot, so we were really focused on moving over so we could pick those balls up."
Christian controlled the fourth set, rallying from an early 3-1 deficit to take a 9-5 lead, and then the celebration began several minutes later when Van Kirk scored the last of her team-high 13 kills to cap the match.
"Punched our ticket. That's always a huge relief," Ayers said. "So many times that's what makes or breaks your season whether you make it to state. You could have an amazing season, but they just write you off if you don't make it to state."
Manhattan's season ends at Southern B tourney
If Manhattan were to extend its season into the third day of the Southern B Divisional, it would have to get past a pair of District 5B rivals on Friday. The Tigers managed to win the first contest, but their season came to an end later in the day.
Led by middle hitters Oliviah Westervelt and Erika Davis, who combined for 26 kills, Manhattan beat Jefferson 25-13, 23-25, 25-20, 25-23 in the first of the two loser-out matches.
Second-year Tigers coach Charli Chapman noted it was a complete team effort.
"We served aggressive and blocked well. Our hit coverage was very effective too," she said. "Jefferson is a scrappy team who always brings their competitive drive. Their hitters were hitting big and we were defending great."
Davis added five of the team's six blocks in the victory, while Adele Didriksen and Amy Grevious had 24 and 21 digs, respectively.
But after dropping the first two sets against Townsend, which won the District 5B Tournament a week ago, the Tigers' rally fell short. The Bulldogs posted a 25-17, 25-17, 16-25, 25-15 victory to reach the fourth place match Friday night.
"We battled, I'm super proud of them," said Chapman. "They didn't let up and they kept being aggressive."
Manhattan (12-11) was plagued by 14 serve-receive errors, which contributed to a key run in the fourth set that led to the Bulldogs' victory. But Chapman was pleased with her team's offense throughout.
"They are a good blocking team and we knew we had to keep on attacking at them with intensity," she said. "We served aggressively which helped us get on runs and keep us building momentum."
Grevious had five aces and 14 digs, while Davis tallied 11 kills and four blocks. The duo are among four seniors — the others are Casey Elfland and Kaitlyn Kanuch — who will be lost to graduation.
"I'm thankful for this group of seniors," said Chapman. "They have left the program in a better place and have left an impact on the future of Tiger volleyball."
Manhattan Christian def. Gardiner 25-18, 25-20, 21-25, 25-18.
GARDINER (16-6) - Kills: 38 (Josie Thomas 13). Digs: 111 (Kersey Blackford 20). Blocks: 3 (3 with 1). Aces: 4 (4 with 1). Assists: 38 (Chase Cunningham 37).
MANHATTAN CHRISTIAN (20-1) - Kills: 38 (Kiersten Van Kirk 13). Digs: 96 (Maddie Liudahl 32). Blocks: 12 (Eliana Kuperus 4). Aces: 11 (Taylor DeVries 4). Assists: 37 (DeVries 31).
Manhattan def. Jefferson 25-13, 23-25, 25-20, 25-23.
MANHATTAN (12-10) - Kills: 41 (Oliviah Westervelt 14, Erika Davis 12). Digs: 80 (Adele Didriksen 24, Amy Grevious 21). Blocks: 6 (Davis 5). Aces: 17 (Grevious 5, Westervelt 4). Assists: 38 (Cayli Chapman 35).
JEFFERSON - Kills: 24 (Dakota Edmisten 10). Digs: 65 (Edmisten 16). Blocks: 14 (Hope Dobyns 5). Aces: 6 (Grace Alexander 3). Assists: 21 (Ashton Oxarart 11).
Townsend def. Manhattan 25-17, 25-17, 16-25, 25-15.
MANHATTAN (12-11) - Kills: 24 (Erika Davis 11, Oliviah Westervelt 6). Digs: 59 (Amy Grevious 14, Westervelt 10). Blocks: 9 (Davis 4). Aces: 10 (Grevious 5). Assists: 24 (Cayli Chapman 24).
TOWNSEND - Kills: 32 (Becca Paige 8). Digs: 58 (Alleigh Burdick 17). Blocks: 20 (Peyton Vogl 9). Aces: 8 (Anna Berg 4). Assists: 29 (Taylor Noyes 29).